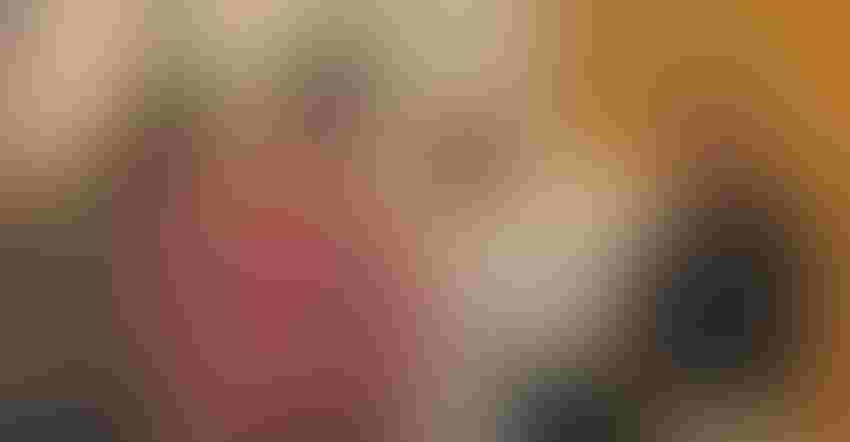 TRAINING DRILL: First responders gather around a map during an animal disease outbreak drill in Butler County, Kan. The Kansas Department of Agriculture is looking for volunteers willing to be trained to be on call to help local forces in the event of a livestock disease emergency.
The Kansas Department of Agriculture's Emergency Management Division is looking for volunteers willing to be trained for on-call duty to respond to an animal disease outbreak in their region.
 "We know that one thing we will face in any major event is going to be a shortage of trained responders," says David Hogg, KDA assistant emergency management coordinator. "Our goal is to get volunteers signed up, vetted and trained in every county in the state. These are people who know the area and the local farmers."
Hogg says KDA is working with the Kansas Farm Bureau, the Kansas Livestock Association and Kansas State University Extension to locate and train volunteers.
"The idea is to be able to pull in help from surrounding counties, when there is an outbreak in one location, in getting things shut down quickly. The faster that we identify and contain a problem, the less devastating it will be," Hogg says.
Kansas will be implementing an organizational plan that was developed at Iowa State University, he says.
"The first step in any emergency is to stop the movement of all animals to prevent any further spread," Hogg says. "Step 2 is to get immediate biosecurity measures in place, depopulate as necessary, and Step 3 is getting things back to normal – or in some cases, establishing the new normal," he says.
Basic information session Nov. 17
Hogg says KDA will be holding a session to offer basic information to potential volunteers at the Gray County Fairgrounds in Cimarron, Kan., on Nov. 17.
"We're planning to let people who might respond know what they could expect in the way of training requirements and other details of being part of the team," he says.
He says officials at both the federal and state levels take the threat of livestock disease outbreaks very seriously and recently got an idea of how serious it could be with the outbreak of highly pathogenic avian influenza a few years ago.
"We learned a lot from that outbreak," Hogg says. "Among the lessons was that we can't rely on vaccine to stop an outbreak. For one thing, there are varying strains of most disease threats, including one of the most feared: foot and mouth disease. It doesn't do any good to have a big stockpile of a vaccine that turns out not to address the strain that is presenting. We need to continuing studies and developing vaccines, but they have to be part of a larger program."
At the federal level, Kansas Sen. Pat Roberts and Missouri Sen. Claire McCaskill are leading a bipartisan effort to focus on livestock disease and the threat that disease could be used as a weapon of bioterrorism.
At the state level, training is ongoing with raising awareness about what to watch for, and how to notify the right authorities of a potential problem. Programs are in place at the county level, as well, Hogg says.
"In most cases, it will be your local veterinarian who sounds the alarm," Hogg says. "Our goal is to have a plan of action in place and people who know what to do sooner rather than later."
Subscribe to receive top agriculture news
Be informed daily with these free e-newsletters
You May Also Like
---