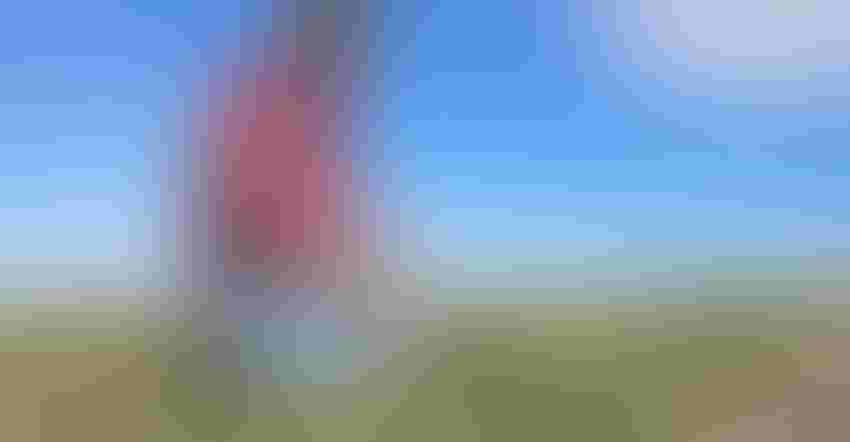 FIELD FOCUS: Warren Hale digs in a field of wheat. He starts early in the season managing the crop, searching for tillers and assessing his nitrogen needs. The Audrain County farms says that the labor required throughout the year to raise high-yielding wheat is worth it, come harvest. His farm has seen an increase of 50 bushels per acre to consistently producing more than 90 bushels per acre — and in 2016, a 103-bushel farm average.
Crouching down in a field just north of I-70 in Callaway County, Warren Hale is checking his wheat crop. It is an unseasonably warm winter day, and Hale is on his hands and knees, digging into the soil, counting tillers. With one hand, he tips back his hat, while the other hand raises the plant roots toward the sunlight.
"I counted 83 tillers per running foot," he says, looking up from dirt. "It is a few too many tillers."
Managing wheat down to the tiller count in February is part of Hale's high-production wheat management plan. It is a plan that produced a farm average of 103 bushels of wheat per acre in 2016.
Looking for answers
Hale began his quest for higher wheat yields 12 years ago, when the yields were not much better than his soybean yields — at around an average of 56 bushels. He sought out fellow Versailles wheat grower Mel Gerber and found that Gerber was actually following the principals of wheat guru Phil Needham.
Needham is a native of England, and the average wheat yield in the United Kingdom is around 120 bushels per acre. There are some producers across the eastern coast of England frequently achieving 150 to 200 bushels on their farms using intensive management systems. A large agriculture retailer brought Needham to the U.S. to help growers ramp up production using these techniques.
Needham introduced the program to Kentucky, and it contributed to doubling the average wheat yields across the state over a 20-year period. He now works directly with producers. Needham has written three books on wheat production and research, along with managing a website, needhamag.com.
Hale bought into the growing methods of Needham and Gerber. He says wheat growers can achieve higher yields if they manage the crop similar to the way they manage corn and soybean acres. "It takes intensive management," he says. "You have to be willing to devote hours to this crop, just like any other."
His operation
Hale farms along with his brother, Jim Hale, and nephew, Jake Rodgers, in Audrain and Callaway counties. There the trio plants corn, soybeans and wheat, and manages a herd of 100 cows. But the crop mix today is much different than 10 years ago.
Back then, Hale planted just 300 acres to wheat. Now he sows 650 acres of wheat into Mexico silt loam soils with a gently rolling topography. Field geography matters.
"It needs to be a rolling field," he notes. "Wheat does not perform well in flat fields," he explains. "The soil is often too wet. The plants do not like to sit in water. You need enough roll in the field to make sure the plants and seeds are not standing in water."
Hale plants wheat following soybeans. He sticks with three different seed companies — DuPont Pioneer, AgriMaxx and Beck's. However, he is working with the University of Missouri to conduct wheat trials on his farm. "I will have every variety available in the state of Missouri here, and we will be researching just how they perform under management-intensive growing practices," he says.

TILLER TIME: Pulling up plants in February, Missouri wheat grower Warren Hale can determine how much nitrogen will be needed in early spring.

The game plan
So exactly what does it take to grow high-yielding wheat in Missouri? Hale finds there are a few management practices farmers must consider to produce 100-bushel average wheat yields.
• Spread residue evenly. While harvesting the soybean crop, farmers should make sure the residue is spread evenly across the field. If residue remains in clumps, it can impact seed to soil contact and produce uneven stands. Whether you are harvesting the field itself or are working with a custom combining business, make sure to adjust combines to ensure an even residue spread.
• Apply phosphorus and potassium. Determine needs of P and K from soil tests and apply when needed.
• Spray herbicides. Hale mixes an insecticide with this application to not only kill emerging weeds, but also any pests. Hale's herbicides of choice are Roundup and Harmony.
• Plant after the fly-free date. For Hale, who farms near Martinsburg, that date is after the first week of October. He planted his 2017 crop Oct. 10, 2016. Farmers should check the fly-free dates in their region before planting.
• Spray herbicide again. Roughly one month after planting, Hale sprays Harmony for weeds and includes an insecticide in the tankmix. He says this application serves as a burndown, controlling weeds like henbit that might have emerged since the last spraying. The insecticide helps control aphid populations.
• Assess the stand. During February, farmers should head to the field, dig up the soil and start counting tillers. The goal, according to Needham, is 500 tillers per square yard.
• Determine nitrogen needs. Based on the tiller count, farmers can adjust the crop's nitrogen requirements. Too many tillers, and farmers should apply 50 pounds of nitrogen to control the vegetative growth. If there are too few tillers, Hale recommends increasing the nitrogen to 70 pounds, which should increase the tiller count. Nitrogen applications should take place at the end of February into early March.
• Apply N to prevent lodging. In early April for Missouri growers, Hale will put on up to 80 pounds more of nitrogen at jointing. By waiting until jointing, Hale finds that it helps to stop lodging problems in the wheat crop.
After April, farmers should continue to scout fields for any disease or pest problems until harvest.
Well worth the wait
Hale is seeing results; however, he cautions others that this is not an overnight fix. "It is a long process," he says. "Farmers need to be able to commit to intensive management over the years to reach higher wheat yields."
He is constantly analyzing his processes and adopting new technologies and techniques. Hale frequently talks with other high-production wheat growers about what is working on their farms. The group actually started an informal Missouri Wheat Growers Association, where they can talk about their practices and share their findings with other growers.
"It is possible to grow high-yielding wheat in Missouri," Hale adds. "Farmers just need to invest the time and energy into making it a profitable crop."
About the Author(s) Editor, Missouri Ruralist
Mindy resides on a small farm just outside of Holstein, Mo, about 80 miles southwest of St. Louis.
After graduating from the University of Missouri-Columbia with a bachelor's degree in agricultural journalism, she worked briefly at a public relations firm in Kansas City. Her husband's career led the couple north to Minnesota.
There, she reported on large-scale production of corn, soybeans, sugar beets, and dairy, as well as, biofuels for The Land. After 10 years, the couple returned to Missouri and she began covering agriculture in the Show-Me State.
"In all my 15 years of writing about agriculture, I have found some of the most progressive thinkers are farmers," she says. "They are constantly searching for ways to do more with less, improve their land and leave their legacy to the next generation."
Mindy and her husband, Stacy, together with their daughters, Elisa and Cassidy, operate Showtime Farms in southern Warren County. The family spends a great deal of time caring for and showing Dorset, Oxford and crossbred sheep.
Subscribe to receive top agriculture news
Be informed daily with these free e-newsletters
You May Also Like
---