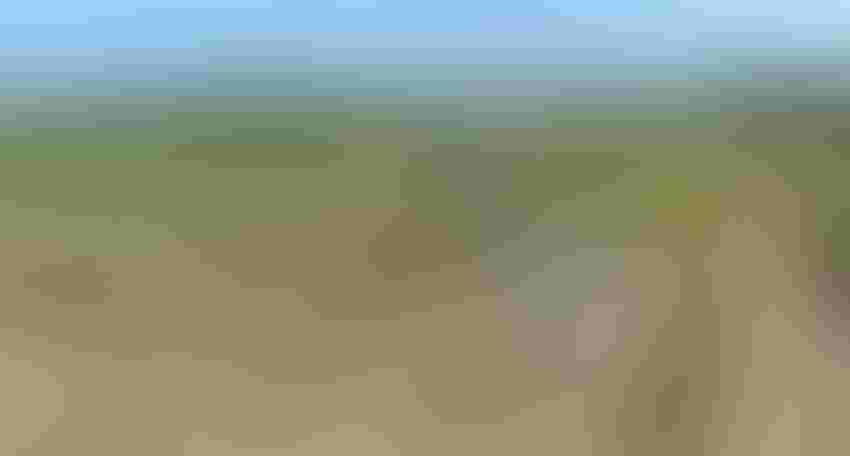 Larry Steckel explains a new weed management project at the 2022 UT Weed Tour. In these plots, he is evaluating different rates of pyroxasulfone herbicides applied via impregnated dry bulk fertilizer.
Ginger Rowsey
The annual University of Tennessee Weed Tour was held on June 15 at the West Tennessee AgResearch and Education Center. Here are a few takeaways from the field day. 
Herbicides on chopping block 
Producers are in danger of losing multiple herbicides — either to resistance or regulation.  
Auxin herbicide resistance appears to be increasing in UT research plots and across Tennessee farms, according to Larry Steckel, Extension weed specialist. As is the loss of glyphosate and clethodim grass control due to dicamba. 
"Recent studies have found that dicamba will not only antagonize the grass control when in a tank mix with glyphosate or clethodim but can also antagonize grass control for several days after a dicamba application," Steckel said. "Glyphosate and clethodim grass control can still be hindered by dicamba applied three to five days prior." 
Conflating the resistance issues is the threat of losing herbicides to regulation. 
Dicamba seems to perennially be on the chopping block, and glyphosate is back in the news after the California-based 9th U.S. Circuit Court of Appeals ordered the Environmental Protection Agency to reexamine its 2020 finding that the herbicide did not pose a health risk for people. 
In April, EPA released a proposed interim decision that would severely limit agricultural uses of the herbicide diuron. Diuron is currently a pre- and post-emergence option for broadleaf and grass weed species. 
Under the proposed interim decision, due to potential carcinogenic exposure, EPA would terminate all applications of diuron on food and feed crops, as well as all non-food agricultural sites, such as ornamentals, and non-agricultural sites, like roadsides. At this time, EPA is not proposing changes to diuron's registration as a cotton harvest aid. 
Fluometuron, more commonly known by the trade name Cotoran, is another herbicide in EPA's sights. EPA has determined there are potential dietary cancer risks from consuming groundwater-sourced drinking water where fluometuron has been applied. The agency is proposing to prohibit applications of Fluometuron in Hydrologic Soil Groups A and B (sand or loamy sand), as these soils have greatest water infiltration. 
"We use a fair amount of these herbicides (diuron and fluometuron) in the Midsouth and we hate to lose them," Steckel said. "We're starting to lose things to resistance, and it makes it more complex to control weeds. It will be a big blow to the cotton industry if these proposed decisions go through." 
Older formulations coming back 
In recent years, Steckel has observed a weed shift in Tennessee fields. While Palmer amaranth is still the main threat, producers are reporting more issues with weeds like prickly sida, and morning glory. 
"Dicamba and Liberty are not very good on prickly sida, tea weed and copper leaf. And we're seeing more issues where pre-emergence herbicide applications are not very effective controlling morningglory," he said. 
"So, we're looking into older technologies like Envoke, Python, Classic. Those herbicides we used 20 years ago fit a pretty good niche there. We're looking at getting those mixed in with dicamba and glyphosate to fill the void," he added. 
A bright spot 
Steckel has recently begun experimenting with applying pyroxasulfone herbicides like Zidua, Anthem Maxx or Fierce via impregnated dry bulk fertilizer in cotton. He has been very pleased with residual control through this application. 
"Where we're seeing issues with dicamba and 2,4-D, pyroxasulfone herbicides are providing a good residual that appears to be lasting longer than the Group 15s, such as Dual or Warrant," Steckel said. 
The directions on the label state that when applying Zidua via impregnated fertilizer, "the fertilizer must be applied at a minimum of 200 lbs per acre" to ensure adequate coverage. Steckel experimented with different rates but saw best control at 500 lbs/A or more. In theory, the more fertilizer applied to the acre the more even and consistent the residual weed control. The max fertilizer rate limited by the label is 750 lbs/A. 
The one drawback to applying in this fashion is that one can likely expect some leaf burn if the fertilizer is applied and the cotton leaves are wet. Steckel did see some burn in his trials this spring but did not expect reduced yield. 
"The new application method of putting it on with fertilizer is a definite bright spot," he continued. "It's out of the box thinking. A newer herbicide that doesn't have resistance issues and getting it into a crop that otherwise you couldn't get it into. To me that's a real bright spot. Several companies sell it, so it's in a little better supply and possibly better price than some other herbicide options due to competition." 
Subscribe to receive top agriculture news
Be informed daily with these free e-newsletters
You May Also Like
---