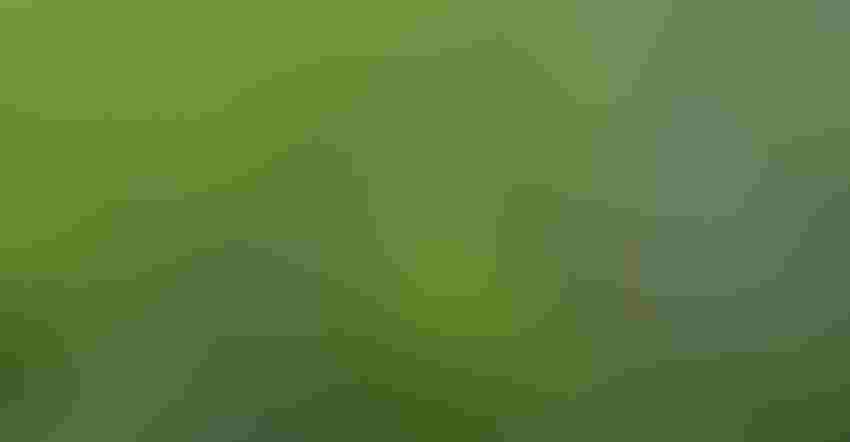 NIGHTMARE UNFOLDING? Weed control specialist Bill Johnson fears sights like this may be fairly common later this season. He suspects many large marestail may escape control and haunt fields this summer.
You know it's not a good year when it's a dream season for a weed, not a crop. The extremely wet, super late spring gave marestail a head start in many fields. About the only fields that avoided this were fields sprayed last fall, assuming weed control held long enough this spring.
So what do you do now to prevent a weed nightmare? Bill Johnson, Purdue University Extension weed control specialist, says there are several scenarios. Unfortunately, most of them favor marestail this season. Here is a closer look at scenarios you might be facing, and what, if anything, you might be able to accomplish:
Not yet planted or prevented planting. If you're not planted and haven't touched the field, don't discount what you could do with a disk, Johnson says. At this point, if marestail plants are a foot tall or taller, it will be difficult to knock them out without having them come back.
If you haven't planted and are going to corn, you could go after the weeds with dicamba herbicides in corn, he says. If you took prevented planting for corn in a field and don't intend to plant beans, you still need to control weeds. A disk would definitely come in handy in that situation, Johnson notes.
Planted to Roundup Ready soybeans. "The marestail we're worried about are the ones which likely didn't go down with the burndown application if you sprayed and didn't disk," Johnson says. "We saw plenty of marestail plants in fields which were a foot tall before anyone could spray them. The likelihood is many of those will come back."
If you're in Roundup Ready soybeans, there really aren't any options, Johnson says. "There simply aren't any weapons which are likely going to knock them down at this point."
Planted to Xtend soybeans. If marestail spring to life and you've got Xtend soybeans in the field, you can hit the weeds with one of the dicamba herbicides labeled for dicamba-tolerant soybeans, Johnson says. Just remember that you're spraying dicamba in June, and that's when it tends to experience the most off-target problems. Be sure to follow label directions, including choosing the correct nozzles and checking the label online before spraying.
Remember that the label restricts dicamba applications in dicamba-tolerant soybeans to 45 days after planting and before the R1 or flowering stage, he adds.
Planted to Enlist soybeans. Any fields planted to Enlist soybeans could be sprayed with Enlist Duo or Enlist One. Enlist Duo contains Corteva Agriscience's 2,4-D choline technology plus glyphosate, and Enlist One is strictly 2,4-D choline, designed to be applied as is or mixed with other products.   
Planted to LibertyLink soybeans. If your soybeans have the LibertyLink trait, you can spray marestail with glufosinate, which is Liberty. However, if you're not familiar with spraying Liberty, you need to brush up on the label and on basic spraying techniques before trying to knock down marestail escapes, Johnson says.
The key to success with Liberty herbicide is obtaining good coverage. That may require a different sprayer setup and perhaps more gallons per acre than you typically use with other products. You also are more likely to be successful if you can spray on a hot, sunny day.
"We don't usually recommend making more than one trip with Liberty during the season, but you may have to if you have large marestail escapes and want to keep them knocked back," Johnson says.
One thing is certain: It's not business as usual for weed control this year, especially if you're faced with tough weeds like marestail. "The whole problem is they got too much of a head start in many fields," he says. "You may wind up fighting them all season — if you even have weapons which you can fight them with."
Subscribe to receive top agriculture news
Be informed daily with these free e-newsletters
You May Also Like
---