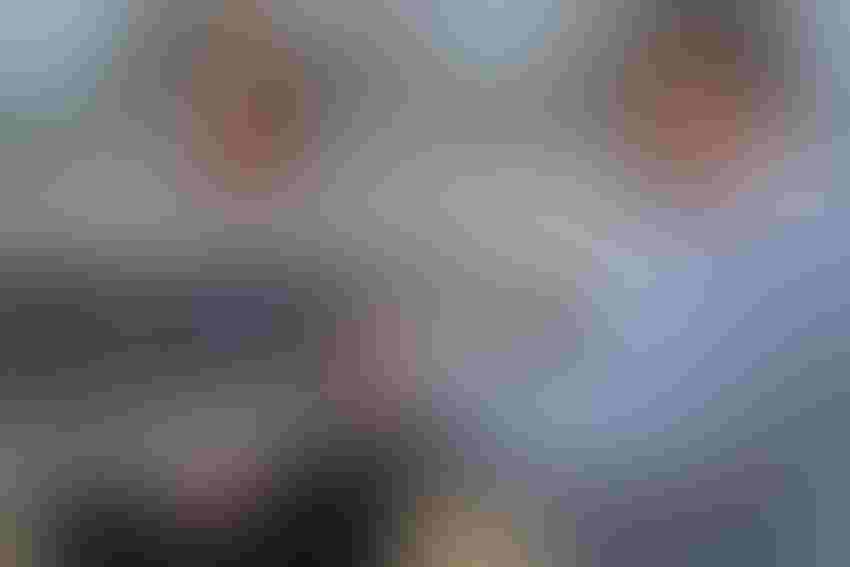 Nash County farmers Keith Evans, left, and son Jonathan Evans check the nozzles on their RoGator RG 1300 sprayer.
Keith Evans and his son Jonathan used dicamba on their farm last year. They saw no drift incidents and received no complaints from neighbors.  Both father and son are sold on the technology and are using it again this year. 
They don't want to lose the new dicamba formulations, but are worried they might if drift damage is an issue at all this year.  "The federal label runs out in December 2018.  If we have the same problem we had last year, the EPA will not renew the label," said Jonathan
Both Keith and Jonathan, who farm in Nash County, agree that the technology must be carefully managed to avoid drift.
"You have to follow the label and you have to be smart," Keith said.
Farmers across North Carolina who are turning to auxin technology to control Palmer amaranth and other tough weeds in cotton and soybeans are hopeful all the mandatory training, detailed record keeping, and strict application requirements will pay off, and they will be able to use the new formulations both this year and beyond.
They are concerned if off-target damage is an issue this year as it was in 2017, EPA will not approve the continued use of dicamba when registrations are up for renewal in December.  Dr. Alan York, William Neal Reynolds distinguished professor emeritus of Crop Science at North Carolina State University, says the feedback he receives from farmers is pretty much this: Let's not screw this up.
York has conducted more than 30 mandatory training sessions across North Carolina this year. He did the same last year, and many in the industry credit the training and responsible stewardship by farmers and applicators for the limited number of official complaints in North Carolina in 2017.
North Carolina had 15 official dicamba drift complaints were filed with the North Carolina Department of Agriculture last year. However, York believes the actual damage incidences were higher but went unreported.
In 2017, the Evans family sprayed 800 acres of XtendFlex cotton and 500 acres of Xtend soybeans.  Pigweed wasn't an issue in XtendFlex cotton or Xtend soybeans.
The Evans family planted a total of 1,200 acres of soybeans in 2017, which included 700 acres of Roundup Ready soybeans.  Pigweed was a problem in the Roundup Ready soybeans with an application of Flexstar offering only 80 percent control.
"We came back with an application of Cobra two weeks later to try to knock out the other 20 percent.  It didn't do a thing," Keith says. "The pigweeds were all resistant.  If we lose dicamba, the only way to get rid of pigweed is to pull them out by hand which is very costly for the farm."
Both Keith and Jonathan are concerned about herbicide resistance, particularly since no new chemicals are expected anytime soon.  Resistance to Flexstar is becoming a bigger issue in soybeans. 
"In cotton, you can't use Flexstar, so there is nothing left post-emergence except Liberty to control pigweed if we lose dicamba.  On our farm, we had much better results with dicamba rather than Liberty as we have seen some signs of resistance with Liberty,"  Jonathan said. 
The family was pleased with the weed control in the XtendFlex cotton last year. "It was the cleanest cotton crop we've ever had," said Ann, Keith's wife.
Careful management is vital when applying dicamba when sensitive crops are in the area. "I had been spraying a farm one day and had to quit because of the direction of the wind and return at a later date", Keith said.
Keith does all the spraying on the farm and Jonathan and Ann do the scouting.
Keith says running the sprayer himself gives him the ability to make on-the-spot decisions about the conditions for spraying the dicamba.
Jonathan emphasizes that tank clean out is important. They use a direct injection system which was purchased through the BASF equipment rebate program. This helps them better target the dicamba and makes clean out easier.  Both Keith and Jonathan note that washing out the sprayer is a challenge because of the many parts, pipes and hoses.
Another key to good dicamba management is using a drift reduction agent.  Keith says it is expensive but pays for itself because it makes all the droplets heavier, thus reducing drift.
Keith admits that the required record keeping will be added work this year, but will be worth it.  "You have to ride around the fields and make a survey of every field and document sensitive crops in the area," he said.
"He'll need a secretary to ride with him just to keep records," Ann said. 
Another important tool is a spray controller on the sprayer that allows the farmer to record wind speed, temperature, humidity, wind direction, application pressure and spray rates. "This give you a pretty good record, but you still have to ride around the field and make the documentation," Keith said. 
One of the most valuable tools the Evanses used last year was an app for their iPhone called "Pocket Spray Smart."  Jonathan notes that it is handy because it allows them to monitor inversions, wind speed, wind direction and the temperature at each field. "If you spray when there is an inversion going on, you'll have problems, so this app is really needed to make sure you don't spray in an inversion."
Moreover, to avoid drift, Keith likes to run his sprayer at the lower end of the pressure range recommended on the dicamba label.
"I slowed the sprayer down to 20 pounds of pressure when I was spraying near sensitive crops and got good control.  If you're in a hurry and you're trying to make more acreage with 50 pounds of pressure, you're going to see some drift," Keith said.  "You can't be in a hurry. Keeping that boom down also makes a big difference."
About the Author(s)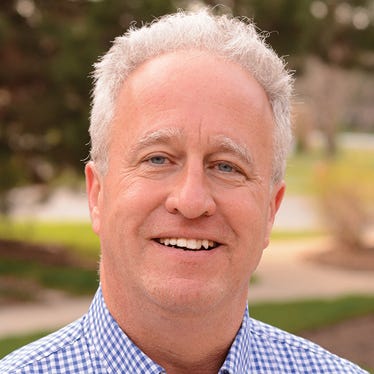 Associate Editor, Southeast Farm Press
John Hart is associate editor of Southeast Farm Press, responsible for coverage in the Carolinas and Virginia. He is based in Raleigh, N.C.
Prior to joining Southeast Farm Press, John was director of news services for the American Farm Bureau Federation in Washington, D.C. He also has experience as an energy journalist. For nine years, John was the owner, editor and publisher of The Rice World, a monthly publication serving the U.S. rice industry.  John also worked in public relations for the USA Rice Council in Houston, Texas and the Cotton Board in Memphis, Tenn. He also has experience as a farm and general assignments reporter for the Monroe, La. News-Star.
John is a native of Lake Charles, La. and is a  graduate of the LSU School of Journalism in Baton Rouge.  At LSU, he served on the staff of The Daily Reveille.
Subscribe to receive top agriculture news
Be informed daily with these free e-newsletters
You May Also Like
---