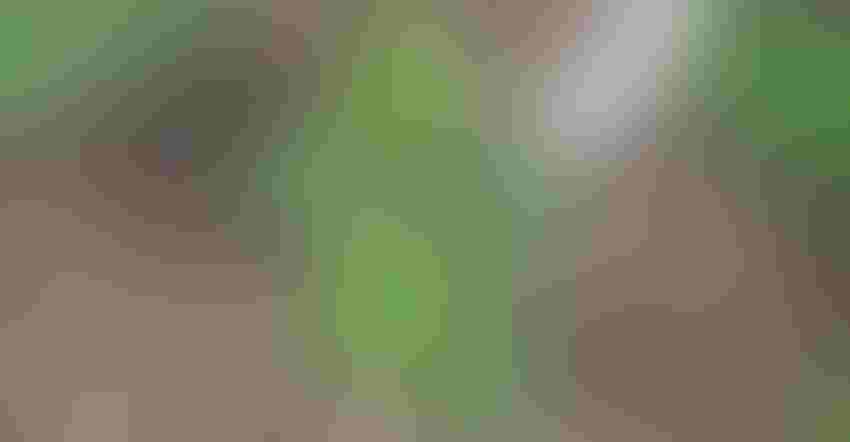 OBSERVE, NOTE AND MOVE ON: Insect feeding is always worth noting while scouting, but agronomist Steve Gauck says small holes like these, probably caused by bean leaf beetles, are not a problem.
Tom J. Bechman
While walking through soybeans soon after they're up, you may run across plants that look like the ones pictured here. Leaves may have one or more holes, perhaps in more than one leaf per plant. Is it a cause for concern?
Steve Gauck says, "No, it's not usually a concern." What you're seeing are holes most likely chewed in leaves by bean leaf beetles. There's virtually no effect on yield from early feeding as long as feeding doesn't reach extreme levels.
Related: Don't underestimate soybeans' power to survive
"You should observe everything you see while scouting and make mental and/or written notes," says Gauck, a regional agronomist for Beck's, based near Greensburg, Ind. Beck's is the sponsor for Soybean Watch '22. "However, you can eliminate some problems right away as a real cause for concern. In almost every case, feeding early in the season by bean leaf beetles is an issue you don't need to lose sleep over."
Recognizing this and distinguishing it from possible feeding by other insects and slugs is important, though, Gauck emphasizes. Slug feeding can become a cause for concern if they chew off seedlings and prevent plants from becoming established. Favored by cool, wet weather, slugs can cause enough stand loss to force replanting. There is no good remedy for slugs, other than replanting. Warmer weather usually lessens the threat, but there is no guarantee that slugs won't attack replanted soybeans too, Gauck says.
"You definitely want to distinguish between bean beetle feeding and slug damage," Gauck continues. "If slugs are feeding, continue monitoring the field and do stand counts to make sure you have enough plants remaining."
Gauck usually is comfortable with remaining stands of 80,000 plants per acre as long as there aren't consistent, large gaps in rows or big areas with no plants remaining.
Treatment thresholds
Refer to the Purdue University Corn & Soybean Field Guide to learn more about bean leaf beetles, Gauck suggests. The guide notes there are typically two generations per year. While the first generation isn't an economic problem in most cases, the second generation can cause yield loss if it occurs during pod fill, or if beetles feed on pods before harvest.
During vegetative stages, the economic threshold for treatment isn't reached unless there is 40% defoliation of all soybean leaves, which is a lot of defoliation, Gauck notes. However, from beginning bloom to beginning seed, the threshold drops to anything over 15% total plant defoliation. From full seed to harvest, it's 25% with beetles actively feeding. If there is 5% or more damage to marketable pods with 10 or more beetles per foot of row just before harvest, treatment is recommended.
Some suggest there may be less chance of bean beetle feeding early in the season if the seed was treated with an insecticide. However, the Purdue Corn & Soybean Field Guide contends that seed-applied insecticides offer no control of more damaging late-season feeding from bean beetles.
Subscribe to receive top agriculture news
Be informed daily with these free e-newsletters
You May Also Like
---