Arizona Veg IPM: aphids, disease development, weed emergence
Arizona Veg IPM: aphids, disease development, weed emergence
Proper identification of winged aphid species in desert-grown leafy vegetables is important for cost-effective pest management.This time of year is when winged (alate) aphids are observed on desert lettuce and cole crops.Three ingredients required to develop most plant diseases - susceptible host, a pathogen capable of infecting the host, and a favorable environment;Not all pre-emergent herbicides kill weeds before emergence.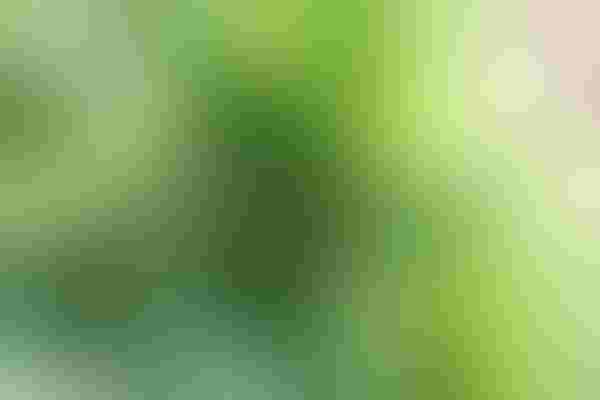 The latest Arizona Vegetable Integrated Pest Management Update from the University of Arizona Cooperative Extension in Yuma, Ariz.
Aphid identification in leafy vegetables
By John Palumbo, UA Research Scientist and Extension Specialist
The proper identification of winged aphid species found on leafy vegetables in the desert is important for cost-effective pest management. This is the time of the growing season when we often observe winged (alate) aphids on desert lettuce and cole crops.
Most of the important aphid species found on local crops do not over-summer in the desert because of high temperatures. The aphids typically begin migrating to desert crops beginning in November; often blown in with gusting winds.
My experience over the past 20 years suggests this is due in part to cooler weather and changes in prevailing winds that now begin to blow in from the north and northwest.
Consequently, once the aphids reach the desert valleys, the insects typically move from crop to crop until they find a suitable host to feed and colonize. It is not uncommon to find winged aphids on lettuce or broccoli that are specific pests of small grains (i.e., corn leaf aphid) or alfalfa (i.e., pea aphid).
Since these aphid species will not colonize lettuce, it is important to distinguish them from the key aphid pests commonly found on lettuce that do colonize and require management to prevent problems at harvest (including the green peach aphid, foxglove aphid, and lettuce aphid).
The bottom line is proper aphid identification can save pest control advisers (PCAs) time and money, plus prevent unnecessary insecticide applications.
This pictorial key provides information that can assist PCAs with identifying winged aphids important in lettuce and other leafy vegetables –  for aphid ID tool click here.
Contact Palumbo: (928) 782-3836 or [email protected].
Significance of the environment on disease development
By Mike Matheron, UA Extension Plant Pathologist
The three ingredients required for the development of most plant diseases include a susceptible host, a pathogen capable of infecting that host, and a favorable environment. Two components of the environment, temperature and moisture, are critical factors affecting the development and severity of diseases caused by bacterial and fungal pathogens.
A plant disease caused by the pathogens will not occur if the temperature and/or moisture levels prohibit the pathogen from interacting with the host to cause disease. This explains why some diseases only appear on a crop during particular times during the growing season.
As an example, Fusarium wilt on lettuce in the desert is found primarily during the fall, but not during the winter months, as soil temperatures in the fall (not the winter) favor the growth of the pathogen and disease development.
Also, downy mildew on winter vegetables including lettuce, cruciferous crops, onions, and spinach is usually a concern in the winter and early spring, but only when periods of leaf wetness caused by rainfall and dew are present. Periods of high humidity and leaf wetness are essential for downy mildew pathogens to grow, proliferate, and cause disease.
The generally dry conditions prevalent in the desert benefit growers by restricting foliar diseases caused by bacteria and many fungi that flourish in regions receiving abundant rainfall. Growers cannot control the weather but can control irrigation practices, which in some cases can influence the severity of vegetable crop diseases.
For example, the severity of Sclerotinia drop on lettuce can be increased by over-irrigation especially if this results in wetting of the bed top. Also, during periods of rainfall and high humidity, sprinkler irrigation can extend the duration of high foliar moisture and increase the severity of downy mildew.
Contact Matheron: (928) 726-6856 or [email protected].
Weed emergence with pre-emergent herbicides
By Barry Tickes, UA Area Agriculture Agent
Not all pre-emergent herbicides kill weeds before emergence. None kill the seeds. Some are absorbed only by roots or shoots and some by roots and shoots. In all cases, the weed seed must first germinate.
Herbicides absorbed only by roots ordinarily kill weed seedlings before they emerge from the soil. These include trifluralin (Treflan), pendimethalin (Prowl) and benefin (Balan).
Herbicides absorbed only by shoots often kill weak seedlings soon after emergence from the soil. These include DCPA (Dacthal) and EPTC (Eptam). Pronamide (Kerb) is absorbed by both roots and leaves and will kill some weed species very early after emergence.
When used at pre-emergence, some herbicides including oxyfluorfen (Goal) and flumioxyzin (Chateau) are absorbed by seedling weeds only after germination and emerge through the soil where the herbicide is picked up. All of these herbicides, however, are classified as "pre-emergent herbicides."
Contact Tickes: (928) 580-9902 or [email protected].
Subscribe to receive top agriculture news
Be informed daily with these free e-newsletters
You May Also Like
---