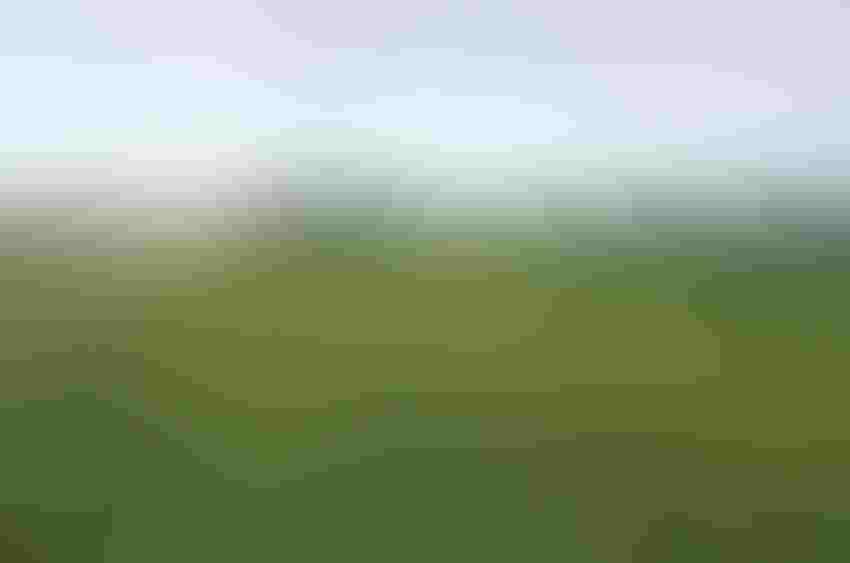 Classic signs of weed resistance – these glyphosate-resistant giant ragweeds have escaped as a single species; there are live plants near dead plants of the same species; and these surviving weeds appeared in patchy distribution within this field. Weed specialists believed that a combine spread seeds from another field into this field, since this huge resistant weed patch is near the field entrance.
Kurt Lawton
Think Different
Michael Blaine, field scientist with DuPont Crop Protection, says that growers who have successfully avoided weed resistance have consistently included a preemergence herbicide in their weed-control plans. "They tell me it's a whole different story when they buy or rent land that hasn't been under a similar weed-control strategy," he adds.
Weed management issues were very evident during the 2017 growing season, with many growers seeing weed populations continue to resist herbicides. If you noticed weed escapes during harvest, its wise to spend time to build a better control plan for each field for 2018.
Wet fields and delayed planting in parts of the country laid the foundation for weed-control problems, says Dave Johnson, a weed management technical expert with DuPont Crop Protection. "Midwest growers saw preemergence herbicides fade before they could make a timely postemergence application. Weeds got too big too fast and heat or moisture stress made them harder to kill or it rained too soon after a herbicide application. You name it, we saw it somewhere last season."
Many variables can make it harder to determine what went wrong, but a closer look provides clues. Aside from obvious application misses or environmental issues, Johnson and other weed experts cite the three most common culprits of weed escapes:
1. Weeds too large. "A frequent cause of escapes for fast-growing weeds such as marestail, pigweeds and ragweeds was that they got too tall before a herbicide application could be made," says Johnson. "Since a pigweed plant can grow 2 to 3 inches per day in warm weather, it's easy to miss the window."
The physiological differences between 4-inch and 6-inch weeds can be significant, he adds. "At a height of 6 inches, weeds start to branch out and are often much more difficult to kill."
Palmer amaranth is a prime example of how size matters, adds Chris Proctor, a weed management extension educator at the University of Nebraska-Lincoln. "Palmer amaranth can go from manageable to out of control in a matter of days because it grows so fast. Sometimes the window to identify and spray it is only about a week, which can be hard to manage during the busy spring season."
Poor application timing is probably responsible for the most weed-control problems, Proctor says. "The goal should be to treat weeds when they're most susceptible. In the spring, that means when they're very small."
2. Reduced residual activity. Most preemergence herbicides provide control for about 30 days, notes Johnson. "Under ideal conditions that's enough time for a postemergence application, but sometimes application issues or weather conditions reduce residual control.
"Warm, moist conditions can shorten residual activity, as can excessive rain or high organic matter levels in soil," he says. "You need to scout fields to know how the preemergence application is performing."
When the residual breaks early, Palmer amaranth will take full advantage of the opportunity, adds Proctor. 'The best time to control that weed is before or at emergence, and the most successful strategy for preventing emergence is to overlap residual herbicides."
3. Herbicide-resistant weeds. Common signs that herbicide resistance has developed are:
When weed escapes are from a single species.

When live plants are found near dead plants of the same species.

When surviving weeds appear in patchy distribution within a field .

When small weeds survive a full-rate herbicide application.
Some universities offer molecular testing services to diagnose herbicide resistance and provide directions for collecting leaf and seed samples.
It's also important to track the type of resistant weeds that have been documented in your area, says Proctor. "For example in Nebraska, Palmer has moved in from the southern U.S., being distributed by feed, manure and equipment, and glyphosate-resistant Palmer amaranth was confirmed in south-central Nebraska last spring. It has quickly overtaken waterhemp as the biggest weed issue in the state.
The International Survey of Herbicide Resistant Weeds tracks global resistance. You can find the weeds in your state.
"Overlapping herbicide residual is an especially important strategy when you're dealing with herbicide-resistant Palmer amaranth," Proctor adds. "Some growers have shortened the length of residual they count on to around 20 days and apply herbicide based on calendar date rather than scouting indications, just to ensure they get good control."
In southern Minnesota, growers with recently identified waterhemp resistance to PPO inhibitor herbicides were suffering from results of the same miscalculation in control strategies, says Michael Blaine, field scientist, DuPont Crop Protection. "Some of them tried to manage waterhemp with a convenient one-pass program, usually at reduced rates and often when weeds were too tall." The result was out-of-control waterhemp.
Weed resistance to multiple herbicide groups adds to the challenge. Many state weed scientists have documented weed populations with resistance to three, four and even five herbicide groups – especially waterhemp. As Mike Owen, Iowa State University weed scientist says, "it is impossible to spray the problem of herbicide resistance in waterhemp away. The only solution is the judicious use of herbicides and the adoption of greater diversity of weed management tactics."
Blaine adds that growers who have successfully avoided resistance have consistently included a preemergence herbicide in their weed-control plans. "They tell me it's a whole different story when they buy or rent land that hasn't been under a similar weed-control strategy," he says.
A good resource to help farmers manage herbicide, fungicide and insecticide resistance is Take Action, funded by soybean checkoff (United Soybean Board), commodity groups and the major chemical/seed companies. The goal is to encourage farmers to adopt management practices that lessen the impact of resistant pests and preserve current and future crop protection technology.
Refine your weed-control plan
The best weed-control approach targets specific weed threats with a diverse set of tools. Consider these elements when drawing up your 2018 plan:
Know weed biology. Track emergence windows to time applications.

Apply herbicide mixes containing two or three effective modes of action for your weeds to achieve reliable control and best prevention of weed resistance.

Don't cut herbicide rates. You risk not getting effective control and increase herbicide resistance development when you apply below-label rates.

Consider spot tillage on weed-infested acres to reduce weed resistance.

Consider cover crops to suppress fall-emerging winter annuals and early summer annual weeds.

Use narrow rows, as early canopy closure helps limit weed growth.
Subscribe to receive top agriculture news
Be informed daily with these free e-newsletters
You May Also Like
---