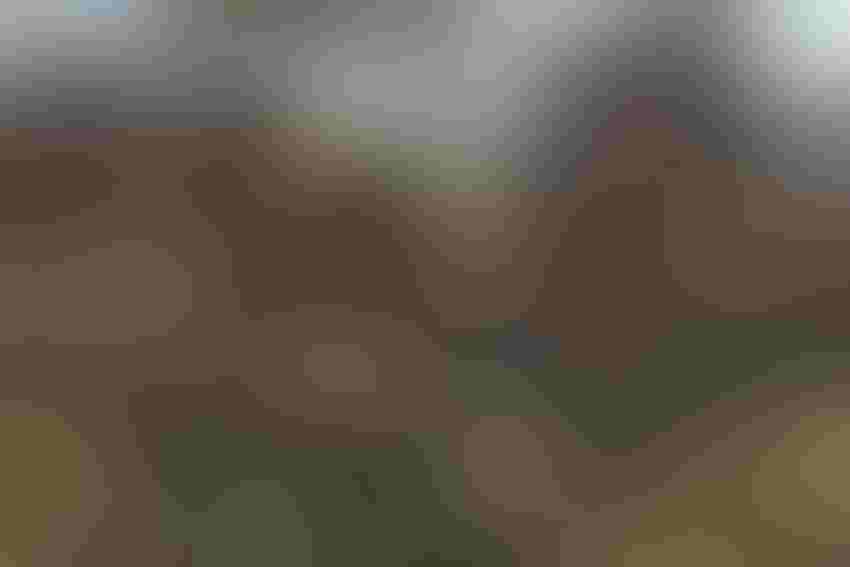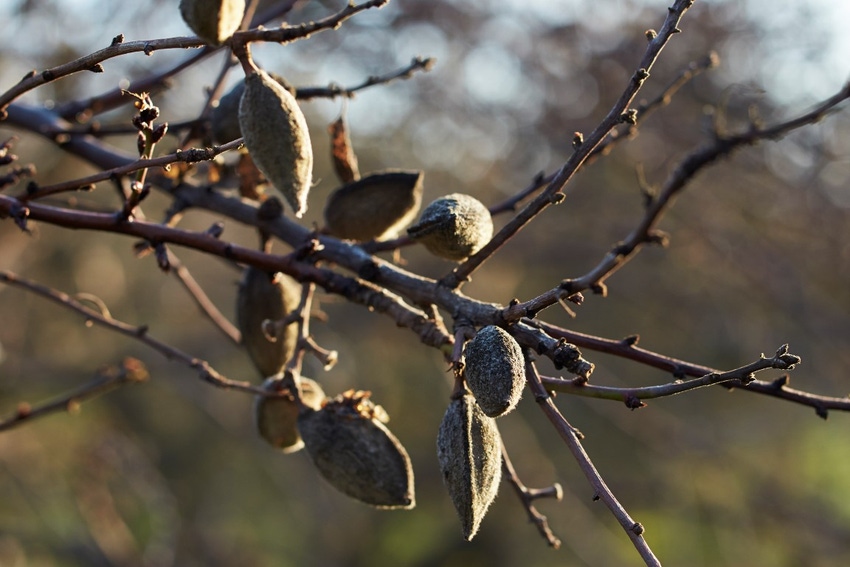 Winter sanitation, including mummy removal from almond trees and destroying the mummies with a flail mower, is essential in almond orchards.
Halloween has come and gone but almond growers should still be concerned about mummies - mummy nuts that is. Navel orangeworm (NOW) damage is higher this year than it's been in more than a decade, which can reduce almond quality and can pose a health threat.
Mummy nuts left in the orchard provide the overwintering link from one season to the next for NOW. Removing mummies from trees, and destroying the orangeworm inside, is the objective of winter sanitation to combat this pest.
While winter sanitation is important every year, it is even more vital this year with rejection from NOW damage estimated at more than 2 percent for the 2017 almond harvest. The goal is to keep rejection below 2 percent while striving for 1 percent or less, according to the Almond Board of California (ABC).
So there is a serious concern about almond quality this year. The concern reaches beyond direct crop damage and quality because NOW damage is associated with aflatoxin. NOW opens the door and promotes fungal infections and contamination. Research shows the Aspergillus mold and the aflatoxin contaminant it produces is associated with reject kernels, and there is a synergy between NOW and this mold.
Aflatoxin produced by Aspergillus mold is a known carcinogen and mutagen. A major concern for tree crop industries, including almonds, is stringent tolerances for aflatoxin contamination in key export markets.
NOW risk factors
The potential for migrating moths could greatly increase the grower's risk of NOW infestations. Adult moths are strong fliers and scavengers which can subsist on almost anything. Previously, Almond Board-funded research suggested that if orchards were within one-quarter mile from an infestation source that the risk increased. But as an illustration, newer research indicates that almonds within three miles of a pistachio orchard increase growers' risks.
Pistachios are not the only neighboring nuts that can pass along migrating moths. NOW can pass from almond orchard to almond orchard if too many mummies are left behind. Every almond grower should implement winter sanitation practices to prevent the spread of NOW to neighboring orchards.
Additional risk factors shared by Jhalendra Rijal, area IPM advisor with the University of California Cooperative Extension, include the history of infestation of the orchard, the infestation rate of the mummy nuts, the number of mummies, and if winter weather is dry and favorable for NOW breeding.
Almond Board of California funding support created a NOW prediction calculator developed by Joel Siegel (USDA-ARS) and entomologist Brad Higbee that can help determine the level of infestation risk. Though the calculator was developed for the southern San Joaquin Valley, it is also a good baseline indicator for northern-growing areas.
NOW management
Winter sanitation, the foundation of a NOW pest management program, puts the grower ahead of the NOW population and the resulting threat of aflatoxin. The two cultural practices which provide the most effective control of NOW include:
1 - Winter sanitation – The removal of mummy nuts by shaking and or poling is the most effective NOW control method. Nuts that remain on the tree after harvest are harborage.
The goal is to have fewer than two mummies per tree before bud swell around Feb. 1. In the San Joaquin Valley there is typically less winter rain so trees should be cleaned to less than one mummy per tree, as highlighted in the NOW prediction calculator referenced above.
Wet and foggy weather conditions can help nuts come off the trees more easily. Do not let overly wet weather stop you from completing sanitation. This was the case in 2016 and contributed to the high percentage of NOW damage this season. An added benefit is that wet orchard floors and cover vegetation can increase NOW overwintering mortality rates.
Mummies should be destroyed once on the orchard floor with flail mowing by March 15. The NOW life cycle begins in mid-March.
2 - Early harvest: While early harvest is something to be considered for the next season, it is still important to plan for it. Almond Board funded studies show that about 30 days after hull split of the first maturing varieties - typically Nonpareil - there is an explosive flight of NOW.
This is due to excellent new food sources available in the new nut crop once the hulls open. It is wise to harvest as soon as possible after nuts are mature – when 95 percent of the nuts are at hull split at the 6-to-8-foot level of the tree canopy.
As a result of Almond Board and other research funding and efforts, there is a new biological approach to reducing aflatoxin potential in almonds that will be available in the 2018 season. The orchard is "seeded" by applying AF-36, branded as Prevail to the orchard floor.
AF-36 is a non-toxin forming strain of Aspergillus flavus which displaces the naturally occurring toxin-forming strains of the fungus present in the orchard. This agent has shown a reduction in toxic Aspergillus strains in the soils of pistachio orchards.
It is available for application for the first time in almonds during the late 2018 spring period. Almond Board advisories on its use will be forthcoming.
Best practices open markets
The European Union, one of the largest importers of California almonds, has tight regulations and a low threshold for aflatoxin levels. To open more market opportunities in Europe, the Almond Board of California created the Pre-Export Check (PEC) program for almond handlers who plan to ship almonds to Europe.
The PEC program, explains Bryce Spycher, manager of Marketing Order Services, allows handlers to have a representative sample tested to European Union standards in California by the USDA.
If the crate receives a passing grade, USDA-signed documentation accompanies the crate to the port in Europe where officials can only test up to 1 percent of those shipments with documentation. This streamlines the import controls for California almonds and allows more almonds to enter the market faster.
"The more proactive growers are about engaging in good agronomic practices, such as winter sanitation, the more product handlers can sell to selective markets," said Spycher. "When handlers can sell high-quality product to places like Europe, this could lead to better prices for growers."
Reduce the risk of Navel orangeworm damage by mummy winter sanitation in orchards and harvest early. Now is the time to think about preventing NOW damage for the 2018 almond crop.
To learn more about winter sanitation and controlling the Navel orangeworm, visit http://www.almonds.com/pests and the UC IPM website at www.ipm.ucdavis.edu. Click on the Year-Round IPM Program for Almonds, and then click on Navel Orangeworm.
Subscribe to receive top agriculture news
Be informed daily with these free e-newsletters
You May Also Like
---