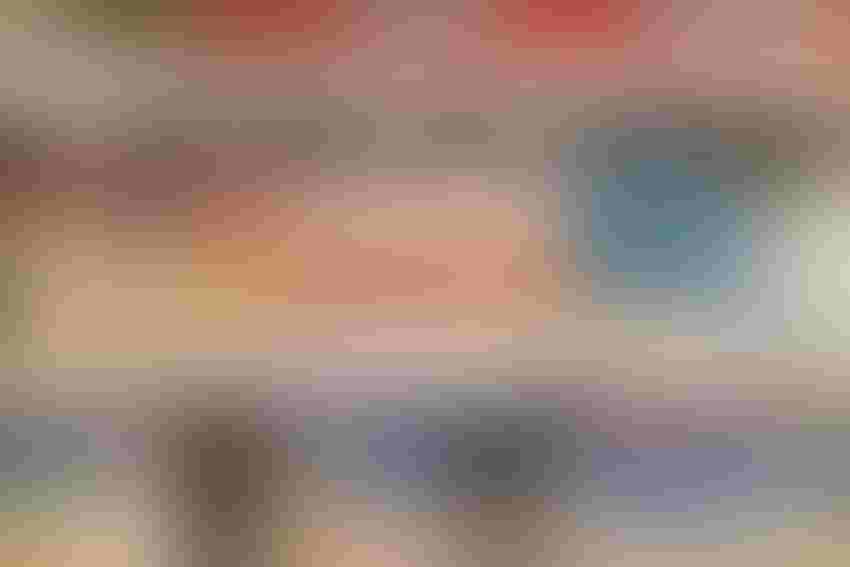 Walnut milk and other plant-based milks are growing in popularity among retail consumers
Bruce Rominger
New walnut products are being developed that appeal to consumers and create new marketing opportunities for growers who have been expanding production in California.
The National Agricultural Statistics Service reports that 686,000 tons of in-shell walnuts were produced in the Golden State in 2016, up from 606,000 tons a year earlier. In 2007, production was 328,000, showing that production has more than doubled in a decade.
Walnut growers are reaping the benefits of innovative new products that attract consumers, says Jenifer Olmstead, marketing director for the California Walnut Board & Commission. "The inclusion of walnuts in well-known products, as well as higher volume uses, benefit growers in two ways. First, there is an increased demand for walnuts overall to meet customer needs for nutritious foods, and second, these types of products can use different varieties, as well as grades, of walnuts without compromising taste."
New walnut products, such as walnut milk and walnut butter, open the door to new ways of consuming walnuts, she says. "These two products build on the popularity of plant-based milks and nut butters, making for easier adoptability."
Recent studies have shown that eating of plant-based products is on the rise, Olmsead notes, with 90 percent of consumers saying they're open to following a plant-based diet, and two-thirds saying they are most likely to eat plant-based proteins in prepared meals. "As a result, we are seeing increasing interest in using walnuts as a plant-based protein —for example, as a taco filling or in a meatless bolognese sauce.
"Walnuts are being integrated into traditional cuisine as well, as new items address local needs and global trends. Flavored walnut kernels are available in many Asian countries as a healthy snack option. Walnuts are being utilized as a replacement for other ingredients, or as a flavor and texture addition to sauces and spreads, such as pesto and hummus.
"Healthy living is at the top of the food pyramid," Olmstead says. "It has an impact on almost all categories and geographies in food. Walnuts are a heart-healthy whole food that provide a myriad of health benefits, and add value to these new products."
These products are selling worldwide, she points out. "In the domestic market, we've seen launches of Mariani Walnutmilk and Elmhurst Milked Walnuts. Some of our industry members have recently launched lines of walnut butters," including Wellnut Farms Walnut Butters and Crazy Go Nuts Walnut Butters.  Other new products are in the pipeline.
"In the export market, Japan and Korea stand out," Olmstead says, "with walnuts integrated into a wide variety items for use alone or as part of another food item. Walnuts can be found in bakery items, beef jerky snacks, ready-to-eat meals, and other products. Throughout countries where walnuts have been part of their diet and culture, such as Turkey, walnuts are being incorporated into traditional sweets and savory dishes at home and in local restaurants."
Mariani Nut Company, based at Winters, Calif., recently launched Walnutmilk, a healthy new entry in the plant-based milk category. The initial product launch is with regional retail partners in Northern California, including Raley's and Nugget supermarkets, and in Texas.
"I think it's important and incumbent on the industry to continue to develop markets, and to work ahead of that supply, and create demand," says Matt Mariani, who oversees the company's sales and marketing efforts. "Obviously, a way to do that is through new, innovative products that appeal to customers. That is one of the reasons we're launching this new Walnutmilk."
In addition to walnut milk, other plant-based milks are available, made from foods such as almonds, cashews, peanuts, oats, rice, and soybeans. These products provide options to consumers, some of whom are lactose-intolerant, gluten-intolerant, or vegan.
Other California companies have been developing new walnut products. Diamond of California, based at Stockton, produces nut toppings that are roasted and slightly sweetened: glazed walnuts and glazed pecans, for adding to salads, oatmeal, baked goods and other foods, or simply for snacking. New product development is ongoing.
Further, new products are emerging that utilize byproducts such as walnut shells. "California walnut producers have seen a significant reduction in their returns on shell sales due to excess supply, with few viable commercial outlets," Olmstead says.
"To expand market opportunities, the California Walnut Board is exploring the thermal conversion of shells in a process called torrefaction, to create novel plastic additives. Test applications have included use in commodity plastics; in tire formulation; as 'activated carbon' for filter devices; and as biochar for soil amendment. While prototypes have been made at the laboratory scale, work is needed to scale-up and optimize production as quickly as possible. The goal is to provide commercially viable torrefied shells into new market applications."
The California walnut industry is poised for further growth as consumer demand continues to increase, Olmstead says. "To support new product development in the U.S. market, California Walnuts has developed 11 starting formulas that are available for license.
"The new formulas fill obvious needs in the market, such as walnut milks and butters, but also fit into current consumer eating trends, such as plant-based eating and snacking. California Walnuts is also licensing our new logo across all markets, allowing companies to benefit from the consumer awareness that has been achieved through our advertising programs."
Subscribe to receive top agriculture news
Be informed daily with these free e-newsletters
You May Also Like
---