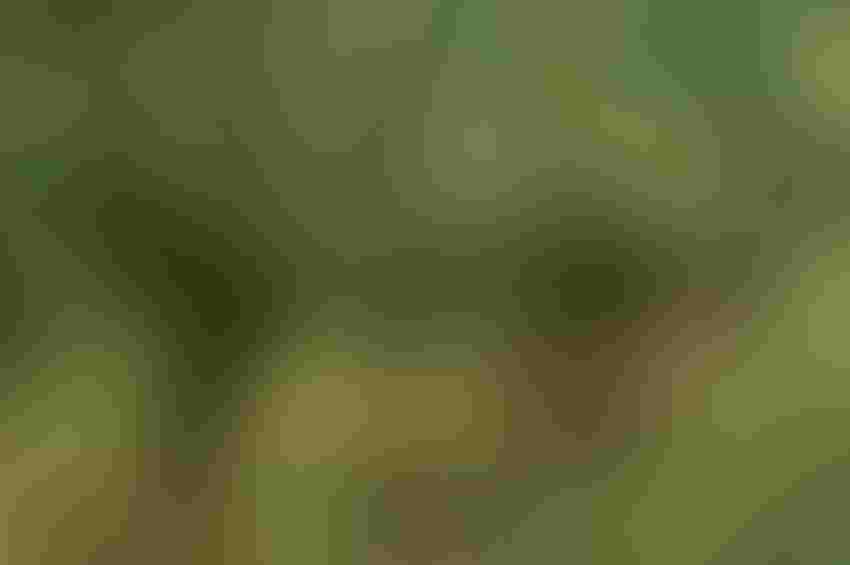 Gomezdavid-iStock/Getty Images
Determining levels of irrigation for almonds throughout the summer requires constant attention, a University of California Cooperative Extension scientist says.
Water use by mature almond trees is the highest of the season during summer, and it's not uncommon to see stressed trees, says David Doll, UCCE pomology farm advisor based at Merced. A tree can be stressed for a variety of reasons, including miscalculation of evapotranspiration rates that lead to under-irrigation, or poorly designed irrigation systems that can't meet an orchard's full summer demand, he notes.
Some stress is OK, Doll writes in a post on the UC's The Almond Doctor blog. Mild water stress at the onset of hull-split has been shown to increase uniformity or "evenness." In some cases, growers on soils with high water-holding capacity could apply deficit irrigation earlier in June to draw down levels of stored soil moisture.
But in these cases, as well as others, growers should carefully monitor trees' water stress through the summer by using a pressure chamber, he advises. Water reductions should start at 10 percent to 20 percent, and near-to-full irrigation should resume as soon as trees reach a midday stem water potential, or two bars or three bars more negative than baseline.
"Maintaining this stress too long or starting it too early … may have a detrimental effect on kernel weights and corresponding yields," Doll notes. Research in three California orchards found "a strong correlation" between summer tree stress and decreasing kernel weights.
TESTING THE LIMITS
UC researchers in recent years have been testing the limits of deficit irrigation amid drought conditions and increasingly severe water shortages. A study published in 2011 found that crop consumptive water use and irrigation could be reduced without significant detrimental effects on almond production.
Over a five-year period, no significant yield reductions were observed in the northern Sacramento Valley test orchard, although average kernel weight was slightly lower, according to the study published in the UC's journal California Agriculture.
However, subsequent research at test sites in Tehama, Merced, and Kern counties found that a prolonged period of stress can reduce kernel weight by as much as 30 percent, depending on severity, Doll notes. "This makes sense, as tree stress reduces photosynthesis, which reduces the amount of carbohydrates that can be directed toward the developing nut." Kernels keep developing nearly to the point of harvest.
THINGS TO CONSIDER
When considering deficit irrigation, a grower should take into account aspects of tree physiology, operations, and irrigation capabilities, Doll advises. Understanding the state of the tree's development in relation to when it completed kernel fill, timing of blank split and hull-split, and the timing of harvest will influence how much of a deficit should be used and when.
The strategy should also depend on an operation's ability to quickly apply water, as a system with readily available water is better able to manage deficit irrigation than an orchard that has to wait two or three days for water to be delivered.
Doll urges growers to be sure the irrigation system can meet the peak demand of the orchard. If it can't meet that threshold, then a deficit is already being applied and water shouldn't be reduced any further.
To read Doll's blog post, go to https://bit.ly/2AeibgR
Subscribe to receive top agriculture news
Be informed daily with these free e-newsletters
You May Also Like
---