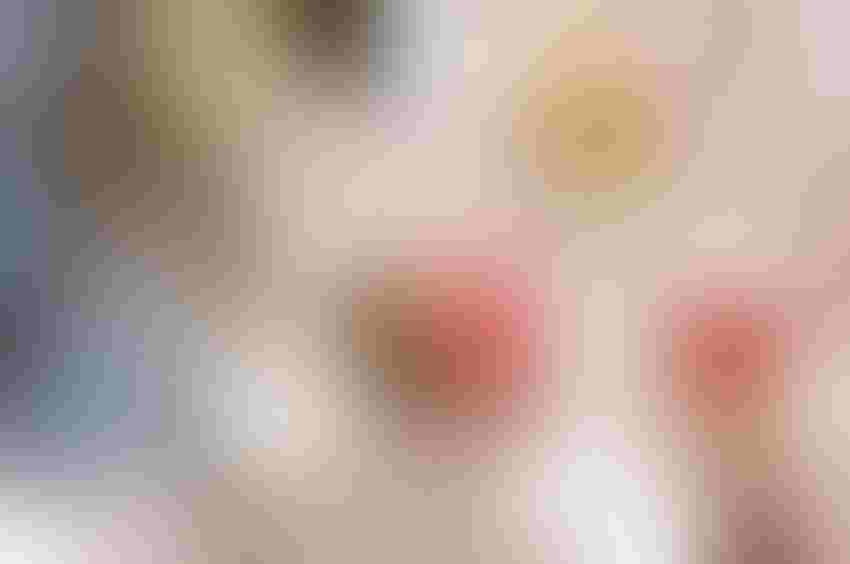 Bee in white flower of almond tree
Pedrosanchezsaez/Getty Images Plus
The search for new almond rootstock and scion varieties, suited to particular growing conditions, markets and grower needs, is challenging for plant breeders, nurseries, and researchers.
Geneticist Tom Gradziel of the University of California (UC), in his research update for the Almond Board of California, reports that his research project will generate 14,000 new seedling progeny with the target of nearly 8,000 new trees in field plantings.
His project involves the development of improved pollinizers for the Nonpareil almond variety, and varieties which are self-fertile and have improved market value and resistance to diseases, insects, and environmental stresses.
He's also evaluating the potential of about 18,000 progeny trees in the trial.
Nonpareil and a few closely related pollinizers have been mainstays in commercial almond production for years.
Dani Lightle, UC Cooperative Extension (UCCE) farm advisor in Tehama, Glenn, and Butte counties, is seeing a large shift to self-fertile varieties with the ratio of Nonpareil to the self-fertile Independence plantings shrinking since 2014.
In 2016, one quarter of all new almond acres were planted to the self-fertile Independence variety. Developed by Zaiger Genetics, Independence has been available to growers since 2008. Harvest for the variety is slightly later than Nonpareil, and the kernels and crack out are larger.
Lightle says the popularity of this self-fertile variety depends on the region. Northern California almond growers are interested in the variety, she notes, but they prefer to have varieties budded on Krymsk 86, a rootstock known for good root anchorage and some tolerance to oak root fungus and wetter soils.
Most of the new Independence trees, she notes, are being planted further south in the San Joaquin Valley where there are fewer problems with blow overs and oak root fungus.
Self-fertile varieties appeal to growers, says Lightle, since with just one variety in a block that harvest, spray applications, and irrigation can be conducted more efficiently. Harvest crews do not have to shake later-maturing pollinizers, spray timing can target the entire block, and all trees can be equally water stressed prior to harvest.
Significantly lower pollination costs are another enticement for growers to plant self-fertile almond varieties. Lightle believes one hive per two acres, rather than the traditional two to two and a half hives per acre, should be sufficient.
Pollination requires fewer bees to do the job, she notes, since bees tend to move down a row of trees rather than zig zag between the rows. Orchards with more than one variety in a block require more bees to ensure adequate pollination.
While a single variety in a grove may provide growers more flexibility, some potential disadvantages have been noted.
"Some growers say the downside is there may not be enough harvest equipment to cover all acreage at harvest. There are not enough of these trees producing now so we are not there yet," Lightle said.
A more significant difference may be the grower almond price. Lightle says Nonpareil and Independence prices have been close when the first Independence nuts were harvested. However, the price gap has widened as Nonpareil is preferred by buyers. She says some growers may prefer to plant new varieties, yet buyers are looking for the same nut they've traditionally purchased.
Butte County UCCE will host a regional almond variety trial on June 22 at the Chico State University farm. Varieties on trial, 2016 third leaf yields, and other production data will be available. Breeders will answer questions about the varieties.
For more contact Dani Lightle at (530) 865-1153 or [email protected]. Check the events calendar at www.sacvalleyorchards.com/events.
Subscribe to receive top agriculture news
Be informed daily with these free e-newsletters
You May Also Like
---