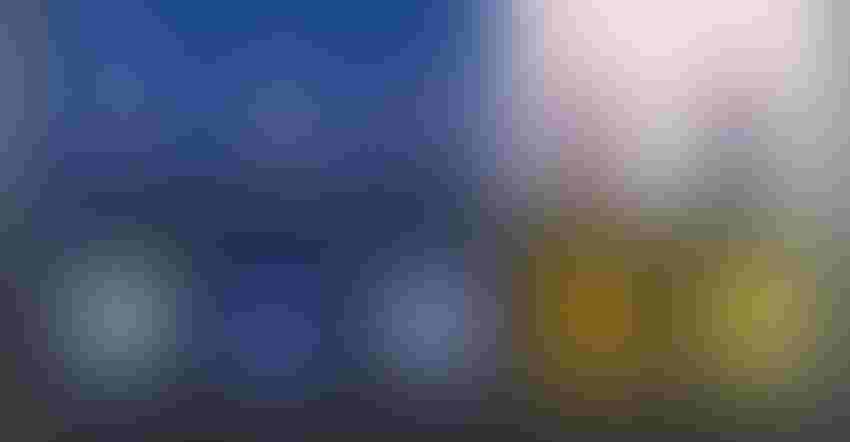 PRIME THE PUMP: Iowa officials are urging USDA to revive a federal cost-share program to help provide blender pumps for retailers to sell higher blends of biofuels.
Farm Progress
USDA is asking for input from biofuel stakeholders on a new incentive program to help boost retail sales of ethanol and biodiesel. The agency wants to establish a Higher Blends Infrastructure Incentive Program.
USDA is exploring options to expand domestic ethanol and biodiesel availability and is seeking information on ways to increase sales of higher blends, such as E15 ethanol and B20 biodiesel or higher. HBIIP would provide federal cost-share funding to retail gas stations to help pay for installing pumps and tanks to handle the higher blends.
Speaking at the recent 2020 Iowa Renewable Fuels Summit, USDA Deputy Secretary of Agriculture Steve Censky said this effort will build on biofuels infrastructure investments and experience gained through the Biofuels Infrastructure. USDA administered BIP from 2016 to 2019 through state and private partners to expand availability of E15 and E85 infrastructure to make available those higher ethanol blends at gas stations around the country. Censky said the new HBIIP will be implemented this year.
Program to boost retail sales
Iowa Gov. Kim Reynolds and Secretary of Agriculture Mike Naig submitted joint comments to USDA on Jan. 31 voicing support for the new program. The federal HBIIP would provide grant funding to support investments in renewable fuels infrastructure. Reynolds and Naig are urging USDA to revive the federal infrastructure incentive program by establishing the HBIIP version.
"Despite Iowa's success with biofuels so far, our state is just getting started," Reynolds said in her letter. "USDA's willingness to recognize the potential to build on the previous program's successes is highly encouraging. We are confident that if Iowa's proposed expansion of our state's Renewable Fuel Infrastructure Program is met with a federal commitment to HBIIP for both biodiesel and ethanol, we can accelerate the adoption of biofuels, supporting the environment and rural communities while we do it."
Naig added, "An investment in renewable fuels is an investment for all Iowans. Biofuels benefit farmers, jobs in rural communities, and give consumers access to affordable, cleaner-burning fuel. With funding and support from USDA, we can continue building upon the success of the state's RFIP cost-share program by adding more E15 and biodiesel blends at local fueling stations, giving Iowans more choices at the pump."
The comment letter and technical feedback can be viewed at governor.iowa.gov.
Need to build infrastructure
Iowa is one of a handful of states with a standing appropriation that is funding a state Renewable Fuels Infrastructure Program. "Iowa's RFIP cost-share program helps operators of retail fuel stations convert their equipment to allow expanded use of renewable fuels in Iowa," Naig said. "Specifically, it makes more pumps available that can provide higher blends of renewable fuel for motorists to buy."
Since its inception, the Iowa RFIP has awarded $35.26 million in state dollars for biofuels infrastructure projects. The private sector has responded to the RFIP by investing over $200 million in these renewable fuels infrastructure projects.
"The Iowa Corn Growers Association applauds USDA for their efforts to assist in funding infrastructure projects to increase the availability, accessibility and sales of higher blends of ethanol and biofuels," said ICGA President Jim Greif. "Fuel infrastructure is a long-term investment, and unfortunately for some retailers, that severely impacts their ability to offer higher blends of ethanol and biodiesel. This also impacts corn and soybean farmers and the demand for cleaner-burning, homegrown renewable fuels."
Strong demand for cost share
Iowa benefits from its own state-funded biofuels infrastructure program and has seen tremendous success in expanding available infrastructure. In turn, more motorists are choosing higher ethanol blends. Today, Iowa has more than 217 registered E15 stations and more than 350 stations offering E85. However, driven by the U.S. Environmental Protection Agency's 2019 approval of year-round sales of E15, interest in Iowa's RFIP cost-share program among fuel retailers is at an all-time high.
Iowa consumers are taking advantage of this and are buying more E15. According to Iowa Department of Revenue data, in just three short years, sales of E15 have grown from nearly 5.7 million gallons in 2015 (the year IDR began tracking E15 sales data) to more than 34.1 million gallons in 2018. During this same time frame, E85 sales increased from just 13.2 million gallons in 2015 to more than 20.1 million gallons in 2018.
Additionally, E15 and E85 are sold at a discount to E10, resulting in serious savings for consumers and cleaner air for Iowa families. "In Iowa, we are proud to be No. 1 in corn and ethanol production," Naig said. "We look forward to working with USDA, as well as retailers in Iowa to increase their biofuels infrastructure and bring even more environmentally friendly fuels to Iowa and Midwest travelers."
Increasing ethanol, biodiesel use
The new Higher Blends Infrastructure Incentive Program that USDA is planning to introduce aims to incentivize fuel retailers to install more blender pumps and tanks and offer higher blends of ethanol and biodiesel for sale to the public.
Grant Kimberley, executive director of the Iowa Biodiesel Board, says he is glad to see biodiesel included in the infrastructure incentive program. While increasing the number of biodiesel pumps at retail gas stations across the U.S. is encouraging, he would also like to see more tank capacity, and heated and insulated tanks for year-round blending at terminals, and more facilities with blending capabilities. Sometimes trucks must haul farther distances between terminals to get the higher blends of biodiesel. "We need more biodiesel blending sites across the country," he says.
Monte Shaw, executive director of the Iowa Renewable Fuels Association, says he's excited about USDA's new cost-share program to promote the infrastructure needed to make higher blends of ethanol and biodiesel available at retail fuel stations. But he hopes it's less cumbersome than its predecessor program. "The BIP was slow and clunky; you had to do a lot of weird things to get the cost-share money, which made the program difficult and slow," he says. "Hopefully, this new HBIIP program will be more streamlined with a faster implementation."
Subscribe to receive top agriculture news
Be informed daily with these free e-newsletters
You May Also Like
---