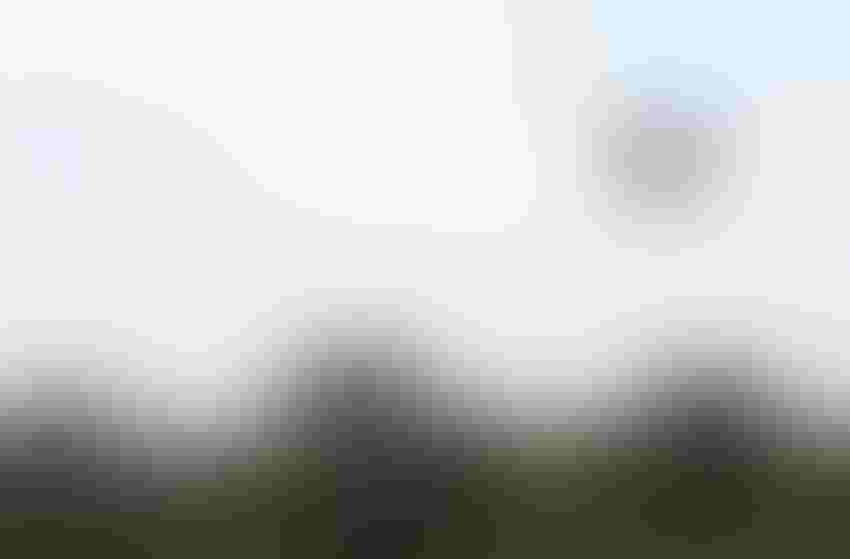 David Daughtry's UGA drone flies over a south Georgia field September 2017.
Unmanned Aerial Systems technology is getting more affordable and appealing to use on farms, and in agronomic research, to collect useful crop data that can be turned into an actionable plan to improve crop production.
David W. Daughtry, a University of Georgia graduate research assistant who works with Dr. Wesley Porter, UGA Extension irrigation specialist, and Dr. Glen Harris, UGA Extension crop fertility specialist, is a licensed drone pilot, and uses the technology to collect research data from UGA trials at the Sunbelt Ag Expo Darrel Williams Research Farm.
In this Q&A, Daughtry talks about the technology and how it is used at Expo and on Georgia farms.
But first, let's get a couple of terms defined: An Unmanned Aerial System is also called a UAS, and consists of an unmanned aerial vehicle (UAV, or more commonly, drone), the control system, the sensors on the UAV, the software used to post-process the data, and the information that can be gained from the system.
For what purposes do you use drone technology at Expo?
We have been using unmanned aerial systems in our cotton fertility research. My research project is focused on correlating various nutrient levels in both cotton and corn to data collected by the UAS. We are currently looking at nitrogen rates and N, P, K, S, and micronutrient deficiency/sufficiency detection methods.
What can this tool offer agronomic crop researchers?
UAS provide a method for collecting large amounts of data rapidly in our research trials. We are continually learning about the information that can be obtained out of UAS data. Additionally, it allows us to have data that has high temporal and spatial resolution that can be stored indefinitely. These data can include a multitude of information, such as fertility, estimations of crop stands, potential for disease detection, and irrigation scheduling.
Is drone technology making its way to farms in the Southeast and in Georgia?
We have seen a significant increase in the number of growers and county agents who are interested in using UAS technology in Georgia. This is partly due to the rapid growth of UAS production, and advancements in technology.
This year we hosted two separate UAS training sessions for UGA Extension agents: one at Tifton (located in south Georgia), and one in Watkinsville (located in northeast Georgia). Our research team is focused on providing scientific results to support the use and verification of actionable information obtained by UAS, specifically as it relates to practices in Georgia.  At this point, we are mainly seeing UAS being used on the farm as a scouting tool using, mainly the RGB (red, green, blue) camera to take photos and videos.
What tips or recommendations can you give a farmer or consultant who might be thinking about investing in the technology?
That depends on what the end user wants to achieve. There are a multitude of UAS available, ranging in price from $300 to just over $1,000, which will do a very good job using an RGB camera. These would mainly be used for scouting purposes. There are UAS available that collect multispectral data, which can be used to develop vegetative index maps such as NDVI (normalized difference vegetation index). 
The usage of these is up to the individual. Basically, the type of system an end user wants to purchase depends on what they would like to use it for. If it is general scouting, then a cheaper system is sufficient, but if they are wanting to do more advanced work, a more advanced system may be desired.
About the Author(s)
Subscribe to receive top agriculture news
Be informed daily with these free e-newsletters
You May Also Like
---