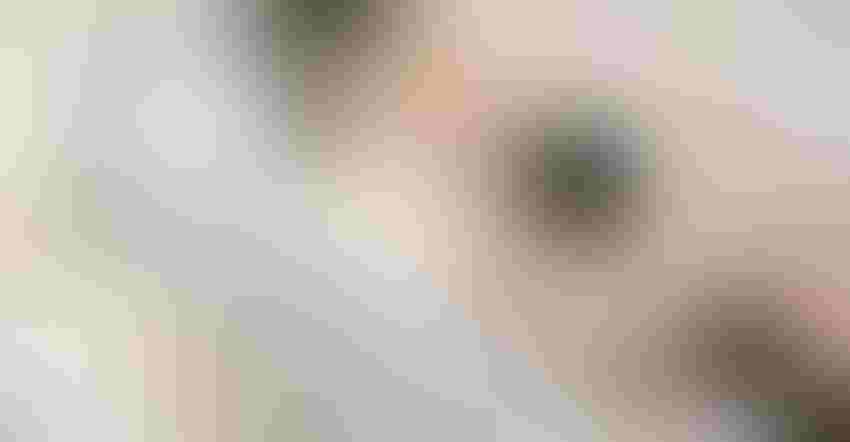 PROTECTING PIGLETS: A sow wears a SwineTech patch, which works with the device hanging on the farrowing stall. Designed to prevent baby pigs from being crushed to death by sows, the system sends a vibration and an impulse to the sow when a piglet is being crushed.
The National Inventors Hall of Fame recently announced the undergraduate and graduate student finalist teams in the 2017 Collegiate Inventors Competition. Among the finalists is a team with an invention to aid in pig farming.
SwineTech, from the University of Iowa, is the Arrow Innovation Prize winner. Team members are Matthew Rooda, Abraham Espinoza and John Rourke; their adviser is Thomas Hornbeck. They invented a system called SmartGuard, which uses sound, vibration and a slight electrical impulse to keep baby piglets from being crushed by sows in farrowing crates.
There's no economic value to a dead piglet. Testing has shown this method can increase production by 0.38 piglets per litter. Rooda figures the $1,219 device (price SwineTech is selling them for) can pay for itself within a year, depending on how long each sow wears it. Each device can service up to 150 sows per year.
Newborn piglets saved by sound
The SmartGuard system monitors the pitch, loudness and duration of squeals, and determines whether a piglet is in distress or just squealing as piglets normally do. When a piglet is in distress, the device sends a vibration and an impulse to a wearable patch on the mother, prompting her to stand and free her piglet. According to swine industry estimates, more than 116 million newborn piglets were accidentally crushed to death by their mothers on hog farms in 2016, resulting in billions of dollars lost.
The SwineTech team is the winner of the Arrow Innovation Prize, chosen by a panel of judges from Arrow Electronics. This exclusive prize advances the team to the final round of judging (all expenses paid) at the November competition, and it includes a private networking opportunity with a group of innovators from Arrow Electronics — a Fortune 118 global technology-solutions provider.
Where did an Iowa college student get the idea to invent life-saving wearable technology for sows? Rooda was working for a large swine farrowing operation while going to school and grew increasingly frustrated with how many piglets were being crushed to death by sows who didn't realize they were lying on their baby pigs. Rooda, a pre-med major, started thinking, "There's got to be a better way."
Pork industry excited about product
Rooda's invention has been described as a cross between a Life Alert device, a shock collar for dogs and a fitness tracker for people. It listens for the distressed squeals of piglets in danger of getting squished and sends a vibration and an impulse to the sow to prompt her to move. The pork industry and investors say they are excited about the product's potential.
Rooda has received backing from pork producers in Iowa and investors. He has formed a company, SwineTech, which has been highlighted in Inc. magazine's "16 Coolest College Startups." He's raised more than $1 million from 18 investors, and has dozens of commitments for orders from pork producers. Rooda graduated from college in December 2016. He's launching the product on a limited basis this year, with a wider introduction to the market at the 2018 World Pork Expo in Des Moines in June.
Rooda's grandfather farmed and raised hogs, and his father manages several commercial sow farms near New Sharon in southeast Iowa. But Rooda himself had little hands-on experience until he took a job at a farrowing operation while he attended Hawkeye Community College in Waterloo. In creating and testing the device, he talked with veterinarians and pork producers to refine it.
Rooda, along with business partner Abraham Espinosa, invested their own money. Rooda relied on his parents and student loans to get by. Winnings from startup contests and grants helped them start SwineTech in August 2015.
Vibration paired with slight shock
The invention has two parts: listening devices and wearable technology placed on the sow for four to six days. One device listens for the high-pitched squeal of the piglet. An algorithm sorts out common squeals from the prolonged squeals of a piglet in distress. Once the device detects a piglet being crushed, it sends a small impulse to the sow, equivalent to the voltage of a dog's shock collar, and waits six seconds before sending a second impulse. The sow stands up about three-quarters of the time, he says. If she doesn't move, the device sends an alert to the farmer.
Rooda says in early testing, sows were startled by the slight shocks. But pairing the vibration with the electrical impulse has reduced surprise and stress. He says the pain is minimal. "Whenever we try something, we test it by shocking ourselves first," he adds.
Rooda is well aware of the criticism he's received from animal rights groups. People for the Ethical Treatment of Animals, for example, opposes anti-barking shock collars and electric fences for dogs, calling those training methods "cruel." But Rooda points out that his invention saves the lives of piglets. "We're correcting a behavior of sows that is life-threatening," he says. "Ultimately, we want to improve the lives of all livestock, and this is a step in the right direction."
For more information contact [email protected] or call the company's Cedar Rapids office at 641-670-0074.
Subscribe to receive top agriculture news
Be informed daily with these free e-newsletters
You May Also Like
---