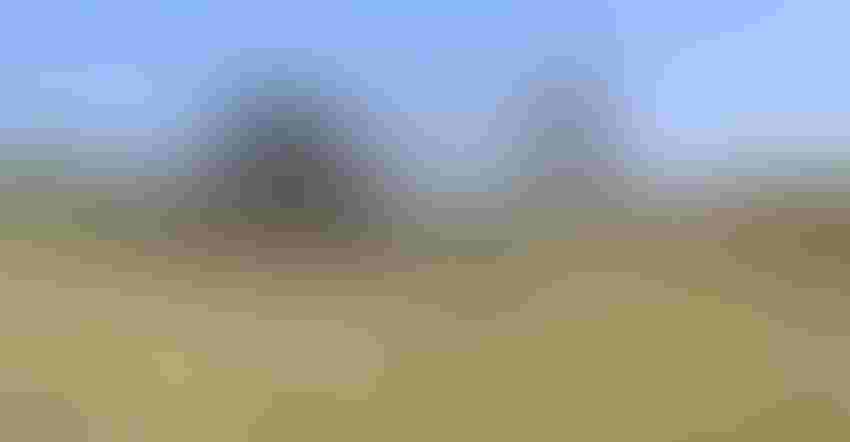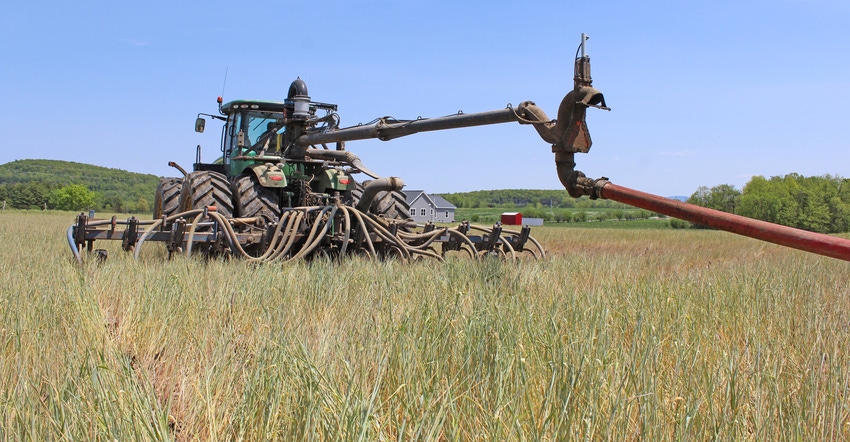 FEEDING THE FIELD: Eric Severy's manure dragline system combined with injection equipment lends itself well to precision manure application.
Photos by Susan Harlow
Variable-rate manure application has yet to take hold in the Northeast. In fact, custom operators are the most likely purchasers of precision manure application equipment right now.
But to use a system to its full advantage, a custom operator must rely on their customers to supply important data, including soil testing and yield monitoring. And that's seldom the case, says Eric Severy of Matthew's Trucking LLC in Cornwall, Vt., whose manure application equipment includes injection and dragline, and John Deere's HarvestLab 3000.
"We are behind the rest of the country in technology," Severy says. Few farmers can afford the full range of expensive technology that can track manure nutrients from the cab, especially in the current dairy economy. And some aren't convinced, yet, that it accurately measures manure constituents.
They may also be reluctant to have their equipment dictate how much manure they must apply, especially on farms struggling with too much manure and too little land to put it on.
These farmers worry about the ability of the equipment to implement their nutrient management plans accurately, Severy says, and they don't want to be hung out to dry if a precision system applies manure at rates that don't match their nutrient management plans.
"We've had huge swings in the weather in the last few years, and with so much water in these manure pits, it changes the nutrient value," he says, adding that regulations need to be updated to keep pace with new technology.
Still, New England farmers are moving toward precision manure application, albeit incrementally.
The use of flow meters to measure application rates in real time, which has been around for a while, has taken off in the past few years, along with the use of satellite GPS, says Jeff Sanders, agronomy outreach specialist with University of Vermont Extension. 
Paired with good manure testing and nutrient management planning (NMP), it can lead to more accurate record keeping and a better idea of how to calculate gallons per acre in manure loads, Sanders says.
The most advanced systems analyze liquid manure components and dry matter at least 4,000 times per second and adjust rates on-the-go by integrating nutrient sensors, GPS and GIS (geographic information systems) mapping. Nutrients can be applied in precise amounts, down to a zone-by-zone level. Real-time monitoring can also make up for variations in manure-pit agitation that can give inconsistent sampling.
Regulators say OK
The state of Vermont, which is trying to improve water quality through better manure management, has encouraged precision manure adoption with research and grants, such as the Capital Equipment Assistance Program (CEAP), to help pay for the expensive equipment.
Precision manure application "is a tool in the farmers' tool kit that helps with record keeping and documentation," says Ryan Patch of the Vermont Agency of Agriculture, Food and Markets. "We are very supportive of it. It's all about record keeping."
Farmers need not worry if manure application rates don't match their NMP recommendations, Patch says. They can adjust rates to meet current conditions so long as those changes are justified and recorded.
"What is important is documentation of how manure application jibed with the weather, soil conditions, and soil and manure tests throughout the year and at the time of application, even if they did not necessarily match what you had planned at the end of the previous season," he says.
Is manure sensing worth it?
Severy purchased the HarvestLab system, which has precision manure capability, with an 80% CEAP grant. "We got it 13 months ago, and for the first few years we're seeing how it goes," he says.
He is working with UVM Extension to see how closely data from HarvestLab matches laboratory sampling.
Early research results comparing a farm's NMP recommendation of gallons per acre — based on the farm's average or recent manure sample — to precision manure sensing are promising.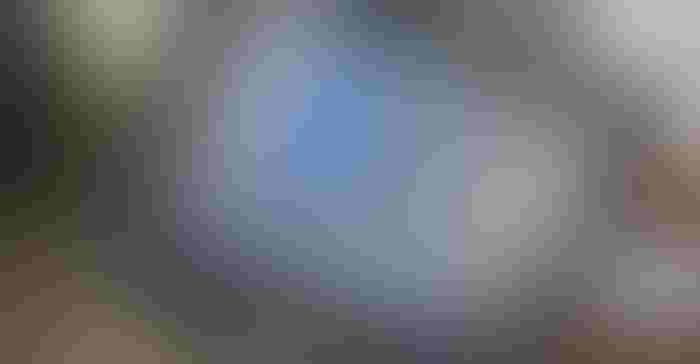 "If we were to apply manure based on a target P2O5 rate instead of a target gallons per acre, the nutrients and manure volumes would match up better, leaving the crop, the environment and the farm better off in the end," says Kirsten Workman, UVM Extension agronomist.
The advantages of precision manure application can be substantial, from agronomic efficiency to improved water quality, which benefits everyone. But more real-world proof is critical for farmers to see if it'll be worth their time and money.
"This technology is promising, but the learning curve is steep, implementation costs are high, and data output is only as useful as one makes it," Sanders says. "My feeling is that … only certain types of farms will be utilizing this technology to its full potential in the future."
Harlow writes from Vermont.
Thinking of investing in precision manure technology?
Scott Potter of Dairy Support Service in Truxton, N.Y., offers tips.
Before you purchase the technology, make sure you:
• Treat manure as a nutrient, not waste.
• Practice the 4Rs of good manure management: right source, right rate, right time and right place. 
• Follow your nutrient management plan.
• Hit the target rate using available measuring.
Also, ask yourself the following questions:
• Are you currently measuring and recording volume accurately?
• Do you want to keep accurate records for compliance, or are you currently fudging application records to meet plan targets?
• Will there be an economic payback, and what is it?
• What will it allow you to do that you're not already doing or that can be accomplished with low technology methods?
Precision tech can be a big investment, so make sure you also ask yourself:
• Is it compatible with other technology platforms or record-keeping systems currently in use?
• Is it compatible with your nutrient planner's system?
• Is it operator friendly? 
• Can it work for all manure application methods: trucks, drag hose, tanker?
• How is accuracy determined and how frequent is recalibration required?
Subscribe to receive top agriculture news
Be informed daily with these free e-newsletters
You May Also Like
---