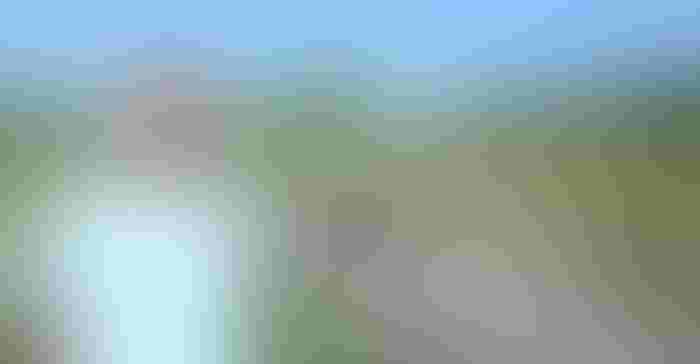 There are four canals in the Frenchman Cambridge Irrigation District, providing surface irrigation water for about 45,600 acres in southwest Nebraska.
Until recently, when an irrigator would order water, they would order a certain amount of cubic feet per second (CFS) for 24 or 48 hours, because getting the water depended on a ditch rider opening a gate in the canal to provide water before closing it again later.
"Sometimes center pivots will run 18 hours, sometimes 30 hours," says Brad Edgerton, general manager at Frenchman Cambridge Irrigation District. "The problem was when the grower was supposed to shut off his pivot, it wasn't necessarily around to where it needed to be, so he would run a little longer. In that case, we might be short water at the bottom of the canal, and we would get big fluctuations in discharge at the bottom."
The way the canal flowed also was inefficient. Edgerton explains that each bay along those four canals — including the Cambridge, Meeker Driftwood, Red Willow and Bartley Canal systems — had logs used to adjust the amount of water, or CFS, going into the bay.
"Each ditch rider might pull two logs from each bay. It's sort of a relay," Edgerton says. "The problem is, you pull a log and it's a 6-inch adjustment, or about five CFS, so you don't have a lot of control or a lot of accuracy. Some ditch riders used two-by-fours to refine their adjustments. If they only had three or four CFS to pass, they put in or take out a two-by-four. It was kind of an art. Some were good at it, and others weren't. We had a lot of inefficiencies."
The challenge was keeping enough water at the bottom end of the canal that it didn't go dry, but not so much that it was being wasted.
Making a change
So, back in 2012, the irrigation district purchased and installed its first two FlumeGates from Australian company Rubicon Water. Over time, they've continued to add more FlumeGates and SlipMeters, which are different kinds of irrigation canal gates that automate the flow of water in the canals.
Each gate has a measuring device to measure gate elevations, the depth of water over the gate, how far the gate can open, upstream and downstream water levels, and the desired water levels for what's called Total Channel Control, or TCC.
Upstream gates are responsible for keeping the downstream pool at a certain level. So, if the downstream pool rises, the upstream gate will cut back on the water it's releasing. These gates are adjusting in real time — sometimes at a fraction of an inch.
"The concept is you manage the canal from the bottom up, so the gate upstream is responsible for the pool level down below," Edgerton says. "If that pool gets too high and starts to spill or waste water, the gate above it will shut off or throttle back to eliminate that waste. That would back its way clear up through the system all the way to the reservoir. Each of these gates are set up to control the bay below it, depending on the length, depth and slope of the canal, the velocity of the water and so on."
The district has its own 450 megahertz enclosed radio network that allows the transmission of data between various gates throughout the canal systems. This way, gates can communicate with one another and make adjustments accordingly.
"These gates also have some relief built into them," Edgerton says. "If we get a rain and get extra water in the canal, or electricity goes out and pivots go off and the water level comes up, they hit these two triggers. The first trigger, the gate will stop closing. The second trigger, the gate will actually open up and pass the extra flow, and we can set that to whatever level we want."
Stabilized flow
Since they've made these upgrades, Edgerton notes they've been able to stabilize demand for water within the irrigation district.
"When we started, we were delivering water five days a week, and ditch riders wouldn't work and farmers wouldn't deliver water on the weekend," Edgerton says. "Then on Monday, everybody wanted water. So we might have 70 CFS coming into the canal on Monday, a huge bounce of water. On Friday, everybody would shut off. That in itself is very inefficient.
"With TCC, the farmer can change his order seven days a week. Instead of a big swing on Monday and Friday, we've taken five days and spread it out over seven. That has narrowed that big change in demand."
Edgerton says the next step will be the addition of water-ordering software for growers.
"Rubicon is working on it, and we want to evolve to where a grower can order water on his computer or smartphone," he says. "The nice thing about it is it's integrated with TCC. So if a grower enters a water order on a certain lateral into the system, TCC knows there's a scheduled delivery at a certain time. It can start the process ahead of time, so the water is there when he needs it."
After starting with only two gates back in 2012, the district has installed a total of 68 FlumeGates and one SlipMeter on the Cambridge Canal system with the help of Water Sustainability Funds from the state of Nebraska and a WaterSMART grant from the U.S. Bureau of Reclamation; nine FlumeGates on the Bartley Canal system to help operate the system's automated pump station with the help of a WaterSMART grant; and most recently, 54 FlumeGates and two SlipMeters on the Meeker Driftwood Canal System with the help of a WaterSMART grant.
"We've made huge investments in trying to stretch our water supply as far as we can and not waste as much," Edgerton says. "The bottom line is we're going to try to keep as much in the reservoirs as we can. Our thought is if we don't use all of our supply of the reservoir, it's going to fill and spill quicker and send water down the river to Harlan County in the wintertime. We think it's more efficient to leave it in reservoirs as opposed to letting it go down the river in the summertime when it may not reach Harlan County reservoir."
Subscribe to receive top agriculture news
Be informed daily with these free e-newsletters
You May Also Like
---