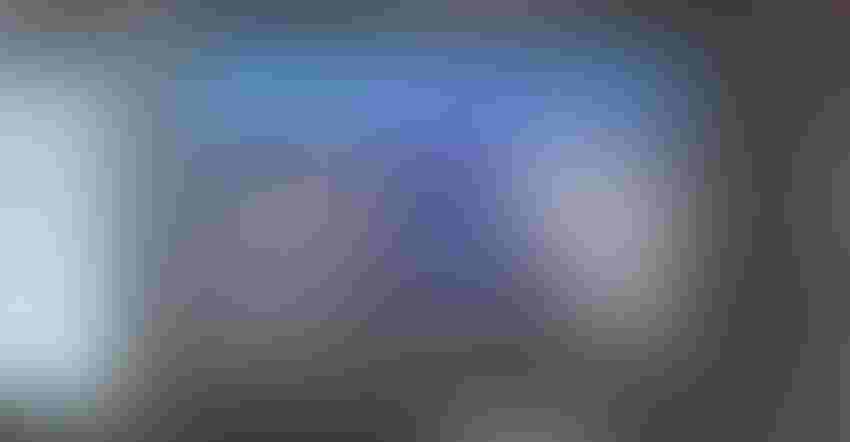 ANOTHER SET OF EYES: The camera view displayed on this screen lets Tom McKinney see behind him when he is planting.
The tractor I first learned to drive in the field was an Allis-Chalmers D17, Series IV. It was a favorite — maybe that's why my office is filled with various renditions of D17 toy replicas. One day my dad traded the D17 for an Allis-Chalmers 190 XT, which I also liked driving, but Dad, why didn't you keep the D17, too? I would love to have it back. 
When he traded that tractor in, there was a significant dent in the white part of the front grill. The neighbor who custom-harvested corn for Dad forgot where it was parked in the field the fall before, hooked to a gravity wagon, and backed his combine into it. The only good part of this story is that Dad or I or someone else wasn't standing in front of the D17 when the rear of the combine tapped into it.
If there had been a camera in the combine cab — technology that wasn't commonplace in agriculture then, if it even existed at all — perhaps the neighbor would have seen the tractor behind him and stopped in time.
Ted McKinney, Tipton, Ind., doesn't take chances. Camera technology is available and relatively inexpensive today. McKinney mounts a camera in his tractor cab so he can see behind him as he plants. The camera image is displayed live on a screen mounted just above the Precision Planting 20/20 SeedSense 10-inch monitor, which is new for 2018.
"It lets us see what's going on with the planter behind us, and is another way to know things are working as they should," Mc Kinney says. "But it's also great for safety's sake. I know what's behind me if I need to back up."
Cameras are showing up in more tractor, sprayer and combine cabs. Agco's new RoGator self-propelled sprayer offers a monitor option where the camera can display an image in one-quarter of the sprayer control screen, if you choose.
Subscribe to receive top agriculture news
Be informed daily with these free e-newsletters
You May Also Like
---