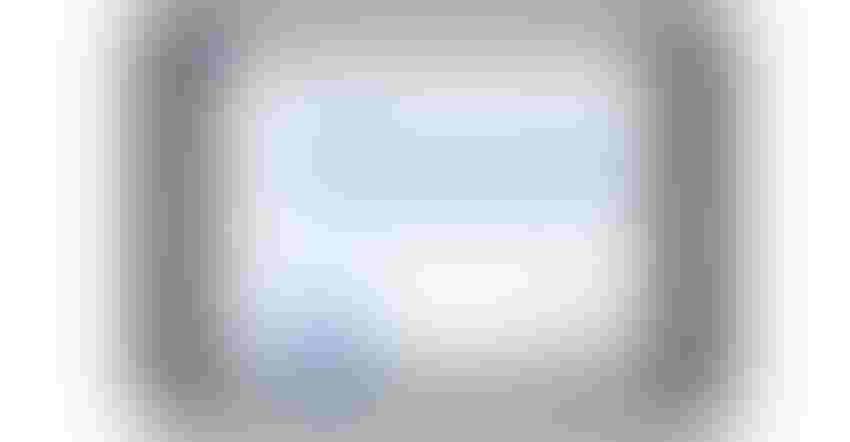 TRACKING HARVEST: A new tool from Farmobile provides subscribers a daily update on yield averages for key crops from several states. In the image, the light blue bar on the left is real-time data from the new Farmobile Index for Harvest.
Courtesy of Farmobile
Jason Tatge remembers his days as a grain trader, when a lot of his time was consumed seeking information about crop progress, harvest pace and yield. "When I was a trader, I had 100 to 200 people calling me each day to tell me how their yields were doing," he recalls.
Back then, Tatge became a kind of information aggregator, using that information to develop his own sense of where the market was going. "I needed to adjust my basis to make sure I didn't buy too much, but make sure I bought enough," he recalls.
Jump forward about a decade, and Tatge is running an ag data startup — Farmobile, which uses a PUC (passive uplink connection) device to collect real-time field and fleet data. He's worked since the early days of this company to produce information useful to farmers, often with a bent toward getting information out in real-time. The latest product is the Farmobile Index for Harvest.
He explains that his early days collection of information from diverse sources has been replaced with real-time machine information that can be aggregated and anonymized to provide useful data to customers. "What we've really done is flipped that [phone call] model," he says.
A farmer in Kansas would have a hard time knowing about average yield in Iowa or Minnesota, Tatge says. For subscribers, that will change with this index. "This is a really unique view [of harvest], and you can start to see how yields are stacking up on a daily basis," he says.
Building the reports in a way that provides useful information but doesn't compromise user data means that Farmobile doesn't produce a dataset for areas where there are not enough customers to preserve anonymity. For example, if Farmobile had only one large customer in a state, there would be no data reported. "We are very careful about how we report, and right now we're comfortable reporting from about 15 states. That's where we feel we have the right amount of data to be useful," he notes.
Quicker access
Most harvest reporting is either estimated or well after the fact. "This is truly a farmer-sourced model that's going to the state level," Tatge says. "If you're picking corn today in Iowa, and you know they're picking in Ohio and Minnesota, when you log in you'll be able to see all of those."
While third-party companies work to estimate yield using satellite images, rainfall maps, surveys and temperature data, Tatge notes this is real data coming for combines using the PUC data collection device.
Long an innovator, Tatge developed an internet-based grain trading platform he later sold to DuPont. He understands that changes in information can impact prices. For example, if the delta, or change in information, viewed grows, that can inform your risk management strategy. "Let's make up a number. If I see that the soybean yield for Minnesota is estimated at 45 bushels per acre and I'm out there picking 65-bushel soybeans, that's telling me I probably should lock in some basis. I may be a better farmer than everybody else, but the odds are usually that if my yields are better, my neighbor's yields are better," he notes.
This new Index for Harvest, which joins the company's Index for Planting launched earlier this year, is a way to leverage data collected across the Farmobile system to help subscribers.
Traditionally, farmers and traders make decisions based on supply and demand numbers from USDA. "We can see the market go up and down in a big way," Tatge says. "I think that if you can spoon-feed daily information that's relevant to the market, there's an opportunity to reduce big volatility swings that we see — and to me, that's the ultimate measure of success."
The Farmobile Index for Harvest information is available only to Farmobile subscribers. You can learn more at farmobile.com.
Subscribe to receive top agriculture news
Be informed daily with these free e-newsletters
You May Also Like
---