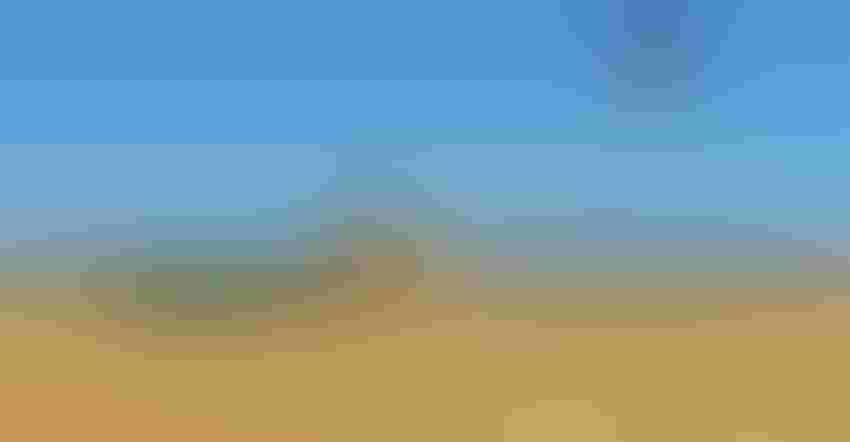 CREATING A DRONE CLOUD: Aquiline Drones is an aviator-created startup bringing a new perspective to the use of unmanned aerial vehicles in a wide range of industries.
Sami Sarkis/Getty Images
How will the unmanned aerial vehicle business evolve? What stumbling blocks keep these airships from maximizing their potential in any industry, including agriculture?
What are the keys to making these machines work the best for all businesses that could benefit from eyes in the sky? Answering those questions is the core of the work of a new commercial drone startup — Aquiline Drones.
"There is a lot going on in the drone industry," says Roger Nunamann, vice president, strategic projects, Aquiline Drones. "Some of the top players like UPS and Amazon are hyperfocused on one aspect of the drone ecosystem. No one is looking at the ecosystem as a whole."
For Nunamann and his partners at the company, the idea is to take a macro view of the drone industry. It starts from the fact that the founders have an aviation background, so they're setting the company up as an aviation firm. "We have an understanding of the national airspace system," he says. "When you understand that you have a better appreciation … for the safe, large-scale use of drones."
While Aquiline Drones isn't specifically focused on precision agriculture, the company is creating a cloud-based system that would allow for safe, autonomous use of unmanned aerial vehicles, and perhaps unmanned ground vehicles.
"UAVs and UGVs could interact with each other and coordinate the mission. The ground-based vehicles would have the same command and control technology, and actually do the mundane and dangerous jobs humans do today," he says.
It's an eye-opening ag technology concept, but next-level thinking could enhance precision ag automation in new ways. Consider how a two-part precision ag system could work on your farm. If the UAV is collecting data in the air, that information could eventually be used to direct an agriculture-focused UGV moving through a field. How could that change labor and management on the farm? These are questions that new tools like this could bring to agriculture.
It starts with the cloud-based system that Aquiline Drones will have online by May. The firm is working closely with the U.S. Federal Aviation Administration to enhance communication between drones and other aircraft. It's an issue FAA has struggled with since with the growing widespread use of UAVs.
Enhancing real-time links
Nunamann explains that the key is the real-time location and communication of a drone in the air with other aircraft. A key feature would be the ability for true remote operation, or beyond visual line-of-sight use. That's the aim of the Aquiline Drones cloud.
The new system would provide push notifications to the pilot or anyone overseeing the operation with live updates on temporary flight restrictions, and give FAA the ability to see every drone tied to the cloud. "When [FAA] can see every drone tied to the cloud — who operates it on behalf of whomever, what its defined mission is, and give them the ability through their own terminal to modify the flight plan or ground the drone — they're more receptive to giving relief for beyond line-of-sight use," Nunamann says.
Chances are this system isn't for the small drone you're using on your farm to capture the occasional precision ag image. The potential here for this system to enhance your farm's agricultural technology would be for a larger, more intense kind of drone use. That may be for crop protection product or fertilizer application; yet with this system, automating those processes might become easier.
A key commercial industry focus would be an innovation that enhances the ability to deliver materials or special items remotely. A first-use case for Aquiline Drones would be delivery of human organs, which can be sped up with UAVs versus more traditional methods, Nunamann says. "We are demonstrating that the drones can be safely integrated with machines at weights above 55 pounds well beyond visual line of sight, and we can transport anything," he says.
Cloud up and running
The cloud system is being tested now and will eventually allow anyone to subscribe to the service. He explains it is built in a layered or modular fashion, so subscribers can use different levels of data transfer and control. "Anybody with a drone will be able to upload into our cloud," Nunamann says. "Down the road, later this year, any type of drone will be able to have a component installed to use the higher functionality available to this cloud."
The services would range from command and control to secure data storage and monitoring. Many agriculture-focused drones collect a lot of data, but transferring that from airship to software can be time-consuming. While there are precision ag tools that help, having a cloud-based system that allows easy data transfer could enhance the efficiency of farm aerial precision agriculture information.
Aquiline Drones is also building its own airships in the United States to provide services over the new system. Nunamann says this is an advantage over current drone suppliers that are built offshore.
A focus on data
The company has set up manufacturing in Connecticut but has plans for modular systems that even use 3D printing. Yet Nunamann is clear on one issue. "Aquiline Drones is a hardware-agnostic solution. We are, first and foremost, a data company; and a drone that doesn't collect data is nothing more than a toy," he says.
The world of unmanned aerial vehicles is evolving as greater needs arise. For many on the farm, the use of these aerial tools has not been fully integrated into precision agriculture efforts. Perhaps this cloud-based, data-focused solution offers better crop management opportunities.
Aquiline Drones is creating new opportunities built on an aviation-focused platform that could offer a solution for a range of industries, including agriculture. While not focused on ag tech, the firm's new infrastructure offers the potential for forward-thinking farm data firms to maximize aerial imagery use for precision ag in the future.
You can learn about this business at aquilinedrones.com.
About the Author(s)
Subscribe to receive top agriculture news
Be informed daily with these free e-newsletters
You May Also Like
---