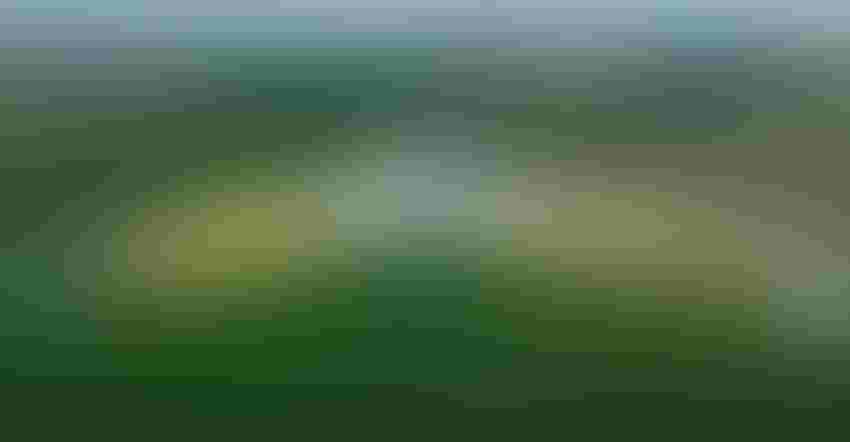 FLYINGWING SOARS: The AgEagle "FlyingWing" collects data over a wheat field.
AgEagle Aerial Systems
After a merger with EnerJex Resources Inc., a name change to AgEagle Aerial Systems and a debut on the New York Stock Exchange (UAVS), the little Neodesha, Kan., company that was founded in 2015 is off and running in pursuit of a new goal — to become a leader in precision agriculture.
Company founder and CEO Bret Chilcott says the infusion of capital from the initial stock offering will allow investment in technology that will help AgEagle become a leading drone and data analytics company in precision ag, providing farmers with information they can use to help improve the health of their crops and the efficiency of their operations.
Chilcott says, however, that AgEagle has no plans to move manufacturing from Neodesha, and that he is confident he can find the workers he needs to support growth in southeast Kansas.
"We will absolutely continue to manufacture here, and we will ship our products all over the world," he says. "The city of Neodesha has been very supportive of us and of new industry in general. We are in an incubator building that the city bought for us. We are very grateful for the help and for the support of the community."
Moving forward will be more about software development than about the hardware, he says, and AgEagle will continue to collaborate with software partners.
"When we started, we worked with a company in California. Currently we are working with companies in Fargo and Boulder to do the processing of the images," Chilcott says. "This has already come a long way. Early technology was nothing more than an aerial picture of the field."
Today's technology allows the AgEagle to collect thousands of ultra-high-resolution pictures with near-infrared sensors. The images can be loaded to the cloud during flight through cellular connectivity and stitched together to form one large, near-infrared, aerial view.
Computer programs can analyze the infrared light reflected from a growing crop to determine the health of the crop. From that, a prescription map can be created and loaded into the computer on a sprayer to apply precisely the amount of herbicide, fertilizer or pesticide needed in specific areas of the field.
AgEagle is also looking at going beyond just the manufacture of drones and getting into partnerships with camera manufacturers, which have also made enormous strides since the company built its first flying wings three years ago.
"We started out using consumer cameras modified for near-infrared photography. We had to deal with the vulnerability of lenses, damage from hard landings, etc. Today, the sensors are a 2-inch cube with onboard computers. They can pull in and modify the image, add geo-coordinates, record the height above the ground, compass heading and account for pitch and roll. What you get is a geospatially accurate map," Chilcott says.
READY TO LAUNCH: The original AgEagle drone was launched from a catapult to fly its pattern over a farm field. Later improvements including smaller and lighter weight cameras have made it possible for an operator to hand-launch the drone.
He sees growing interest from more than just farmers in precision ag technology.
"The environmentalists are paying attention because this helps reduce the amount of chemicals used, resulting in less runoff into rivers and streams," he says. "And consumers are showing more interest because they want to know more about how their food was grown. Food processors are getting more interested because they can get data on how healthy a crop is and how chemical use was optimized."
Chilcott says his friend and business partner, Tom Nichol, will continue to work as director of business development for AgEagle Aerial Services.
He adds that the company continues to value its partnership with Kansas State University, which first requested help from AgEagle in developing the best possible platforms for use in ag applications.
It was at the invitation of K-State professor Kevin Price that the pair made their first presentation to the Kansas Agricultural Research and Technical Association in 2012.
"These guys are truly the first adopters of technology," Chilcott says. "They are the guys who bought the first auto-steer tractors, the first variable rate sprayers and the first drones. They were just great to work with. They were willing to fly our first models and help us work to get the technology right."
KARTA members also helped the fledging company become AgEagle.
"It was KARTA that chose our name," Chilcott says. "I bought a bunch of domain names and sent a list to them, and they selected the name. They picked our logo, too. This is truly a Kansas homegrown company."
AgEagle employs four full-time workers in Neodesha and brings on more part-time workers as needed.
"We're going to stay lean and mean," Chilcott says. "Even though we got a start on the NYSE, we're not going to let that go to our head. We aren't building any $30,000 conference tables. We're going to keep using our old desks. We still have folding chairs for the conference room."
The focus of the company, he said, will be customer service and making the product better.
Subscribe to receive top agriculture news
Be informed daily with these free e-newsletters
You May Also Like
---