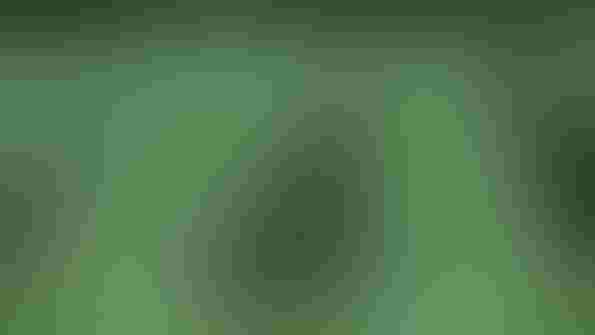 Dry soils can create much more havoc than just reducing yield.  During the drought in 1983 many farmers realized that spider mites were sucking the sap out of soybeans, and because of the lack of soil moisture to replenish it, the mites had a greater impact than in wetter years when populations were nearly as equal.  With dry soils going into the 2012 growing season, researchers are warning soybean producers about another potential problem that will manifest itself if the weather continues on the dry side.
The low levels of soil moisture around the Corn Belt could create additional problems for soybean producers whose fields may have high levels of soybean cyst nematodes (SCN).  SCN can be found in many fields in many states.  But Iowa State University Plant Pathologist Greg Tylkasays it has the potential to cause "devastating yield losses" if 2012 remains dry.  He says, "Population densities can increase very rapidly within a single growing season, and dormant eggs can survive for more than a decade in infested soils in the absence of soybeans."  He says yield losses can be quite severe in dry years, but unnoticed in wet years.
Tylka says in dry years the juveniles seem to bury themselves deeper in soybean roots than in more normal moisture conditions.  Subsequently, they will interrupt the root functions of the plant more than normal.  But in doing so they are getting better nutrition, and Tylka says that leads to more eggs and higher SCN population densities.  So the drier the soil, the greater the population, and the greater the damage they will create.
Tylka, who is concerned most about Iowa, speaks for researchers in many other states where SCN is a problem.  He says it has been at least 20 years since a significant SCN outbreak, and many producers have become complacent.  Subsequently, Tylka says many farmers have been growing susceptible soybean varieties with good yields, and due to adequate moisture, there has not been a problem.  But he says that could reverse itself, and result in greater problems this year with low moisture levels in the soil.
He is calling for increased vigilance as the 2012 planting season begins, and adds that if you are planting soybeans in fields where there has been a problem in the past, then plant varieties that are resistant to SCN.  But not all varieties are equal, even if they are labeled as resistant.  He suggests you check with either state soybean groups which have listings of SCN resistant varieties or with state extension program offices.
Summary
If soils remain dry in 2012, then there is a greater chance for yield reductions in soybeans from soybean cyst nematode.  While populations may frequently be high, they will create the most damage in drying years. Solutions include planting resistant seed beans.  
Subscribe to receive top agriculture news
Be informed daily with these free e-newsletters
You May Also Like
---