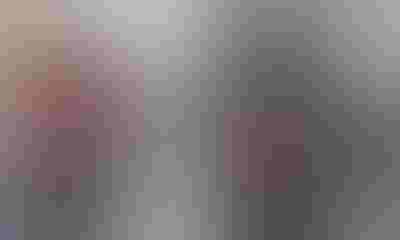 Imagine you're in a big convention hall. The lights go out. A spotlight shines on one end of a super-tall building; the unbelievably tall door rolls up. Out into the spotlight rolls a machine that looks something like a self-propelled sprayer, but is loaded up with sensors and decked out like no machine you've ever seen before. All the while, "Star Wars" music plays. Then a loud voice says, "Here comes the phenomobile."

FUTURE IS HERE! This specially designed machine collects tons of data on each pass through the field. It sits inside the new phenotype research facility at Purdue's Agronomy Center for Research and Education.
OK, that's not quite how Marshall Martin introduces visitors to the Indiana Corn and Soybean Innovation Center and the Space Age-appearing "phenomobile," but it would be a fitting introduction. Martin is a Purdue University agricultural economist and director of the Purdue Soybean Center.
New era
The story that leads to this plant research opportunity began three years ago when Purdue officially picked a plant sciences initiative proposal from the Purdue College of Agriculture as one of two proposals to receive a $20 million startup boost as part of university President Mitch Daniels' Purdue Moves program.
Part of the proposal was building a state-of-the-art, futuristic research center for data collection and much more at Purdue's Agronomy Center for Research and Education.
The Indiana Corn Marketing Council and Indiana Soybean Alliance each contributed major dollars from checkoff funds to help grow the effort. The new building complex, which researchers and students began using just this summer, is officially named the Indiana Corn and Soybean Innovation Center.
One portion of the building is a very large, very tall bay designed to house sensing equipment, including drones of all types and ground-level sensing collectors, too. That's where the phenomobile comes in.
Martin says the goal is to collect as much information about the phenotype of plants. The dictionary defines phenotype as "the observable characteristics of [a plant] that results from the interaction of genetics and the environment."
Chris Boomsma, Purdue's director of phenotypic field studies within the new project, says the phenomobile is custom-designed to collect data in the field. It's equipped with a variety of sensors that gather information about multiple areas, including light reflection, light wavelengths, colors and other data on still other parameters.
"The machine is flexible in that we can adjust the height of the bar carrying the sensors, and even the row width of the machine," Boomsma says.
"We can collect data which will allow researchers back in their labs to recreate and study plant architecture in 3-D format," he adds.
The machine is equipped with lots of computer power to collect data. Right now the data is physically unloaded and transferred to other software, Boomsma notes. "We may have wireless capability in the future so we can send in data directly."
Subscribe to receive top agriculture news
Be informed daily with these free e-newsletters
You May Also Like
---