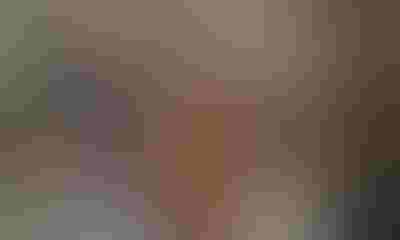 What started as a college master's degree assignment for Mike Swanson evolved into Minnesota's first farm distillery.
Swanson and his wife, Cheri Reese, both Kittson County natives, had moved away from home and worked in metro corporate-level careers for more than a decade. They often visited Swanson's family farm near Hallock, operated by his dad, Charlie. Several years ago, the elder Swanson started talking about retirement, prompting the couple to discuss what their future plans might be involving the farm.

BACK ON THE FARM: After working at corporate jobs for two decades, Mike Swanson and wife Cheri Reese decided to return to Swanson's family farm, plant rye and build a distillery. (Photo: Paula Mohr)
Around that time in the fall of 2009, Swanson was enrolled in a master's of business administration degree program at a St. Paul college. One of his class assignments required him to write up a small business plan for a new venture. Since Reese and Swanson had been talking about the farm, he thought he would use the farm as home base for his class assignment.
As they mulled over options, Swanson decided to focus on a finished product on the farm so they would have control over the product's price. The family farm raised crops — wheat, barley, soybeans, canola and sugarbeets — so the potential enterprise needed to be connected to them in some way.
"All of a sudden, I thought, 'I know what [end product] you make out of grain,'" Swanson recalls. He penciled out a business plan on what it would take to produce an alcoholic beverage — from field to glass. He chose rye as the main crop to be grown and harvested for a whiskey distillery to be located 20 miles from the Canadian border.
"I didn't think anything would come out of it. It was a fun class assignment to do," Swanson says. "I got an email from my professor that night I turned my assignment in. She was profuse in her comments and said I should do this. She also said to sign her up for the first batch.
"That made me think about it more seriously, so we started reading and researching for three years," Swanson says. By 2012, the couple had a formal business plan and a loan. The following spring, they started construction and by fall 2013, they fired up the still. Their first rye gin was on store shelves in time for Christmas 2013.
Their business, Far North Spirits, now markets product in seven states across the U.S.
Read more about rye and Far North in tomorrow's featured online story.
Subscribe to receive top agriculture news
Be informed daily with these free e-newsletters
You May Also Like
---