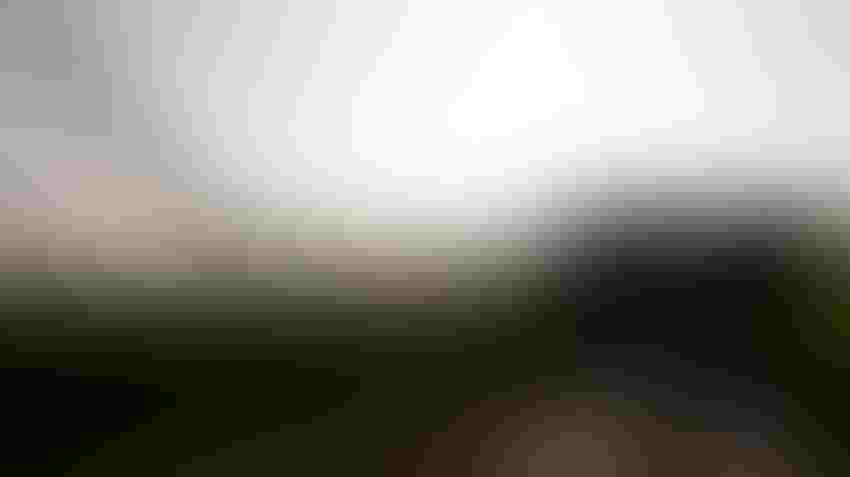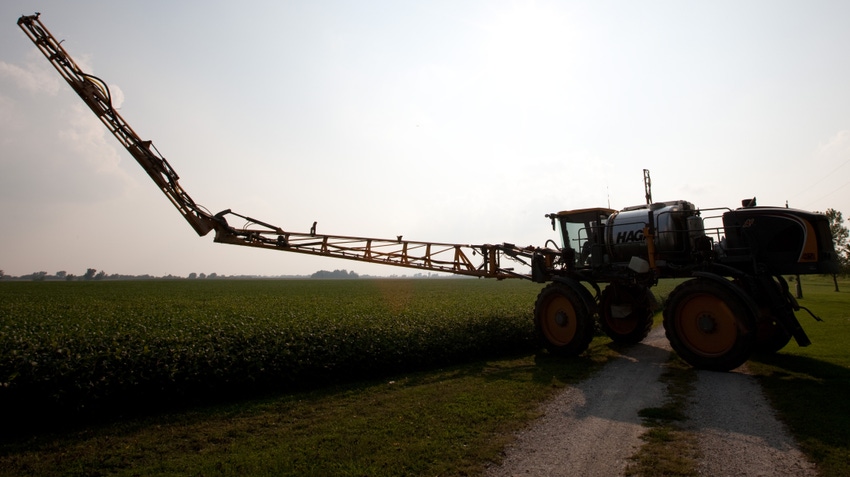 soybeans, Sprayer
United Soybean Board
It's one of the most common questions I get during the back-half of the growing season: "Why didn't my fungicide work?"
This question quickly follows discovery of more disease in a field than was expected given a season-long fungicide program, or subsequent to the last fungicide application.  Frustration at times like this is understandable; considerable time, effort and money are invested in each fungicide spray. This frustration is often focused on the suspicion that the chemical itself failed to measure up to its promise. 
Angst at the product or at those who sell the product may be a natural reaction.  However, identifying the true cause of the breakdown in control is much more important. 
If your fungicide program stumbled, there are at least 5 other reasons that lead to failure of disease control programs that should be considered before pointing a finger at the fungicide jug:
The RATE was wrong or the rate was insufficient for effective management of disease.  Perhaps a lower rate was used when a higher rate was needed or because the sprayer was improperly calibrated.

Fungicide was applied later than it should have been.  Fungicides are more effective when applied preventatively, that is before infection has occurred.  Growers benefit from starting a program EARLY.  Also, there is a period after infection has occurred but before disease symptoms appear.  Typically this may last anywhere from 5 to 10 days, during which the disease is present but not apparent.  Since infection has occurred, application of a "protectant" fungicide, like chlorothalonil, will be less effective.  "Curative" or "systemic" fungicides can help to eliminate RECENT infections.  However, once an infection is established, even curative fungicides are of limited help. 

The wrong fungicide was chosen, or a better fungicide would have given better control.  For example, chlorothalonil is applied on many crops to protect against leaf spot diseases; however it is a protectant.  Where limited disease may already be present, use of fungicides with curative activity is more desirable.  Chlorothalonil is also an example of a fungicide effective against some diseases, like frogeye leaf spot on soybean, but not effective against Asian soybean rust on the same crop.    Growers may choose a specific fungicide because it is less expensive than other choices.  For example, tebuconazole is commonly applied to peanuts, corn, soybeans.  However, where risk to diseases like white mold (stem rot), peanut leaf spots, and soybean and corn diseases is high, growers could be better off investing in more aggressive and effective fungicides.  Research has shown that where disease pressure is low, older chemistries like tebuconazole have a strong fit.  But as threat from disease increases, so does the potential benefit from using newer, more effective chemistries.

Unrealistic expectations.  When disease is rampant in a field, even the most effective fungicide will be unable to control it.  The disease may simply overwhelm the fungicide.  For example, under high risk conditions (short rotations and favorable weather), growers may only achieve 70 percent control from even the best fungicide program.  Such control of white mold is related to the challenge of getting a foliar-applied product to the crown of the plant at enough dosage to protect the crop.  Planting disease-susceptible varieties also make it more difficult to get optimal disease control in a field, regardless of fungicide program deployed. 

Water.  A rain event too quickly after a fungicide application is often associated with a disease control problem.  If the fungicide is not given adequate time to dry, then rainfall or irrigation too quickly can reduce or eliminate the efficacy of the application.  The opposite may be true for white mold on peanut where rainfall and irrigation are important to move the fungicide to the crown of the plant.  If rainfall or irrigation is delayed more than 24 hours after application, reduced impact on disease control is to be expected.  Water is a critical component in terms of "spray volume."  Spray volume affects coverage. Too little volume, and the crop is inadequately protected against disease.  Too much spray volume may not result in increased protection but will result in increased costs.
Problems with fungicides programs are not uncommon and are often linked to lack of timeliness, poor coverage, use of the wrong fungicide, unrealistic expectations and/or errors in applying a product at the optimal rate.  Attention to detail in each of these areas results in an effective program that protects the crop and improves yield. 
Where growers are unsatisfied with the amount of disease present in the field, I recommend that they first consider these five factors as possible explanations for improved control in the future.  If none of these reasons explain the observed issues, it then becomes time to question the jug of fungicide from a quality and from an efficacy standpoint.
About the Author(s)
Subscribe to receive top agriculture news
Be informed daily with these free e-newsletters
You May Also Like
---