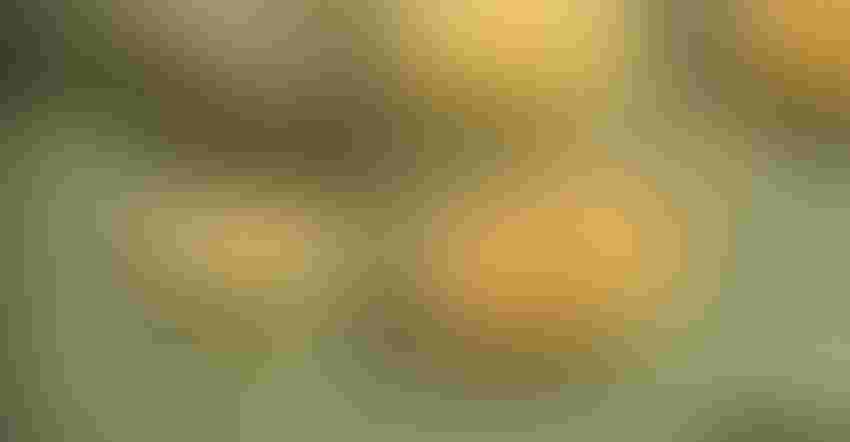 APHIDS IN NEBRASKA: Reports of sugarcane aphids came from a sorghum field near Pawnee City in late September. The infestation is low enough and late enough in the season that it isn't an economic concern.
photo credit: Patrick Porter, Texas Cooperative Extension, Bugwood.org.
For the first time, sugarcane aphids have been confirmed in a Nebraska sorghum field. Reports of the pest came from a sorghum field near Pawnee City in southeast Nebraska in late September. However, Robert Wright, University of Nebraska-Lincoln research and Extension entomologist, notes the infestation is low enough and late enough in the season to not be an economic concern.
"In the last couple years, sugarcane aphids have been reported from several counties in Kansas bordering Nebraska, but we have never been able to find it in Nebraska before," Wright says. "There were reports of it in counties bordering Nebraska again a couple weeks ago, and it apparently made it into the state."
This year saw lower sugarcane aphid populations in states in the southern Plains than previous years, however. "It's been detected in Kansas, but from what I've read from their reports, I don't know that it was economic levels in many fields. It's not as abundance as it had been in previous years," says Wright. "These aphids are only able to move in the adult stage when they have wings. A lot of it depends on which way the wind is blowing and what the source of the aphids was."
Recent weather in eastern Nebraska also hasn't been especially favorable for sugarcane aphid growth and development, Wright adds. Cool, rainy weather, like that experienced in Nebraska over the last week, is known to wash the aphids off of sorghum plants.
While the aphids may not be a threat this year, Wright adds it adds another pest to the list for Nebraska sorghum growers to watch for.
Sugarcane aphids are most commonly found under the leaves on a sorghum plant and produce sugar secretions called honeydew. Those that have seen it widespread in fields in the southern Plains recognize the telltale signs of a field covered in glossy or shiny material.
"If infestation occurs earlier in the season, it can be very damaging," says Wright. "Initially, one of the issues was growers in the southern Plains were using insecticides that weren't particularly effective against sugarcane aphids, but were good at killing off beneficial insects that control the aphids. They weren't scouting for them, so they didn't see them until they were relatively high in numbers. That's one of the reasons, at least in Texas, that they've had lower numbers recently. They've been catching them earlier and spraying if needed."
The good news is the aphids do not overwinter in Nebraska. They require living sorghum plants to survive the winter, and can only do so in the Deep South and in Texas where volunteer sorghum or grassy weeds related to sorghum like shattercane or johnsongrass can survive year-round.
"Since we're on the northern limits of where sugarcane aphid has been found, we usually have an advance warning from Southern states, and we'll alert people either through Extension and the Nebraska Sorghum Board," says Wright. "That's not true of the other aphids we have in sorghum in Nebraska. Some of them feed on small grains and can overwinter in Nebraska, but the sugarcane aphid has a very restricted host range. We have several different types of aphids that can damage sorghum in Nebraska, and people always need to be scouting for aphids from crop emergence onward."
Subscribe to receive top agriculture news
Be informed daily with these free e-newsletters
You May Also Like
---