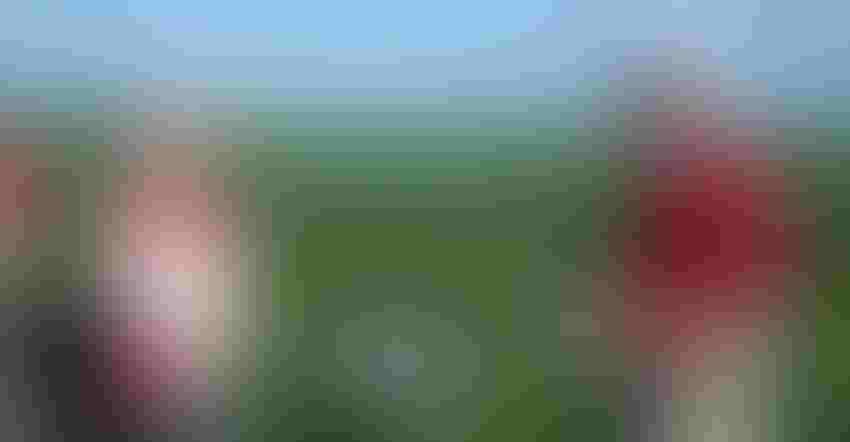 2-PASS SYSTEM: TWO PASS SYSTEM: Melinda Yerka and Jake Ziggafoos discuss the Inzen sorghum plot at the South Central Ag Lab during a Weed Management Field Day in June. "If you only put down pre-emergence herbicides, weeds are going to emerge throughout the rest of the season and will become very competitive. Grain sorghum isn't very tall, so weeds can shade the crop. You want to follow up with post-emergence herbicides," Ziggafoos says.
Ask farmers the biggest reason for not growing grain sorghum, and one of the top answers will be grass control. Grass weeds like johnsongrass and shattercane are closely related to sorghum, and that not only means it's difficult to find an effective herbicide to control them, but there is also a risk of cross-pollination from sorghum – a.k.a. pollen-mediated gene flow.
"Sorghum is closely related to corn, but many more years have gone into commercial development of corn than sorghum," says Melinda Yerka, plant geneticist and research assistant professor at the University of Nebraska-Lincoln. "So sorghum has not benefited from any herbicide-resistance traits until now."
Soon, sorghum growers will have a new tool in the post-emergence grass control toolbox, since DuPont-Pioneer is in the final stages of launching Inzen grain sorghum hybrids, which are resistant to Zest, an ALS-inhibiting (Group II) herbicide. These are the first commercially-available herbicide-resistant sorghum hybrids, giving growers a new option to control shattercane, johnsongrass, and foxtail. However, because sorghum is so closely related to shattercane and johnsongrass, Yerka notes that it will be especially important to minimize their numbers in the field using other herbicide chemistries. That will reduce their ability to become resistant to Zest and compete with the crop.
"Sorghum can cross-pollinate shattercane and johnsongrass. If that happens, the crop-weed hybrids will also be resistant to Zest. That's another way weeds can become resistant, besides overreliance on the same herbicide. This is more of a problem with sorghum than with corn, which has no related weed species in Nebraska," Yerka says. "Fortunately, rotating crops and ensuring good grass control in non-sorghum years is a promising option for preventing shattercane and johnsongrass from becoming too big of a problem."
That's especially the case with shattercane, which is the same species as sorghum. Johnsongrass is less compatible, because it has twice as many chromosomes as sorghum and is a different species. Although sorghum is primarily self-pollinating, growers can expect about 10% to 15% cross-pollination when shattercane plants are right next to sorghum, although research conducted by UNL has shown much lower rates of cross-pollination – less than 1% when pollen is carried farther, about 200 meters by wind.
The best way to slow herbicide-resistance from developing in shattercane and johnsongrass is with a three-to-four-year rotation, with an emphasis on good grass control that does not rely on ALS-inhibiting (Group II) herbicides like Zest. For example, rotating Inzen sorghum with winter wheat and a fallow year, or rotating it with Roundup Ready soybeans and non-Inzen sorghum. "Roundup provides especially good control of all the shattercane and johnsongrass populations UNL weed scientists have tested in Nebraska so far," Yerka says.
"There's currently no way to prevent sorghum from cross-pollinating these two weeds, although we're working on it," Yerka adds. "For now, growers should understand that these weeds are likely to become resistant to Zest if they grow Inzen, but it is the number of weeds in the field that really determines whether growers see an economic loss. This is why good grass control in non-Inzen years is an effective strategy to prolong the usefulness of herbicide-resistant crop technology."
Jake Ziggafoos, UNL graduate student specializing in plant breeding and genetics, described different herbicide programs on Inzen sorghum at the South Central Ag Lab near Clay Center, including those with only pre-emergence applications and only post-emergence applications. Ziggafoos notes the biggest takeaway from these trials is that neither a pre- nor a post-emergence herbicide application by themselves is effective for grass control.
After being sprayed with Zest, some sorghum plants may show some yellowing, but Ziggafoos notes they will grow out of it. Another key takeaway is that Zest does not control broadleaves like Palmer amaranth or waterhemp.
"If you only put down pre-emergence herbicides, weeds are going to emerge throughout the rest of the season and will become very competitive. Grain sorghum isn't very tall, so weeds can shade the crop. You want to follow up with post-emergence herbicides. We had one Inzen plot where we only applied post-emergence herbicides, primarily for grass control – a tank mix of Zest and Atrazine 4L. Those plots were full of Palmer amaranth and waterhemp. They weren't controlled by Zest."
About the Author(s) Tyler Harris is the editor for Wallaces Farmer. He started at Farm Progress as a field editor, covering Missouri, Kansas and Iowa. Before joining Farm Progress, Tyler got his feet wet covering agriculture and rural issues while attending the University of Iowa, taking any chance he could to get outside the city limits and get on to the farm. This included working for Kalona News, south of Iowa City in the town of Kalona, followed by an internship at Wallaces Farmer in Des Moines after graduation.
Coming from a farm family in southwest Iowa, Tyler is largely interested in how issues impact people at the producer level. True to the reason he started reporting, he loves getting out of town and meeting with producers on the farm, which also gives him a firsthand look at how agriculture and urban interact.
Subscribe to receive top agriculture news
Be informed daily with these free e-newsletters
You May Also Like
---