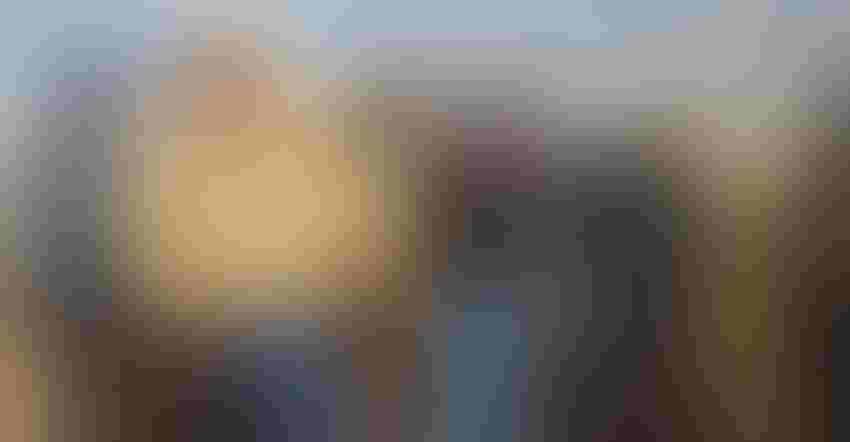 SOIL HEALTH STUDY: Consultant Shane New (second from left) with Understanding Ag talks with a group of farmers at a Soil Health Academy workshop in Yoder, Kan. Pictured are Harry Borntrager (left), Shane New, Understanding Ag co-founder Gabe Brown, Joe Yoder and Caleb Yoder.
Howard Miller.
Shane New, a Kansas farmer and partner in the consulting firm Understanding Ag, says he believes that history will one day see the massive push for advancing regenerative agriculture practices being made by General Mills over the next three years as a turning point in the way farming is done.
New, who farms near Holton in northeast Kansas, is working as a coach for GM's regenerative ag project. This project has identified 24 farmers in the Cheney Lake Watershed region in south-central Kansas to conduct a pilot program that will collect data on regenerative ag practices. That data will in turn convince farmers across wider and wider areas to adopt those practices.
"What we are doing is advancing soil health, increasing biodiversity of soil biology, plants, animals and the entire ecosystem," New says. "I'm very excited to be working with these producers. I've been amazed at their involvement and enthusiasm and at the success they have already had in adopting practices to improve the water quality in the reservoir while improving the health of their own soil."
New says regenerative practices, such as no-till, diverse cover crops and livestock integration, create a system that will pull an enormous amount of carbon from the atmosphere and sequester it in the soil.
"The beautiful thing is we are not using reductionist science; we are doing so many more facets," New says. "You keep building and building. We don't know how far regenerative agriculture can take us. We do know that as long as we mimic nature — we keep the soil covered, keep living roots in the ground to feed the livestock beneath the surface the way we use forage above the surface to feed the livestock above the ground, there appears to be no end to how much we can do."
New says there is a need for re-education about what builds healthy soils and crops and what degrades the soil.
"For a century, we have been degrading our soil," he says. "We have grown monoculture crops, used high levels of chemical fertilizers and herbicides that reduce the biological life in the soil. We've left our soils uncovered and exposed to wind and water erosion that have resulted in our topsoil — and all those applied nutrients — being washed into our stream and rivers."
New says that it is not the fault of generations of producers who have been doing what they have been taught to do. In many cases, they have followed what they believed to be sound science without understanding that what they were doing was destroying their most important resource.
"We are so far removed from the natural systems that formed our native soils that we can't even see how they worked," New says. "We're just beginning to understand the importance of grazing animals on our native grasslands — which most of our arable soils were before we started farming them — in forming our soils."
New also says we need to integrate animals into our cropping systems as well. The relationship goes beyond nutrients from manure and urine cycling though.
"The grazing animal tugging on the grasses changes the root system," he says. "Diversity is important, too. We have instances where people have planted a monoculture cover crop and come back saying they didn't get results. Native grasslands have high diversity. Each root puts out different exudates to feed a different chemistry in the soil. You have to learn to mimic that process."
New says he is excited about the Kansas project and what can be learned as it unfolds.
"GM deserves a great deal of credit for funding this effort," he says. "I am confident we can make progress and demonstrate to farmers everywhere that they can have healthier soils, healthier crops and healthier bank accounts by using these principles."
What is Understanding Ag?
The four partners of Understanding Ag are familiar names to many farmers who have been involved in organizations such as No-till on the Plains or soil health improvement and conservation programs through USDA's Natural Resources Conservation Service.
They are also founding partners in Soil Health Academy, a non-profit organization dedicated to teaching biomimicry strategies and agroecology principles for improving soil function on a national scale.
After his retirement from the NRCS in 2017, soil scientist Ray Archuleta founded Understanding Ag and Soil Health Academy. Ray also owns a 150-acre farm near Seymour, Mo., that he operates along with his wife and family.
Archuleta is a certified professional soil scientist with the Soil Science Society of America and has more than 30 years of experience as a soil conservationist, water quality specialist, and conservation agronomist with the Natural Resources Conservation Service. During his tenure with the NRCS, Archuleta served in Missouri, New Mexico, North Carolina and Oregon.
Partner Gabe Brown is one of the pioneers of the regenerative agriculture movement.
Brown, along with his wife, Shelly, and son, Paul, own and operate Brown's Ranch, a diversified 5,000 acre farm and ranch near Bismarck, N.D. The ranch consists of several thousand acres of native perennial rangeland along with perennial pastureland and cropland. Their ranch focuses on farming and ranching in nature's image.
He is also an instructor for Soil Health Academy, which focuses on teaching others the power and importance of healthy functioning ecosystems.
New is a stockman and entrepreneur. He is a graduate of Kansas State University.
He was a civil contractor and sod producer for 20 years prior to completely focusing on regenerative agriculture. He has been doing soil health practices for many years. Some of these practices include no-tilling, cover crops, rotational grazing, and adaptive grazing.
New and his wife, Kelli, have three children. They own and operate New Family Farms. The farm consists of cover crops, cattle, and free range chickens. They currently market their meat and eggs.
Partner Allen Williams is a sixth-generation family farmer and founding partner of Grass Fed Insights, Understanding Ag and the Soil Health Academy. He is also a partner in Joyce Farms Inc.
Williams and his colleagues specialize in whole farm and ranch planning based on the concept of regenerative agriculture. Their approach creates significant "value add" and prepares the landowner for multiple enterprise and revenue stream opportunities that stack enterprises and acres. This approach allows for enhanced profitability and/or investment value.
They routinely conduct workshops and seminars across the U.S., Canada and Mexico.
About the Author(s)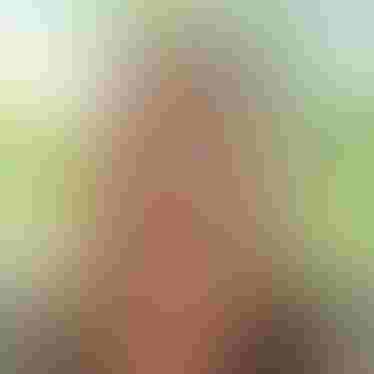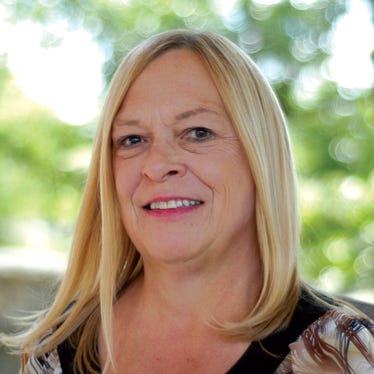 Phyllis Jacobs "P.J." Griekspoor, editor of Kansas Farmer, joined Farm Progress in 2008 after 18 years with the Wichita Eagle as a metro editor, page designer, copy desk chief and reporter, covering agriculture and agribusiness, oil and gas, biofuels and the bioeconomy, transportation, small business, military affairs, weather, and general aviation.
She came to Wichita in 1990 from Fayetteville, N.C., where she was copy desk chief of the Fayetteville Observer for three years. She also worked at the Pioneer Press in St. Paul, Minn. (1980-87), the Mankato Free Press in Mankato, Minn. (1972-80) and the Kirksville Daily Express in Kirksville, Mo. (1966-70).
Subscribe to receive top agriculture news
Be informed daily with these free e-newsletters
You May Also Like
---