Barnyardgrass - what's your plan?
Barnyardgrass - what's your plan?
Start clean.Use an at-planting application of a residual herbicide.Over-the-top programs should contain tank-mixtures of postemergence and residual herbicides with multiple modes of action.Regardless of the herbicide mixture, timing is critical.Strive for 100 percent control before flood.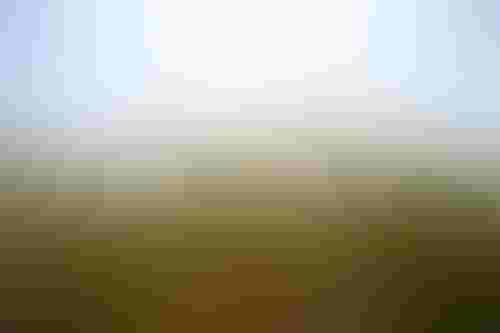 Unless you avoid Extension meetings and do not read farm publications, you are aware of the herbicide resistance problems in the Mid-South.
The Mid-South has a who's who of the world's worst weeds: ALS/glyphosate-resistant Palmer amaranth, ACCase/glyphosate-resistant johnsongrass, ALS/ACCase/glyphosate-resistant Italian ryegrass, and propanil/quinclorac/ALS-resistant barnyardgrass. These are only a portion of the problem species.
For weed scientists, it sometimes feels like we have stepped into a buffalo stampede. But, there is never a dull moment, and we never lack for something to do.
The issue with glyphosate resistance has justifiably received the most attention recently. Twenty-one weeds have been documented resistant to glyphosate in the last 15 years.
In Mississippi, we have seven. But, one species always lingering in the thoughts of weed scientists in the Mid-South is barnyardgrass. Barnyardgrass ranks number three on the list of the world's worst weeds. It is a problem weed in 42 countries and is the dominant weed of rice in most areas of the southern United States. Season-long competition from barnyardgrass can lower rice yields 70 percent, so most rice weed control programs are designed around barnyardgrass.
Propanil (Riceshot, Stam, SuperWham) was first marketed in the early 1960s for control of barnyardgrass in rice. It was effective for nearly 30 years until barnyardgrass evolved resistance to this herbicide in the late 1980s. Since the first propanil-resistant barnyardgrass was documented in 1990, the trend has been for barnyardgrass to evolve resistance to a herbicide mode of action six to eight years after the herbicide is introduced to the rice market.
Quinclorac (Facet, Quinstar), introduced in the early 1990s, offered an effective alternative to control propanil-resistant barnyardgrass. However, resistance to quinclorac was discovered only a few years after its introduction.
Command was first used in rice in the late 1990s, and barnyardgrass resistant to Command was identified in Arkansas in 2007.
The Clearfield technology was commercialized in 2002, and resistance to Newpath in barnyardgrass was documented in Arkansas in 2008 and is suspected in Mississippi.
Barnyardgrass is resistant to five herbicide modes of action in six states across the rice-producing area of the United States. What if barnyardgrass becomes resistant to glyphosate? What if this species could no longer be controlled with glyphosate in soybeans? A single barnyardgrass plant can produce as many as 40,000 seeds in a growing season. How would this impact rice weed control?
In some rice areas, the herbicide options for barnyardgrass are already limited due to resistance. Losing the effectiveness of a rice-soybean rotation to reduce the barnyardgrass population in a field would have a debilitating effect.
Since the introduction of Command and the Clearfield technology to the rice market, barnyardgrass control has been less complicated, but it still requires a thorough, multi-faceted approach. Although resistance to Command has not grown into a widespread problem (yet), the potential for this problem to expand does exist.
Complaints of Newpath failure have been on the rise for several years. Historically, once resistance to an ALS herbicide like Newpath is identified, the problem spreads rapidly.
Could 2011 be the year Newpath-resistant barnyardgrass explodes across the Mid-South? Possibly.
The rate at which the ALS-resistant barnyardgrass problem spreads should not dictate how barnyardgrass control programs are designed. What is your plan for barnyardgrass control this year?
What you can do
Following are some suggestions for barnyardgrass control in rice.
Start clean. This cannot be over-rated as a control tactic. In my rice plots at Stoneville, Miss., in 2010, we sprayed glyphosate at planting to control emerged barnyardgrass. This application worked poorly, and we never got back ahead of the barnyardgrass. Make sure fields are free of barnyardgrass before rice begins to emerge. This is a critical first step in successful barnyardgrass control.
Use an at-planting application of a residual herbicide. Like Palmer amaranth in row crops, barnyardgrass is much easier to control before it comes out of the ground. An at-planting application of Command will reduce early-season competition and also increase the effectiveness of postemergence treatments because these will be targeting smaller barnyardgrass plants.
Over-the-top programs should contain tank-mixtures of postemergence and residual herbicides with multiple modes of action. For example, the first over-the-top application could include propanil plus Bolero (or RiceBeaux) or quinclorac. Ricestar HT plus quinclorac or Prowl H2O would be an alternative in areas with propanil-resistant barnyardgrass. Tank mixtures containing different modes of action are also important to reduce the selection pressure on the limited chemistries available in rice that are active against barnyardgrass.
Regardless of the herbicide mixture, timing is critical. Well-timed, early-season applications always provide the most consistent control. Too often, barnyardgrass is sprayed in the three- to four-leaf stage (or tillering) rather than the one- to two-leaf stage. This can be a recipe for failure. Barnyardgrass cannot be sprayed too early. Control barnyardgrass when it is at a manageable size and rely on the residual herbicide in the tank mixture for control of the next flush.
Strive for 100 percent control before flood. Clincher has been used extensively as a postflood treatment in rice. Postflood, salvage-type applications can be important because there is always barnyardgrass that survives preflood herbicides. However, Clincher should be utilized to control barnyardgrass escapes. It should not be relied upon to control dense populations of barnyardgrass that have the luxury of ample water and fertilizer that will help it withstand the Clincher treatment.
My best advice for barnyardgrass is "have a plan." Do not wait for barnyardgrass to emerge to decide how you will control it in rice. Use all the tools available, i.e., effective burndown, residual herbicides, well-timed postemergence application, tank mixtures and the flood. Hopefully, by utilizing all these tactics, the effectiveness of our barnyardgrass herbicide arsenal can be sustained into the future.
Subscribe to receive top agriculture news
Be informed daily with these free e-newsletters
You May Also Like
---