SW Peanut Profitability winner looking at good crop
SW Peanut Profitability winner looking at good crop
With a late peanut crop Oklahoma producer says, "I have to take my lumps," with potential for some immature peanuts. That's just part of the process. "I'm pushing a little to get them in. I don't want to have to go far into November to harvest."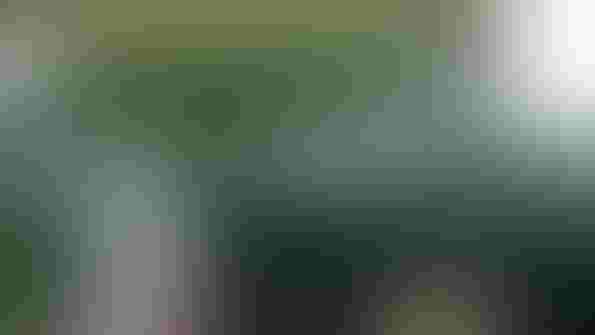 <p>Anthony Reed gets his peanut combine ready to harvest his 2015 crop near Thackerville, Okla.</p>
Thackerville, Okla., peanut farmer Anthony Reed says his 2015 peanut crop could come in a tad immature but not bad. He's trying to catch up to a crop that started off 30 days late, and hopes to harvest before fall weather threatens what looks to be a good crop.
Reed, the 2015 Peanut Profitability Award winner for the Southwest Region, says he's just started digging and will have combines running by the end of the week. "I have one circle dug and am hooking up the combines now," he said. "That's why I had to call you back. I couldn't hear the phone for all the machinery."
He says with a late crop, "I have to take my lumps," with potential for some immature peanuts. That's just part of the process. "I'm pushing a little to get them in. I don't want to have to go far into November to harvest."
His plan is to get most of the 150-acre crop dug this week and start combining as they dry down. "We're supposed to get rain over the weekend, so I hope to have them all dug by then and then combine as soon as I can."
For the latest on southwest agriculture, please check out Southwest Farm Press Daily and receive the latest news right to your inbox.
Harvest typically takes from two to three weeks.
Reed says a long, wet spring delayed planting by about a month and then it turned dry. "From the time we were in Georgia (for the annual Peanut Profitability Awards breakfast back in July) we have had no rain in the area. Folks to the west and to the north have had some showers, but we have been extremely dry.
"Even with a crop delayed 30 days, we still had to irrigate as much as we usually do. We started off late and wet but still had to water a lot. Right now, it looks like it's going to be worth it. It seems like things are going to be good. It's too early to estimate yield but the crop looks good so far."
Good growing season
Other than late planting and then drought, which has been a common condition for the past few years, Reed says he had no unusual problems with the 2015 crop.
He plants a few watermelons, too, and says those came off late as well but overall made good yields. "We had some good sales and we had some good ones to eat," he says. Some placed at the State Fair in Oklahoma City.
He is concerned about losing his buying point before next season but plans to keep producing peanuts in rotation with rye. He uses the rye for grazing his cattle herd, cuts some for grain and plants peanuts in rye residue.   It's been a good system and most years offers potential to on all three enterprises—cattle, rye and peanuts.  
But he considers himself a peanut farmer.                   
"I'd love to plant peanuts again," he said. "I am a dedicated peanut farmer."
Subscribe to receive top agriculture news
Be informed daily with these free e-newsletters
You May Also Like
---