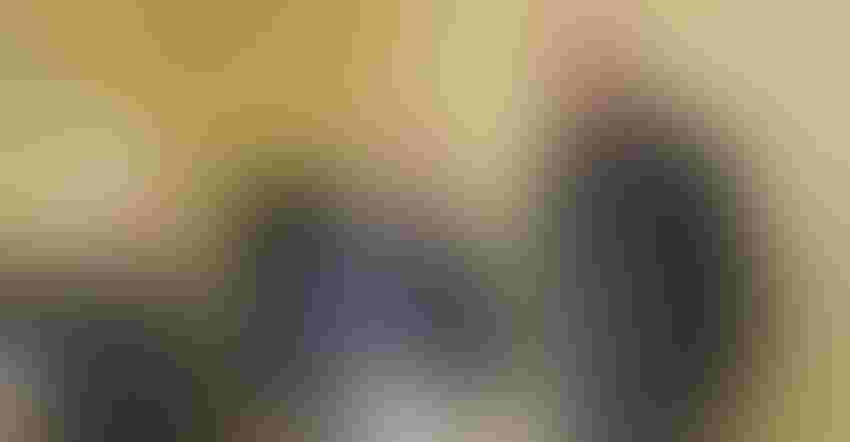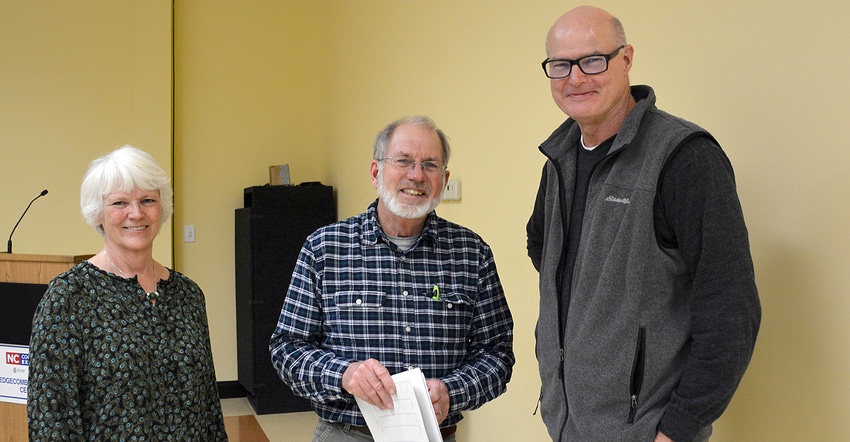 Discussing successful peanut production at an Extension Service meeting in Rocky Mount were from left, Dr. Barbara Shew, N.C. State Extension plant pathologist; Will Connell, an independent crop consultant from Stokes, N.C.; and N.C State Extension Peanut Specialist Dr. David Jordan.
Dr. David Jordan knows contract prices are lower this year and peanut farmers will be looking for ways to improve the bottom line, but he urges them not to cut back too much to save money.
"Be really careful what you take out of your system. You might save $30 and it might cost you a couple of hundred pounds of yield. If you do the math, you might be going in the wrong direction," the North Carolina State University Extension peanut specialist cautioned at a peanut production meeting in Rocky Mount.
Jordan advised peanut farmers to:
Apply nutrients based on soil tests and maintain a pH 6.0

Avoid excessive magnesium and potassium

Use conventional tillage in most instances

Use an inoculant for nitrogen fixation

Control pests using integrated pest management (IPM) practices

Dig and harvest in a timely manner
As for planting date, Jordan is advising farmers to shoot for mid-May to achieve optimal yields. He advises a population of five plants per row-foot, which means putting out six seeds per foot of row.
"I know that can get expensive, but we have seen a bit of resurgence in tomato spotted wilt virus last year. The one thing we can do to manage tomato spotted wilt virus is to get our seeding rates up and not plant too early," Jordan said.
The peanut specialist also cautioned about excessive zinc in the soil, particularly in parts of the state where animal waste is used for fertilizer. If the soil has too much zinc, there is no going back, he emphasized.
"You can use too much litter in a hurry and get the zinc index up. And perhaps in your lifetime, you'll probably never be able to plant peanuts in those fields," he warned. "There is no way to remediate a field that gets too high a zinc concentration. You can grow corn and cotton in the field and not see a problem at all, but peanuts are really sensitive to zinc."
To be successful, integrated pest management or IPM is a must for peanut farmers.  Jordan explains IPM means using all tools possible and doing things ahead of time for optimum plant protection. This means both protective pesticide applications and applications as needed when the pest becomes as issue.
With ALS resistance present in some of the state's most-important weed species, PPO inhibitors have become more important in peanut weed management. However, Jordan is concerned about the possibility of PPO resistance developing in North Carolina. Farmers need to keep this top of mind in herbicide management this year.
"Populations of Palmer amaranth and common ragweed resistant to ALS inhibitors are present in North Carolina, and we likely have some fields where these weeds are resistant to PPO inhibitors. If you start removing PPOs, we are back to using only products like Prowl, Dual, Outlook, Warrant, Zidua, Paraquat, Basagran, 2,4-D, and the selective grass herbicides. That's late '70s early '80s chemistry in many cases.  We really need to protect the PPOS," Jordan said.
Finally, Jordan is concerned about evolved resistance across various plant protection products and every pesticide group.  He urges farmers to be prepared. "We know we have it with herbicides. We likely have some with fungicides. And I know we have some with insecticides. Right now we are in pretty decent shape, but we are worried about being just on the bubble of something not working.
About the Author(s)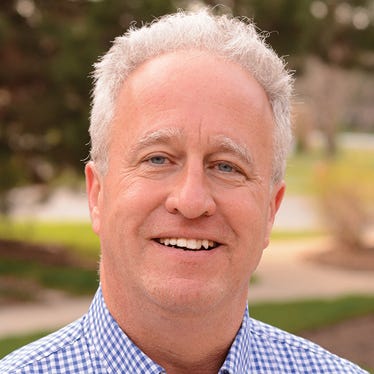 Associate Editor, Southeast Farm Press
John Hart is associate editor of Southeast Farm Press, responsible for coverage in the Carolinas and Virginia. He is based in Raleigh, N.C.
Prior to joining Southeast Farm Press, John was director of news services for the American Farm Bureau Federation in Washington, D.C. He also has experience as an energy journalist. For nine years, John was the owner, editor and publisher of The Rice World, a monthly publication serving the U.S. rice industry.  John also worked in public relations for the USA Rice Council in Houston, Texas and the Cotton Board in Memphis, Tenn. He also has experience as a farm and general assignments reporter for the Monroe, La. News-Star.
John is a native of Lake Charles, La. and is a  graduate of the LSU School of Journalism in Baton Rouge.  At LSU, he served on the staff of The Daily Reveille.
Subscribe to receive top agriculture news
Be informed daily with these free e-newsletters
You May Also Like
---