California almond growers could shake a record crop
California almond growers could shake a record crop
Current record is 2.03 billion pounds harvested in 2011.Industry fears water availability issues could severely impact next year's crop.Almond industry harvested first billion-pound crop in 2003.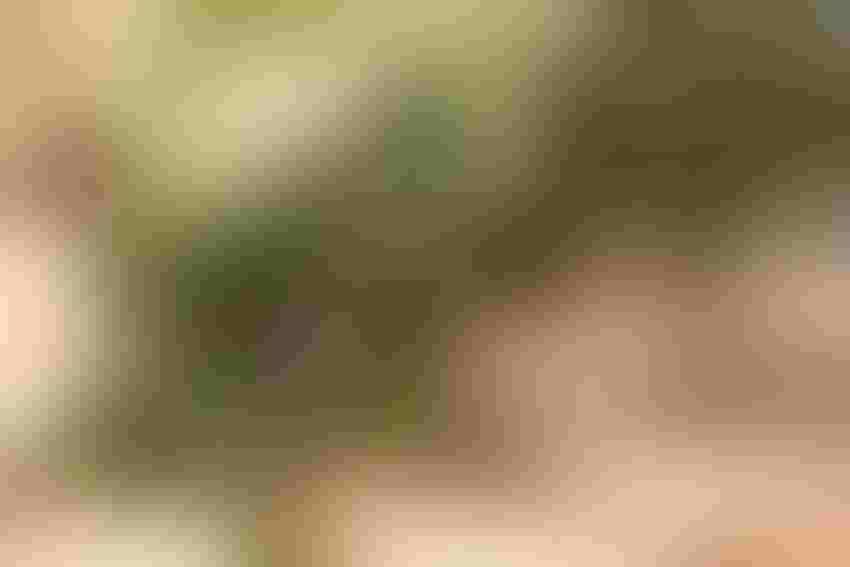 <p>A survey of 890 almond orchards in California suggests the state&#39;s almond industry could produce a record harvest of&nbsp;2.1 billion pounds this year.</p>
If it holds, this year's California almond harvest could be a record 2.1 billion pounds of production from a whopping 860,000 bearing acres.
This crop estimate from the National Agricultural Statistics Service (NASS) is 4.5 percent higher than last year's crop, and 7.7 percent higher than NASS' subjective forecast of 1.95 billion pounds issued in May.
The current production record is 2.03 billion pounds in 2011.
Almond Board of California (ABC) Chairman Bill Harp, a Bakersfield grower, called the likelihood of a record crop, "A testament to the state-of-the-art farming practices and techniques our growers use to minimize water use."
NASS released its 2014 objective measurement report Monday. The report indicates that while this year's almond yield per acre may not be quite as large as the 2,540 pounds per acre harvested in 2011 crop, the increased bearing acreage could push the 2014 crop to a new total volume record.
This year's average yield is expected at 2,440 pounds per acre, which is on target with the thoughts from some crop specialists.
Nut set, according to the survey, is down less than 1 percent. Nut size is reported a bit higher than last year's harvest.
Reaction
Richard Waycott, the ABC's chief executive officer, believes the survey figure is "probably a little higher than most were expecting."
Waycott was at a almond industry luncheon when the NASS forecast was released June 30. He said reaction in the room indicated people thought the number was realistic.
Waycott seemed pleased with the number and suggested California will not have any issues selling a record volume crop if the number is accurate.
"We certainly don't have an issue with marketing a crop this large," Waycott said.
The latest agricultural news each day to your Inbox. Click here for the free Western Farm Press Daily e-mail newsletter.
Dave Baker, director of member relations with Blue Diamond Growers, added, "It's just what the doctor ordered.".
Baker says the California almond industry needs a crop this size to meet growing world demand. If the objective survey had mirrored the 1.95 billion-pound subjective forecast released May 1, buyers could have been concerned that California might not be able to meet world demand and prices could have been impacted accordingly.
"This keeps us in line with consumptive growth," Baker said.
Tree count changed
Martin Pohl, owner of the almond processor and marketer Hughson Nut Company near Modesto, was somewhat puzzled by the USDA's decision to count 114 trees per acre in its survey, instead of the 112 trees per acre counted in the past. Pohl says the difference in that assumption could mean the survey is overly optimistic.
Pohl also pointed to nut set by variety.
"The only one which increased is the Carmel variety," Pohl said.
According to the USDA report, the Butte variety is down on  average by a little less than 100 nuts per tree. While the California and Nonpareil varieties are also down by a few nuts per tree, statistically the nut set is unchanged from last year.
The Nonpareil and Butte varieties saw larger nut sets with the 2011 crop. This year's Nonpareil harvest is pegged at 800,000 meat pounds, down 1 percent from last year's deliveries, according to NASS.
Comparing nut set by valley in California, NASS' forecast suggests a heavier yield per acre in the San Joaquin Valley than the Sacramento Valley. This is the opposite from last year's report when a significantly larger nut set was reported in the Sacramento Valley.
Last year's crop yielded 2.01 billion pounds on 840,000 acres.
Jim Jasper, owner of Stewart and Jasper in Newman, Calif., says the survey figure will likely be on the high end of what is actually received and processed this year. He expects the final harvest numbers to be somewhere between 2.0-2.1 billion pounds.
"The 2.1 billion pound figure will be the thought process until we know what the harvest actually provides," Jasper said.
In the short term, pricing and markets will reflect the survey until final harvest numbers are reported.
"I don't know if buyers will be truly surprised," said Madera County almond grower and chairman of the Central California Almond Growers Association Denis Prosperi.
What about the drought?
Roger Duncan, a pomology and viticulture farm advisor with the University of California Cooperative Extension in Stanislaus County said, "If you look at the years where we had drought those tend to be the years where you also see these higher (yielding) crops."
This happened this year. Very little rain fell on California during the winter months, forcing growers to irrigate when it should have been raining. Couple that with near-ideal weather conditions during the bloom period, good bee flight hours, and the general reduction this year in pest and disease issues, Duncan says it was all a recipe for a good almond crop.
Lower chilling hours due to the warmer-than-usual winter apparently did not impact this year's crop. Duncan says almonds tend to need about 400 chilling hours, which is a much lower number than other crops require, including apples and cherries.
Although some beleive harvest could come a week to 10 days earlier than the normal mid-August start, there is some concern that a quick blast of extreme heat and continued water stress to the trees could result in some nut shrinkage or shrivel, Duncan says. If this happens, the size of the crop could be impacted as could meat quality.
Lower quality could not only impact nuts for human consumption, but could impact the sales and price of almond hulls, which are an important part of the diet for dairy cows in the Central Valley.
Next year?
Many worry of a possible 'train wreck' next year if the drought continues and irrigation water allocations remain at zero.
Prosperi worries that another dry season could spell doom for the California almond industry due to the lack of water for this year's post-harvest irrigation period. Growers may have tapped the aquifers dry to keep crops alive as state and federal regulators have repeatedly denied full surface water allocations to farmers in previous years.
According to Duncan, the post-harvest period is a crucial time to irrigate almond trees as trees develop the buds for next year's crop.
"We've been crowing about that since February," Duncan says. "These guys need to hold onto a little water for post-harvest if at all possible."
Jasper is also worried that another dry winter could spell doom for an industry that was able to cobble together enough water to produce what appears to be a record almond crop. Even so, Jasper is already seeing almond orchards in his area stressed that even a normal rainy season may not be able to resuscitate.
The NASS survey was conducted May 24 - June 18. Officials sampled 1,779 trees in 890 orchards. Of the orchards sampled, 113 were in the Sacramento Valley and 777 were in the San Joaquin Valley.
The Objective Measurement Survey is funded by the Almond Board of California.
Subscribe to receive top agriculture news
Be informed daily with these free e-newsletters
You May Also Like
---