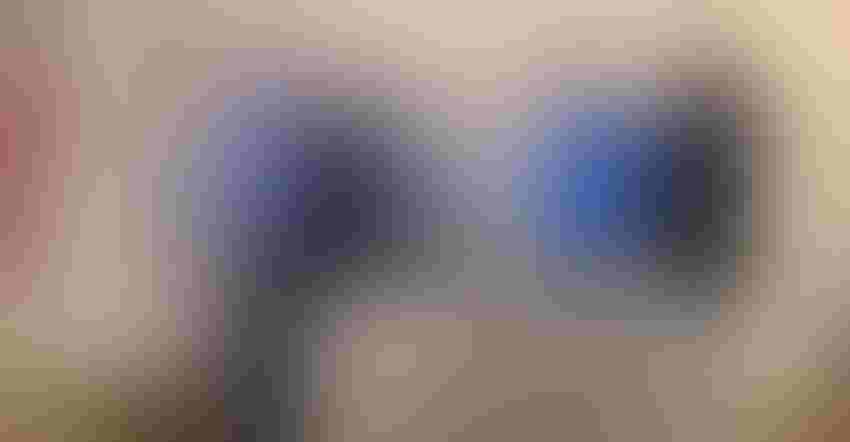 2018 LEADERSHIP: The 2018 Indiana Soybean Alliance executive committee includes (from left) Angie Steinbarger, Joe Tuholski, Tom Griffiths, David Rodibaugh, Phil Ramsey and Jim Douglas. Elaine Gillis is not pictured.
Indiana Soybean Alliance
Tom Griffiths, Kendallville, Ind., was re-elected to chair the Indiana Soybean Alliance board of directors for 2018 recently. He reaffirmed that the ISA board will continue to strive to make strategic investments of checkoff funds to help ensure that soybean farmers are successful. Checkoff funds support research and marketing programs that benefit Indiana soybean farmers.
Joining Griffiths on the ISA executive committee are Joe Tuholski, Mill Creek, vice chairman; Angie Steinbarger, Edinburgh, secretary; David Rodibaugh, Rensselaer, treasurer, Jim Douglas, Flat Rock, chairman of the grain marketing and utilization committee; Elaine Gillis, Dunkirk, chairwoman of the marketing and communications committee; and Phil Ramsey, Shelbyville, chairman of the membership and policy committee.
ISA members elect directors to the board from four districts. Denise Scarborough, LaCrosse, was elected from District 1, representing northwest Indiana. Tuholski begins a third term from the same district. C.J. Chalfant, Hartford City, was elected from District 2, made up of counties in northeastern and east-central Indiana. She joins John Emmert, Ligonier, now in his second term.
Derika Lynam-Spaetti, Evansville; Mark Legan, Coatesville; and Gary McDaniel, Boonville, represent District 3, which includes counties in west-central and southwest Indiana. In District 4, representing south-central and southeast Indiana, Steinbarger and Douglas were re-elected to their second terms.
New Farm Bureau directors
Three new directors have joined the Indiana Farm Bureau board of directors for 2018. The board consists of 13 directors. New directors include Kermit J. Paris, Rush County, District 8; Marybeth Feutz, Gibson County, District 9; and Bob Geswein, Floyd County, District 10.
Paris, a former IFB fieldman, and his wife, Denise, raise alpacas and process the fiber into products sold at farmers markets and festivals and online. They own two farms in Shelby County, and Paris and his brothers own Lone Hill Farms Inc., with farms in Boone, Fayette and Franklin counties.
Feutz is a veterinarian who consults for a veterinary hospital owned by her husband, John, and his father. Feutz and her family also operate a cow-calf herd and sell produce.
Geswein is an energy adviser for Harrison REMC. He also owns a small farm.

3 NEW DIRECTORS: Indiana Farm Bureau's newest directors are (from left) Kermit J. Paris, Marybeth Feutz and Bob Geswein.
Corn marketing council news
Mike Beard, Frankfort, an Indiana Prairie Farmer Master Farmer from the Class of 2002, was elected president of the Indiana Corn Marketing Council for 2018. The ICMC oversees the Indiana corn checkoff program.
Beard hopes to continue strategic management of the corn checkoff budget and development of innovative marketing and research programs in the year ahead.
Other members of the executive committee include Josh Miller, Anderson, vice president; Sarah Delbecq, Auburn, secretary; Paul Hodgen, Roachdale, treasurer; Jacob Walker, Waterloo, demand committee chairman; and Kelly Whiteman Snipes, Rochester, supply committee chairwoman.
Recent board activity included re-electing Walker from District 3; appointing Adam Howell, Middletown, to represent District 6; appointing John Adams Jr., Sellersburg, for District 9; electing Tim Gauck, Greensburg, and Denny Maple, Greentown, as at-large directors; and appointing Matt Brandyberry, West Lafayette, as a voting ex-officio director.
Three nonvoting ex-officio directors were also appointed to the ICMC board. They are Tim Baumgart, Ohio Valley region commercial manager for Consolidated Grain and Barge as purchaser ex-officio, plus Sen. Mark Stoops and Rep. Joe Taylor III, representing the Indiana General Assembly.
CORN COUNCIL LEADERS: The Indiana Corn Marketing Council executive team for 2018 includes (from left) Jacob Walker, Paul Hodgen, Mike Beard, Josh Miller, Sarah Delbecq and Kelly Whiteman Snipes.
Subscribe to receive top agriculture news
Be informed daily with these free e-newsletters
You May Also Like
---