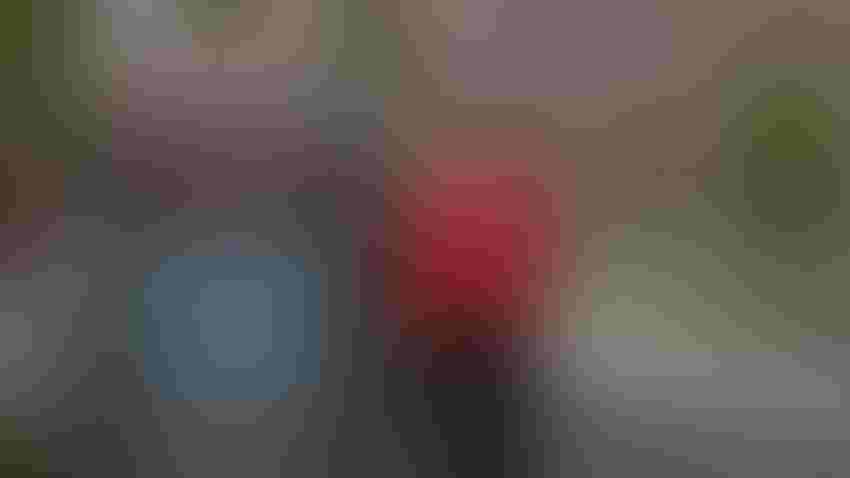 HOMEGROWN NEBRASKAN: Deb VanOverbeke is an Ashland, Neb., native and UNL animal science alumnus. She is taking her experiences from Nebraska Cattlemen, Colorado State University, the University of Minnesota and Oklahoma State University to make an impact where it all began for her in Lincoln.
Elizabeth Hodges
She is literally coming home. Deb VanOverbeke, the new animal science department head at the University of Nebraska, is taking her skills of helping people and developing programs back to UNL. The opportunity arose to come back to her alma mater and give back to where it all started.
VanOverbeke grew up on a small family farm outside of Ashland, Neb., and graduated from UNL with an undergraduate degree in animal science. Out of college, she worked for Nebraska Cattlemen in producer education.
She received her master's and Ph.D. from Colorado State University and began working at the University of Minnesota. She has been at Oklahoma State University for the past 18 years, starting on the faculty in Animal and Food Sciences and transitioning to assistant dean for academic programs six years ago.
Nebraska Farmer sat down with VanOverbeke recently and asked her about her experiences at OSU, what it is like coming home, and her overall goals for the department at UNL. Here are her answers.
Nebraska Farmer: What are your ties to Nebraska and why did you decide to come home?
VanOverbeke: When I first started with Nebraska Cattlemen, they were really rolling out the Beef Quality Assurance program. I was doing trainings statewide, even for out-of-state producers who were sending cattle into Nebraska. I was given the opportunity to go to grad school and do the next phase of the National Beef Quality audit. I jumped at that chance because we had used that program, obviously to build some of the basis for beef quality assurance.
After Colorado State University, I went to the University of Minnesota and was the beef quality and safety specialist. There I did Extension and beef quality assurance-related programs, as well as research.
OSU is where I have called home for the last 18 years. There I got on this administrative path and really enjoyed helping students and faculty be successful in their programs. And so, what intrigued me about this position was that I got to do the same thing that I've been doing in terms of helping students and faculty be successful, but I got to do it directly from my home department.
Nebraska Farmer: What kind of education prepared you for this position?
VanOverbeke: I would say for this role, it's not about the degrees I had that prepared me for this, but the experiences I've had. I've had a lot of different chances to do some leadership development and experiences at OSU, which helped me prepare for this role. For example, I was on the faculty council where I learned how the faculty governance worked and was able to hear faculty concerns for those involved in research, teaching and Extension.
At OSU, I've served as assistant dean for academic programs, so I really got inundated with academic policy and was able to help faculty troubleshoot issues, as well as build programs that helped enhance faculty and student success.
Nebraska Farmer: What are you most excited for in this position and what impact do you wish to see?
VanOverbeke: I think just building off the strong base of research, teaching and Extension that UNL animal science is known for excites me. There are very well-known, nationally recognized research and Extension programs that already exist. You can see that in just in the investment in new facilities, like the Beef Innovation Center at ENREEC that is started and the fundraising for the new Equine Sports Performance Facility.
The opportunities that we get to build on and strengthen the graduate and undergraduate program with new facilities is very exciting to me. We have great people — faculty, staff and graduate students. We see good, quality people come in and choose UNL, and then see them go out and hold strong to their training.
Nebraska Farmer: What can students expect from you as the new department head?
VanOverbeke: Students can expect me to be approachable. I think sometimes students are not comfortable approaching faculty, just in general, outside of the classroom. And I would say that's even more true of an administrator like the department head. I want students to come introduce themselves. I want students to tell me their stories. We had a student come in on my first day and told me she just passed her defense. And I said, 'That's awesome!' So just letting us celebrate their successes, but also helping them through those transition times or those struggles that they might be having. Whether it's something in the classroom or in the lab or just life, let us help. I want students to know that we're here to support them and help them navigate through everything that happens during their educational journey.
Learn more about VanOverbeke and the UNL animal science department at animalscience.unl.edu.
Subscribe to receive top agriculture news
Be informed daily with these free e-newsletters
You May Also Like
---