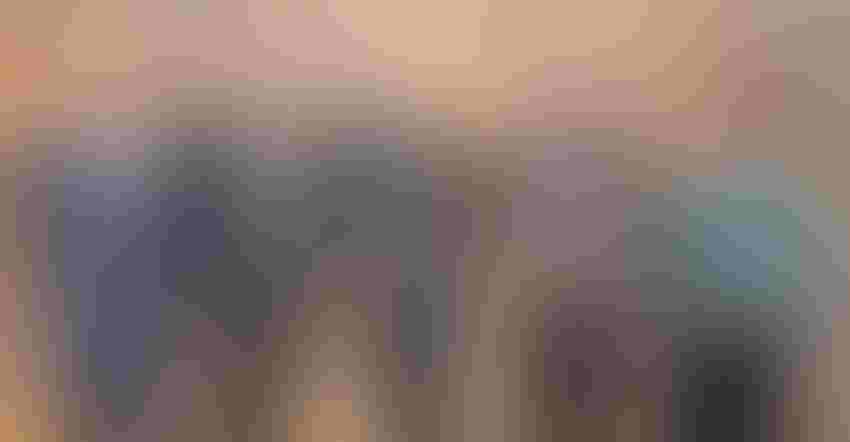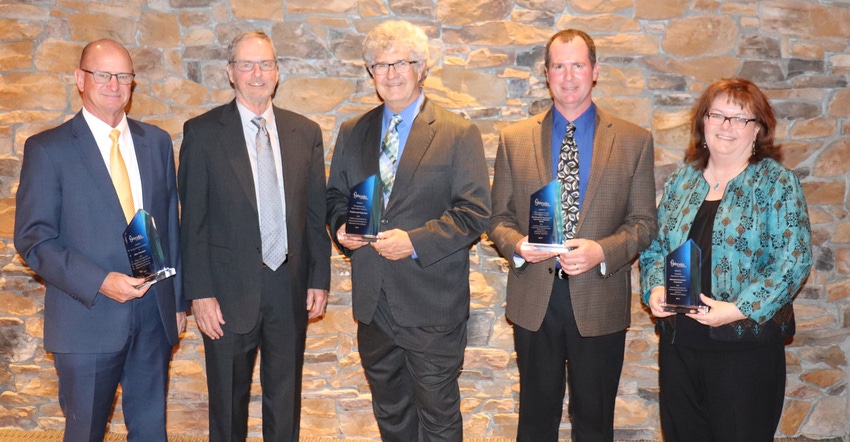 INDUSTRY AWARDS: The 2019 Nebraska Corn Board award recipients are (from left to right) Alan Tiemann (Ag Achievement Award), Daryl Hunnicutt and Norm Krug (Agribusiness Appreciation Award), Steve Martin (Livestock Industry Appreciation Award), and Lisa Jasa (Ag Media Appreciation Award). Not pictured: Siouxland Ethanol (Ethanol Industry Appreciation Award).
Nebraska Corn Board.
Five awards were presented to individual, educational and industry leaders at the Nebraska Corn Board's 2019 awards dinner in March.
The Ag Achievement Award was presented to Alan Tiemann, a corn and soybean farmer from Seward, who has served on the Nebraska Grain Sorghum Board, the Nebraska Corn Board and has been active in the U.S. Grains Council, where he serves on the USGC's credentials committee as past chairman.
The Ethanol Industry Appreciation Award was presented to Siouxland Ethanol in Jackson, which was recognized for its dedication to producing a quality, clean-burning renewable fuel, which builds corn demand while supporting other industries.
The Livestock Industry Appreciation Award was presented to the Alliance for the Future of Agriculture in Nebraska. AFAN is active in promoting, supporting and growing the livestock industry in Nebraska, which has benefited the state's corn industry.
The University of Nebraska-Lincoln's CropWatch website received the Media Appreciation Award. CropWatch, produced by UNL's Institute of Agriculture and Natural Resources, provides up-to-date information on ag topics throughout the year.
The Nebraska Agribusiness Appreciation Award was given to Preferred Popcorn. The Chapman-based agribusiness was founded in 1997 by four local farmers, and now works with more than 50 farmers across the Midwest.
Nebraska Hall of Agricultural Achievement honors members
The Nebraska Hall of Agricultural Achievement honored Bob Dickey and Al Svajgr at its recent banquet.
Dickey is a third-generation farmer near Laurel. He has invested in Nebraska agribusinesses, including Specialty Protein Producers in Norfolk, Husker Ag Processing in Plainview and Advanced Bioenergy at Fairmont.
Svajgr grew up on his family's farm in Diller and is the owner of Agrow, feeding about 5,000 head of cattle annually. Svajgr also is an original owner and board chairman of Darr Feedlot. He is director of Waypoint Bank and chairman of Midwest Banco.
NHAA also welcomed its new members:
Barbara Cooksley, cattle rancher and range conservationist from Anselmo; Nancy Peterson, veterinarian and owner of Plum Thicket Farms near Gordon; Ted Tietjen, agribusiness consultant from Grant; Douglas Olsen, owner of Olsen Ranches Inc. in Harrisburg; Mary Garbacz, emeritus professor of practice, Agricultural Leadership, Education and Communication, at the University of Nebraska-Lincoln; Terry Hejny, Nebraska LEAD Program director; Pete McClymont, Nebraska Cattlemen executive vice president; Richard Rasby, associate dean of Nebraska Extension; Chuck Burr, Nebraska Extension educator in North Platte; Rick Larson, farmer and rancher from Potter; and Roric and Deb Paulman, owners of Paulman Farms near Sutherland.
Nebraska Farm Bureau Foundation names FFA Advisors of the Year
The Nebraska Farm Bureau Foundation selected two recipients for the FFA Advisor of the Year award. Jenny Kocian from David City High School and David Rocker from Franklin Public Schools were honored at the Nebraska FFA State Convention in Lincoln. The winning advisors received a plaque and a $1,000 donation to their FFA chapter.
The teachers were nominated by their own students and chosen based on their school and community involvement, leadership development in the classroom, and their ability to keep students involved in agriculture.
Kocian is the advisor for the David City FFA chapter. Kocian makes her students a priority and ensures the success of her students by making connections with local businesses, farmers and cooperatives to assist students in any career path they choose to pursue. Under Kocian's leadership, a previous chapter officer, Brooke Belle, was elected to the Nebraska State Officer Team this year.
Rocker has been the advisor for Franklin FFA chapter for 33 years. Because of his dedication and leadership, the Franklin FFA chapter is highly regarded in south-central Nebraska. Rocker works with fellow teachers to create learning opportunities to teach young people about agriculture.
Subscribe to receive top agriculture news
Be informed daily with these free e-newsletters
You May Also Like
---