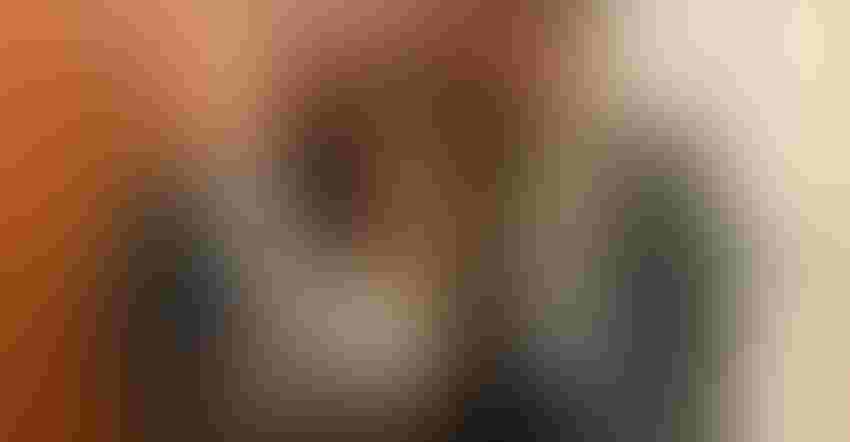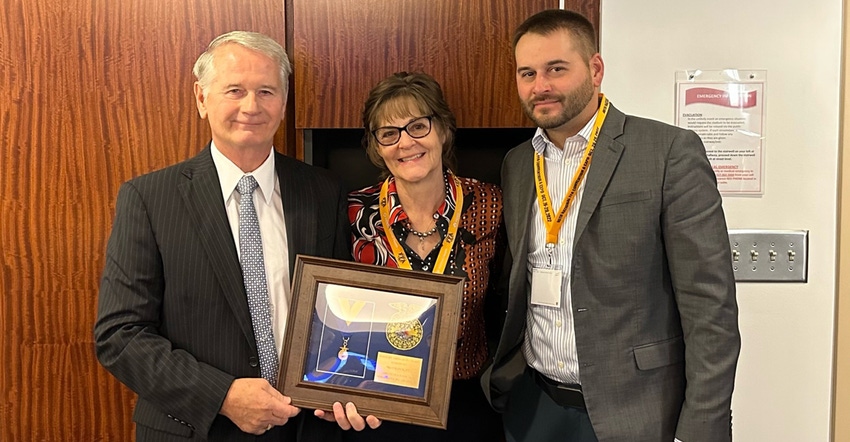 BANCROFT HONORED: Troy Bancroft (left), AgroLiquid co-founder and board president, poses with his wife, Jill, and son Gerrit, AgroLiquid operations director, after receiving an Honorary FFA American Degree.
Courtesy of AgroLiquid
Troy Bancroft, AgroLiquid co-founder and board president, was recently honored by the National FFA Organization with the Honorary American FFA Degree during the 95th National FFA Convention on Oct. 28 in Indianapolis.  
The award recognizes those who advance agricultural education and FFA through outstanding personal commitment.
"I am truly honored by this recognition," said Bancroft, who embraces lifelong learning. "Seeing all the members put in the hard work and time to learn about the industry and grow their knowledge within agriculture really recharges my own ambition for it."
This passion for education extends to mentoring youth involved in FFA — both on the local and national levels. The award acknowledges Bancroft's work to positively affect future leaders. He also awards scholarships to youth perusing careers in agriculture through his nonprofit activities.
Michigan dairy producers OK continuation referendum
Michigan's dairy producers have approved a referendum to continue the Michigan Dairy Market Program for Grade "A" Milk.
Established in January 1983, the Michigan Dairy Market Program was developed to promote the sale of milk and milk products produced within the state of Michigan, and to increase consumer knowledge and acceptance of milk and milk products in general.
The program will continue for an additional five years beginning Jan. 1. The current state program assessment is 10 cents per cwt of Michigan Grade "A" Milk.   
A total of 299 ballots were cast in the referendum. Of those, 269 producers voted yes (92%) representing 4,149,180,491 pounds (93% of the production volume represented), and 22 producers voted no (8%) representing 311,515,384 pounds (7% of the production volume represented). Eight ballots were disqualified because of incomplete information or a late postmark.
For renewal of the program and its activities, more than 50% of the voting producers, representing more than 50% of the pounds sold by those voting, must have approved it.
MDARD celebrates outstanding employees
Recognizing service, adaptability, collaboration and commitment to customers and stakeholders, the Michigan Department of Agriculture and Rural Development recently recognized its employee award winners, who are nominated by colleagues.
Award winners include:
Leadership Award. Ken Settimo of Lansing serves as a food specialist for MDARD's Food and Dairy Division.
The Leadership Award is designed to provide recognition to staff who are viewed as exceptional leaders by their peers, supervisors and customers. The award recognizes an MDARD employee who rises to a challenge to lead, inspires others to act, and seeks opportunities to innovate and improve areas within the department.
Every Day Hero Award. William Wells of Lansing serves as a departmental technician within MDARD's Food and Dairy Division.
The Every Day Hero Award affirms the value MDARD has in employees who may not be in the spotlight, yet steadily and faithfully get things done every day. It's given to an employee who consistently demonstrates dependability, diligence, initiative and teamwork. 
Front Line Ambassador Award. Stephanie Baughan of Williamston serves as a departmental technician within MDARD's Laboratory Division.
The Front Line Ambassador Award is given to an employee who is regularly put in precarious and difficult situations, all the while demonstrating a positive attitude, identifying creative options for resolution and following through with the constituent. The award is not given for a singular achievement or activity, but rather reflects a continuing commitment to the mission and values of MDARD.
Rookie of the Year. Nicole Ballreich of Fowlerville serves as a licensed veterinary technician for MDARD's Animal Industry Division.
The Rookie of the Year Award recognizes a new employee (on the job less than three years) whose service has set a benchmark for all others to attain. It is designed to provide recognition to those staff who are viewed as up-and-coming leaders within the department. 
Woodruff to serve as MSU's interim president
MSU Provost Teresa Woodruff will serve as the Michigan State University's interim president, leading the school during a tumultuous time after Samuel Stanley Jr.'s resignation.
The board of trustees announced the decision at a special meeting Oct. 31 in the Hannah Administration Building. Trustees unanimously approved her appointment and accepted Stanley's resignation as president.
Tractor Supply commits $1 million to FFA scholarships
Tractor Supply launched a new scholarship program in partnership with the National FFA Organization to support the next generation of farmers and students pursuing careers in agriculture and skilled trades. Each year for the next five years, Tractor Supply will commit $1 million to the FFA Future Leaders Scholarship Fund, the largest scholarship of its kind.
Tractor Supply will host an in-store fundraiser each year leading up to the FFA National Convention to raise funds for the FFA Future Leaders Scholarship.
Highlights of the $1 million annual scholarship fund include the following:
$500,000 will be used for 100 scholarships at trade schools and two-year colleges for students pursuing a skilled trade with $5,000 scholarships.

$500,000 will fund 50 scholarships for students pursuing agriculture-related four-year majors with $10,000 scholarships.

Tractor Supply will also offer scholarship recipients an interview for career opportunities at its stores or distribution centers while they are pursuing their education, and will earmark internships at the company's Store Support Center each year.
Make submissions for 2023 Barn of the Year
The Michigan Barn Preservation Network is taking submissions for its 2023 Michigan Barn of the Year awards, which are presented annually to honor barn owners who have made the extra effort to maintain or restore historic barns.
Nominated barns must be in use, either for continued agricultural use or adapted for other uses. Barns must retain their overall appearance — both in their interior and exterior barn characteristics. Nominations are open to the public, reviewed and determined by MBPN awards committee members.
The categories in which awards are presented are for barns or farmsteads in use for:
continuing agricultural use, nonprofit or commercial

adapted to other uses, nonprofit or commercial
Barns will be judged for completeness of information presented in the application, sensitivity and integrity of repairs or modifications, visual appeal, creativity, thoroughness of work, and effort expended to repair and maintain.
Subscribe to receive top agriculture news
Be informed daily with these free e-newsletters
You May Also Like
---