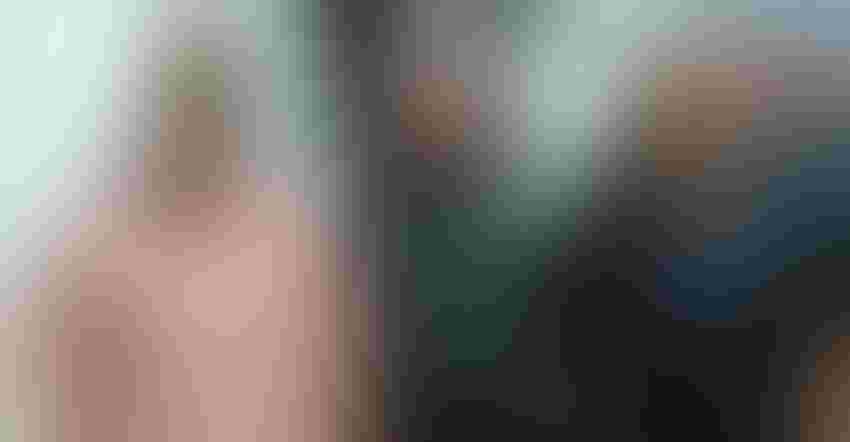 CONSERVATION HEROES: Three Nebraskans were named to the NRD Hall of Fame: (from left) Tom Pesek of Brainard, James Nelson of Cairo, and Tom Moser of Hartington.
Nebraska has three new conservation Hall of Famers. The Nebraska Association of Resources Districts used the Husker Harvest Days Hospitality Tent stage as a backdrop to announce three inductees into the NRD Hall of Fame during the annual farm show Sept. 11 in Grand Island.
The inductees are Tom Pesek of Brainard, James Nelson of Cairo, and Tom Moser of Hartington. NARD President Larry Reynolds presented the inductees during a news conference.
Tom Pesek, NRD supporter
Nominated by the Lower Big Blue NRD, Pesek will be inducted as a longtime NRD supporter. Pesek joined the staff of the Nebraska Natural Resources Commission in 1974. Dating back to 1975, Pesek participated in the review of the Maskenthine Lake project near Stanton, Neb., which was the first such project to earn funding assistance from the Nebraska Resources Development Fund.
Since then, he has been a part of 72 local water resources projects that were approved for funding through the Nebraska Resources Development Fund. In the Lower Big Blue NRD, Pesek worked with the Lower Turkey Creek Watershed Project in 2004.
"Tom has been a valued partner in conservation and played a vital role in planning, funding and construction of conservation projects throughout Nebraska," says Dave Clabaugh, Lower Big Blue NRD general manager. He cites Pesek's leadership, character and personality for bringing people together to see a project through to completion as qualities that have been invaluable to the state's water resources.
Pesek, who retired in 2006, told the crowd at HHD that he felt privileged to work with NRDs and farmers across the state on behalf of water and soil resources.
"I feel fortunate because of the people I worked with, including the staff of our agency and with the NRDs that were most often sponsors of the projects we worked on," Pesek said. "We often worked with projects that involved reservoirs for flood control, as well as irrigation rehabilitation projects in the western part of the state. The efforts were all made to protect our resources, and we have to acknowledge the farmers themselves, who are really the ones who care for our resources."
James Nelson, NRD director
Nelson has been on the board of directors at the Lower Loup NRD since its inception in 1972, for a total of 47 years of service. He is the only director remaining in the state who has served the NRD system since it began.
His dedication to the state's natural resources predates the NRD system, because of his involvement in the Howard County Soil and Water Conservation Board for many years before the NRD system was in place.
Throughout his time on the NRD board, he has been a key participant in many challenging decisions, including a districtwide moratorium on new irrigation wells and a halt to expansion of irrigated acres. He serves on the NRD's water resources and variance committees, and he has represented the surface water irrigators in the Loup River basin on the Nebraska Water Policy Task Force.
Russ Callan, Lower Loup NRD general manager, says, "Jim serves on multiple committees within the NRD, which means extra meetings and the devotion of additional time and energy to the district. His knowledge of the Loup River system is unmatched, and he is always willing to offer a guided tour on his airboat."
Nelson said that he was flattered to receive the award, and he acknowledged the support and assistance of his family members in his efforts.
"For our family, it's a deeper thing," he said at the event. "We feel that we are just stewards out there. We feel that the soil and water really belong to God, and we are just being stewards." 
Tom Moser, NRD manager
Moser served as the general manager of the Lewis and Clark NRD for 43 years, until his retirement in 2016. However, the impact of the work he did in northeast Nebraska since the early 1970s is still evident and appreciated today.
One of those projects was Aowa Creek, which included 50 watershed dams, control of more than 55,000 drainage acres and two multipurpose structures, which reduced flood problems in downstream communities during flooding this past spring.
In addition, Moser was responsible for the development of the Cedar-Knox Rural Water Project, which now provides drinking water service to 890 rural customers and four communities in northern Knox and Cedar counties. Moser was instrumental in the creation of the Bazile Groundwater Management Area, tirelessly working with producers to eliminate groundwater nitrate levels in a region that encompasses four NRDs.
Lewis and Clark NRD general manager Annette Sudbeck lauds Moser's accomplishments. "Tom is a highly respected member of the district and the community, and is recognized for commitment to his family, faith and career," Sudbeck says. "His commitment to natural resources continues in retirement as he shares his expertise with the board, staff and public."
Moser told the crowd at HHD that to be a good manager, you have to have good staff members and good NRD directors.
"When I came up to Hartington, there was no job description, but the directors gave me the guidance I needed to do what we were able to do," he said. "I was the only one there in the beginning, so the directors told me that we just needed to open our eyes and get to work."
Moser noted that over time, new staff members were hired, and many of the district goals and projects were accomplished. For Moser, the Hall of Fame announcement was humbling.
"I consider this recognition as the highlight of my career working in natural resources," he said. "It's gratifying to spend more than 40 years in a position and feel you've done good works."
While the inductees were officially announced at HHD, they will receive their Hall of Fame awards at the annual NRD Conference dinner banquet Sept. 23 in Kearney. Learn more at nrdnet.org.
Subscribe to receive top agriculture news
Be informed daily with these free e-newsletters
You May Also Like
---