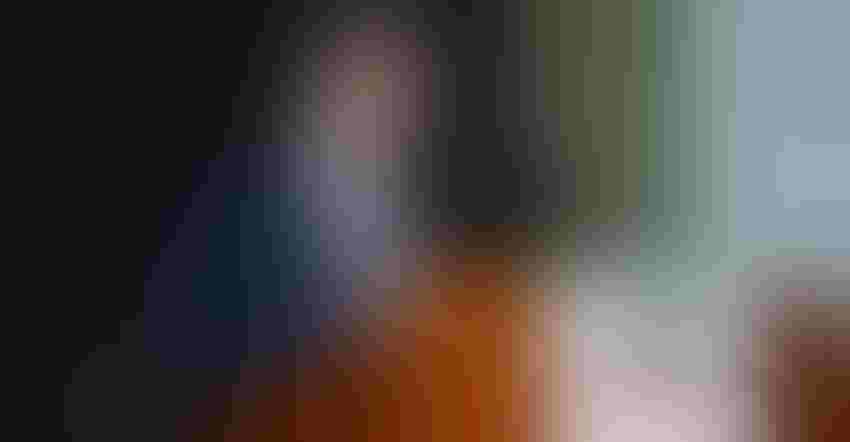 GET IT RIGHT: Gregg Doud, U.S. chief ag trade negotiator, says getting the right deal done with China is the focus of the Trump administration.
Getting a deal done right is more important than getting a deal done quickly, especially in the ongoing trade agreement negotiations with China. That was the message Gregg Doud, chief ag negotiator for the Office of the U.S. Trade Representative, delivered recently to the Iowa Farm Bureau's annual meeting in Des Moines.
Doud spoke to farmers at the meeting in early December. A few days prior, China and the U.S. agreed to a 90-day "cease-fire" from further escalating tariffs. That temporary truce in the trade war was announced after President Donald Trump met with Chinese President Xi Jinping during the G-20 Summit in Argentina. The truce provides a period of time for the trade conflict to be resolved before U.S. farmers plant 2019 crops.
Doud is hopeful the U.S. and China can agree to a trade deal and get rid of the tariffs. "This is the trade issue of our era," he said. "This is a problem, and it has to be dealt with."
China top of mind
Trump and Xi reached the tariff cease-fire agreement to give negotiators 90 days to start structuring a new trade pact. During the 90 days, the U.S. has halted plans to increase tariffs to 25% on $200 billion of Chinese goods, and in return, China will purchase "a very substantial amount of American ag products, energy and industrial goods" to cut the trade imbalance between the two countries, the White House announced.
Even with this truce announcement, Doud made it clear the U.S. has serious concerns about China's ongoing theft of intellectual property, forced technology transfer and cyber intrusions in its dealing with U.S. companies.
He cited a U.S. government report updated by his office in November showing that China hasn't curbed its abuses since the U.S. imposed tariffs earlier in 2018 to try to bring China to the negotiating table. "That report is eye-opening," Doud said. "Not only are these abuses still going on, they are getting worse."
Huge market for U.S. soybeans
In July, China responded to the U.S. tariffs by slapping retaliatory tariffs on U.S. ag products entering China, targeting soybeans and pork, in particular. It remains to be seen whether China will negotiate in good faith and follow through on a commitment made at the G-20 Summit to purchase "substantial" amounts of U.S. ag products, energy and other goods, Doud said.
China is the No. 1 market for U.S. soybeans. Exports of U.S. beans to China totaled 1.3 billion bushels in 2017, valued at $14 billion. That equaled 60% of total U.S. soy exports. When China placed a 25% tariff on U.S. soybeans and other ag products on July 6, in response to U.S. duties on Chinese goods, soy sales to China all but stopped. Since June, the price of U.S. soybeans to be exported out of New Orleans has dropped 20%, or about $2 per bushel.
The 90-day truce began Dec. 1, so tariffs aren't set to increase until at least March 1. The U.S. was originally scheduled to raise its tariff rate on $200 billion worth of Chinese goods on Jan. 1 from 10% currently to 25%.
China still has its 25% tariff in place on U.S. soybeans. If China eventually drops its tariff, either as an act of good faith during trade negotiations or as part of a trade agreement, it's possible China would resume previous purchasing levels. When asked about any possible breakthrough occurring soon in the ongoing negotiations, Doud replied, "You'll have to ask China."
Ball in China's court
"The ball is now in China's court," Doud said. "Hopefully, we can have an opportunity in these 90 days to sit down and have a dialogue with China's trade officials and work toward resolving this tariff and trade situation."
Meanwhile, there are other balls in the air when it comes to international trade. The new U.S.-Mexico-Canada Agreement must be approved by all three countries. Trump has threatened to pull out of the existing NAFTA agreement as a way of pushing Congress to act on the USMCA issue. There are also still U.S. steel and aluminum tariffs in place on a number of countries, including Canada and Mexico.
Doud said USMCA will improve access for U.S. dairy, poultry and wheat in Mexican and Canadian markets if it is ratified by Congress. The Trump administration is also gearing up to launch talks with Japan, the European Union and the United Kingdom, which is splitting from the EU.
Trade pact with Japan essential
U.S. trade negotiators are looking to work on a number of these bilateral agreements. Of special importance is getting a bilateral agreement with Japan because the U.S. is no longer a part of the Trans-Pacific Partnership, which included the U.S. and 11 Asian nations.
"It's critically important, especially for agriculture, that we get an agreement with Japan," Doud said. Japan recently signed trade deals with key U.S. competitors, including Canada, Australia and the EU, which puts the U.S. at risk of falling behind in trade if it doesn't get a deal done.
"Time is of the essence," he said. "We can't move fast enough. But the other side of that is we've got one chance to get it right."
If Great Britain comes to terms with the EU on withdrawal (known as Brexit), the U.S. must be ready to sign some sort of trade agreement with Britain.
"The benefits of American ag technology and biotech will be a key part of trade talks with the EU," Doud said. "We can't let the EU continue to get away with this narrative that European agriculture is superior to everyone else, when really it is backward-looking and a denial of the benefits of technology. There are a lot of people making money scaring people about the food they eat."
Tariffs hurt U.S. meat exports
China's tariffs have hurt U.S. pork exports, but the outbreak of African swine fever in China could change this picture, said Paul Clayton, speaking at the IFB meeting. "It's estimated 20% to 30% of China's hog herd, the world's largest, is affected by this disease," noted Clayton, vice president for export services at the U.S. Meat Export Federation. That could result in an increase in U.S. pork exports to China.
"We are working to increase demand for U.S. meat in Japan and in emerging markets such as Korea and Central America," he said. "Those countries will hopefully buy some of our meat that has been displaced by China's tariffs."
Likewise, getting the new trade agreement with Canada and Mexico ratified and into place is critical for U.S. pork producers. Mexico was the U.S.'s top pork market in 2017. "We are pleased with this new trade agreement, as it can preserve zero-tariff pork trade in North America for the long-term," Clayton said. "But it is imperative that U.S. tariffs on Mexican metal imports be removed so that Mexico's retaliatory tariffs of 20% against U.S. pork are lifted."
Iowa State University economist Dermot Hayes estimates live hog values in 2018 have been reduced by $12 per animal due to retaliatory tariffs imposed by Mexico against U.S. pork. The loss estimate of $1.5 billion is based on expected total harvest of 125 million hogs in 2018.
These tariffs, along with China's retaliatory tariffs, have turned what promised to be a profitable year into a year of losses for export-dependent U.S. pork producers. Hayes estimates U.S. pork producer losses of $1 billion, or $8 per animal, from the ongoing trade dispute with China. Mexico and China represent 40% of total U.S. pork exports.
Subscribe to receive top agriculture news
Be informed daily with these free e-newsletters
You May Also Like
---