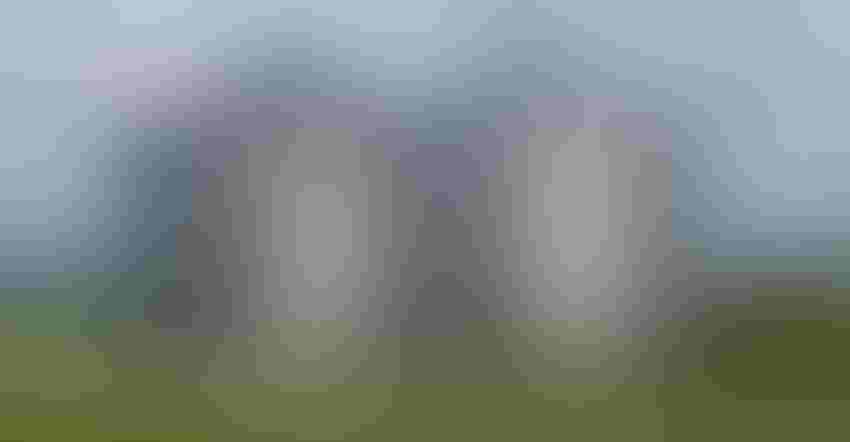 PLAN NOW: If a farmer waits until mid-September to decide whether to store old-crop bushels that might be co-mingled with new-crop bushels, problems can occur.
Farmers can expect to see a lot of yield variability at harvest this fall. Some parts of Iowa experienced hot, dry summer growing conditions and other places had too much rain.
Corn and soybean futures prices rallied in early June and again in July, providing chances to sell remaining old-crop bushels and price additional new-crop bushels. Record 2016 production resulting in U.S. ending stocks this August estimated at more than 2.3 billion bushels of corn and more than 400 million bushels of soybeans nationwide were forecast. Thus, the market was limited in its upside potential for the 2017 summer rally. These futures price rallies are becoming common in June or July. Then timely rains and cooler temperatures prevail, and you can expect at least average yields statewide, which is likely in 2017.
Have plan for bushels old and new
The summer weather rally proves the importance of having a crop marketing plan with price and time objectives for both old- and new-crop bushels. For old-crop bushels, know your cost of grain ownership (on-farm vs. commercially stored bushels) and consider interest charges that might be accruing. Your on-farm storage space will likely be needed before harvest begins. For new-crop bushels, consider the farm's cost of production and a reasonable profit margin. If you have cash flow needs or limited on-farm storage capacity, you have to manage these risks as well.
You can expect futures prices to remain volatile until more is known about the size of the 2017 crop. However, the early July futures price highs should stand for this year.
Lessons learned from price moves
Pay attention to managing both futures as well as cash price risks. That's because basis — or difference between cash price minus nearby futures price — will likely remain wide into the late summer. With at least normal 2017 crop yields in a specific geographic area, that basis may remain wider than normal throughout most of harvest. Some large bunkers of corn will likely appear at harvest where summer rains fell or soils had good water-holding capacity to collect spring rains.
By November, when most of harvest has finished, basis could improve. Farmers using hedge-to-arrive contracts should have already "locked in" basis for bushels to be delivered this year in late summer or fall.
Maximizing on-farm storage space and limiting bushels left unpriced in commercial storage will be critical. For soybeans heading to storage, consider a January hedge-to-arrive contract to allow a couple months to capture a better basis.
Crop insurance considerations for 2017
Storing old-crop bushels on-farm past September, or the variable new-crop yields, may trigger crop insurance coverage questions. Farmers will need to communicate with their crop insurance agent.
Don't co-mingle old and new-crop bushels on-farm without having a crop insurance adjuster measure those bins before harvest. Should a crop insurance audit occur, farmers feeding new-crop bushels to livestock should have a written ledger to account for those bushels.
Farmers should get out in their fields in August and early September and estimate the 2017 yield potential to aid in making handling, storage and market-related decisions.
Many farms will have yield losses that might trigger 2017 crop insurance claims. But the extent of losses might not be known until harvest. Farmers need to keep track of yields by farm and by crop and submit those production numbers to their crop insurance agent in a timely fashion.
Claims for multi-peril crop insurance can't be finalized until production evidence is submitted. Since most farms use revenue protection, those missing crop insurance bushels will trigger losses paid for corn at the projected prices: $3.96 per bushel for corn and for soybeans $10.19 per bushel. Should the average futures prices in October for December corn and November soybeans be higher than these levels, new revenue guarantees will be calculated.
Plan ahead before harvest
Farmers will be busy the next few weeks estimating yields and getting harvest equipment ready. Farmers should do that same type of preparation to develop and implement a crop marketing plan and manage both futures and cash price risks.
Remember the importance of your marketing plan. It will help you overcome the emotion and procrastination that comes with marketing grain.
Johnson is the Iowa State University Extension farm management specialist in central Iowa. Contact him at [email protected].
Subscribe to receive top agriculture news
Be informed daily with these free e-newsletters
You May Also Like
---