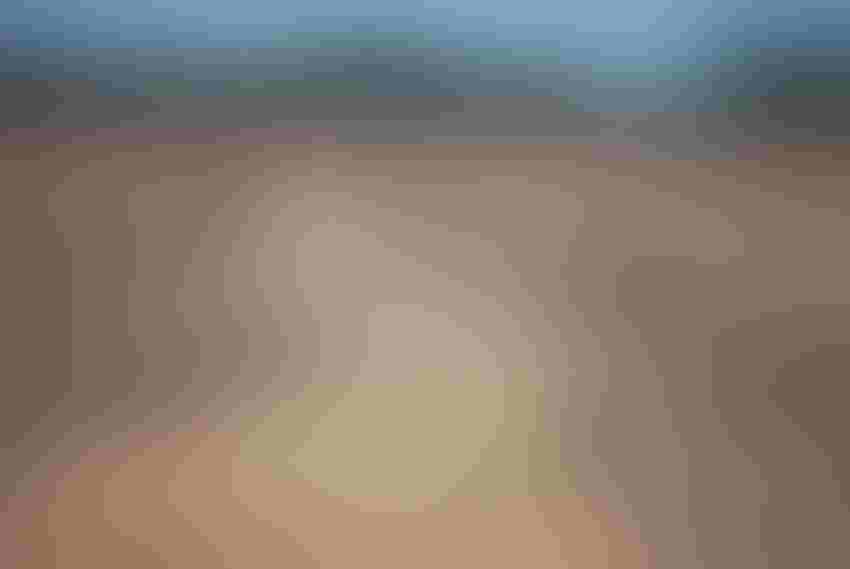 New Year's Day ushered in a week-long stretch of sub-freezing temperatures to the Southeast and provided something Deep South farmers have not had in two winters: a natural halt to overwintering, crop-crippling pests.
Though the freezing weather caused logistical problems for people all along the East Coast and put some at risk, the weather also froze nematodes, killed crop regrowth and weeds in fields slated to be planted to corn, cotton, peanuts or soybeans later this spring.
"We are in a La Niña phase and when we look back on the winter of 2017/2018, it will have been warmer and drier. That does not mean that on a daily or weekly basis we won't have very cold and wet weather. It's snowing and 23 degrees in Tifton (located in south-central Georgia) now," said Bob Kemerait, University of Georgia Extension plant pathologist, the morning of Jan. 3. "Great news … And just what we needed."
In the 2016/2017 winter, the temperature dropped below freezing only three days for much of the row-crop region of Georgia. This time last year, Kemerait said, it wasn't hard to find harvested cotton fields with plenty of regrowth vegetation on cotton stalks or see fields with substantial weed stands —hosts for diseases and nematodes.
At 60-degree soil temperatures, nematode activity slows. When soil temps hit the low 50s, it really puts a halt to them. They are not dead, just not active or building populations. Some grass cover crops and weeds are hosts, weak hosts, but hosts nonetheless for some nematodes. Weather the first of January was enough to stop the party and kill vegetative hosts for nematodes in the South.
On Jan. 5, 2018 in Tifton, Ga., the 8-inch soil temperature was about 40 degrees, according to the Georgia Automated Weather Network. Closer to the coast in Clarks Hill, SC, the 8-inch soil temp was 40 degrees, too. On the same date in 2017, however, Tifton's 8-inch soil temperature hovered around 60 degrees and down near the Florida line in Valdosta, Ga., the same depth registered about 63 degrees. Other than for a quick and brutal freeze in March 2017, the soil temperatures remained in the 60-degree or 70-degree ranges (or higher) well up to spring planting time.
Rust diseases, such as Asiatic soybean rust, must have a living host to sustain them. With the cold snap it can be assured that hosts, such as kudzu and other weeds, where adequately killed, Kemerait said, breaking the life cycle of such disease and pushing the overwintering battle lines, if you will, further south.
The cold snap kindly killed hosts of the silverleaf whitefly, too, which in 2017 reached problematic infestation levels many Georgia cotton growers had never seen before.
"The cold temperatures observed last week (of Jan. 1) were very beneficial in terms of silverleaf whitefly risk for Georgia cotton in 2018. The cold temperatures may have had a direct impact on populations but definitely froze out some silverleaf whitefly reproductive host plants," said Phillip Roberts, UGA Extension entomologist, Jan. 8.
The 2015 and 2016 mild winters helped silverleaf whitefly, or SLWF, populations build to high levels as spring cotton planting began, Roberts said, and with SLWF, it's a numbers game. As seasons progressed, so did SLWF populations.
The January freeze of early 2018 helped reset the SLWF button a bit. Roberts said SLWF adults exposed to 21 degrees for 3 hours experience 90 percent mortality. Nymphs require exposure to 21 degrees for 57 hours and eggs even longer.
"So it is possible we saw some reduction of adults due to low temps but mortality of nymphs and eggs is unlikely. But if we kill the host plant nymphs and eggs were on, we kill the nymphs and eggs," he said, adding that Brassica plants, which are pretty cold hardy, are an important winter host plant and may serve as a green bridge for populations to survive the winter.
It is unlikely all SLWFs are gone, but numbers should be down significantly this spring compared to last, he said.
"Silverleaf whitefly populations increase exponentially with every generation and the size of the initial spring population makes a tremendous difference by late summer in terms of populations," Roberts said, adding that all cotton growers need to remain vigilant with scouting for SLWF and all pests this season.
So, does the January cold blast mean La Niña predictions for this winter were off target?
"No way! Consider ourselves fortunate," Kemerait said. "We can't just say 'OK, the reset button was hit and we don't have to think about it anymore.' It will depend on what happens between when temperatures warm back up (which began Jan. 8) and planting time for our corn or our other crops in the spring as to how much risk we will be at for early outbreaks for diseases such white mold on peanut or Aspergillus crown rot on peanuts, spectral blight on cotton and most importantly our nematode problems."
In her Jan. 4 blog post, UGA agricultural climatologist Pam Knox says, "The outlook for January shows that the cold conditions early in January should give way to milder conditions in the second half of the month. Warmer and drier conditions than normal are expected across the state for January through March, consistent with the La Niña that is currently underway. It is expected to last until spring. Drought is expected to expand due to the drier conditions."
About the Author(s)
Subscribe to receive top agriculture news
Be informed daily with these free e-newsletters
You May Also Like
---