Global markets are nuts for almonds
Global markets are nuts for almonds
California almonds promoted in heart healthy dietAlmond industry refuses to relinquish "first mover" status in marketing tree nutsIndustry growth poised to push almond production well past two billion pounds a year on continual basis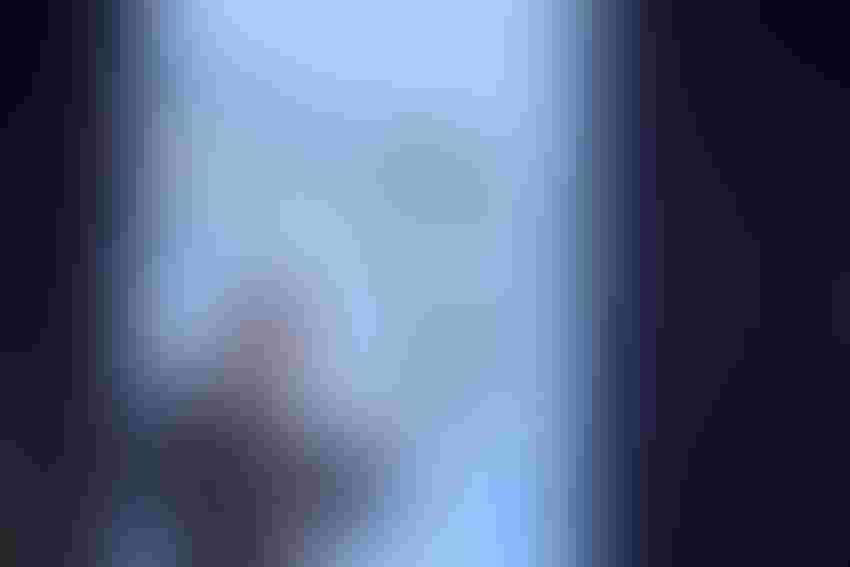 <p>Buddy Ketchner, president and CEO of the Sterling-Rice&nbsp;Group,&nbsp;tells an almond industry audience that California almonds are poised to continue their global marketing success.</p>
California almonds have not always seen the kind of success the industry enjoys today. It was not too many years ago that almond trees were being pulled in favor of more profitable crops.
Almonds are once-again a very profitable crop for growers – so profitable in fact that there are reports of vineyards being pulled in favor of almonds in some areas of California. The sub-dollar per pound price almond growers received for several years around the turn of the 21st century are now over $3 a pound.
Credit the Almond Board of California and its efforts to drive global demand for California almonds with the industry's dramatic success. While it helps that California provides more than 80 percent of the world's almonds, piles of positive research have made marketing the flavorful tree nut rather easy.
Buddy Ketchner calls the California almond industry an excellent case study in how to grow a business.
Want access to the very latest in agricultural news each day? Sign up for the Western Farm Press Daily e-mail newsletter.
Ketchner is the president and chief executive officer of the Sterling-Rice Group, an interconnected strategy, innovation, and communications firm based in Boulder, Colo., that helps grow businesses and build brands. Aside from working with the Almond Board of California to position California almonds at the top of worldwide markets, Sterling-Rice works with a number of major food brands.
The Almond Board of California (ABC) is working with Ketchner to make California almonds part of the lives of consumers worldwide. Given the success the California almond industry has had over the past decade, Ketchner is rightfully optimistic.
Ketchner was part of a trio of speakers at the recent Almond Industry Conference in Sacramento, Calif. to talk up ABC efforts to drive global demand for California almonds.
According to Ketchner, global demand for almonds starts in North America. Despite the fact that only about 5 percent of the world's population lives in North America "the purchasing power in North America is stunning," Ketchner says. "Seventy-one percent of what we earn we spend. We love to spend."
Though the bulk of almonds grown in California wind up in domestic markets (588 million pounds of almonds went there last year), at 208 million pounds in 2012/13, China is California's largest almond export market.
Looking to China
To crack China's markets, the ABC is working with Aaron Lau, president and CEO of Cheil, an international company, to gain marketing success in China.
"China is an extremely complex market and Aaron has been extremely helpful to the Almond Board in gaining a better understanding of the unique dynamics of Chinese culture and its consumers," said John Talbot, vice president of global market development for the Almond Board of California.
Talbot and Lau joined Ketchner on stage to highlight successes and strategies the ABC is using to market California's growing supply of almonds.
According to Lau, what makes China complex isn't just its 1.3 billion citizens spread over 22 provinces and four municipalities. The complexities come with the increasing speed at which such a large population is changing. Consumers there want more and willing to spend the money to have it.
To illustrate this, Lau said China's gross domestic product is forecast to reach $12 trillion by 2020, double its 2010 GDP. Moreover, Lau said China's middle class population of 691 million today could grow by another 91 million by 2022.
Consumerism is growing in China, as are Chinese aspirations for a better, middle-class life, Lau said.
Lau is helping grow almond exports in China by helping Americans understand how important nuts are to the Chinese diet, and how simplistic the Chinese are when it comes to how they see food.
For instance, the Chinese culture has long seen its centuries-old traditional medicines as important. Nuts play a key role in this, Lau said. Because shelled walnuts resemble the human brain, Lau said the Chinese believe they are good for the brain. Cashews, another poplar nut in China, are thought to promote good kidney function because they are shaped similar to a human kidney.
"The issue for almonds is how we find a way to put almonds in the context of traditional eating wisdom," Lau said.
Lau is working on that by pointing out the similar shape almonds have to the classic heart symbol. Given almonds' heart-healthy status, Lau helped launch a marketing program in China called "young at heart."
Television commercials and interactive video games taxi clients can play while riding in the back of Chinese taxi cabs are elevating California almonds to the same heart-healthy status they now enjoy in other world markets.
History
Just prior to 2000 almonds were not in good favor with buyers, according to Talbot. American consumers were bombarded with messages about the health benefits of low-fat and non-fat diets; conversely, almonds were seen as high in fat and high in cholesterol. This was not a good combination for the almond industry.
At the same time the U.S. government was warning consumers to avoid cholesterol because of the negative heart health implications. Food professionals began to follow suit and decrease their use of almonds in various food products. All this was ironically taking place about the same time the almond board was beginning to see the benefits of marketing almonds as a snack nut.
As lower consumption and market factors combined almond prices dropped to between 50 cents and a dollar per pound from an average of $2.48 per pound in 1995, according to the USDA's National Agricultural Statistics Service. Grower prices remained under $1 per pound from 1999 through 2001. Some growers were pulling orchards and replacing them with profitable crops.
That did not deter the almond board, according to Talbot. The board quickly locked arms with growers and handlers and embarked on a journey to convince consumers that almonds were truly a healthy snack.
It was through funding and studying copious amounts of research projects that the almond board gained the first-ever qualified food health claim for any conventional food. Almonds – along with all nuts – could be legitimately and legally marketed as promoting good health. In 2011 the American Heart Association gave almonds its coveted "Heart Check Mark," meaning almonds promote heart health.
Armed with more than 90 credible research studies the industry was able to turn back the tide and dispel the negatives that was causing consumers to stop eating almonds and grower prices to crash. That could not and did not happen overnight, Talbot admits.
"We couldn't just take all this information and put it in front of consumers all at once," Talbot said.
The trick was to follow a progression that would enable better adoption of ABC's message over the long-haul.
The strategies worked. By 2002 almond prices were back above $1 per pound. Two years later they were above $2.
Credit the research and the ABC's effective communications to quickly turn the tide. Not only did they have the research to show that almonds were a healthy snack and ingredient, they had a healthy communications effort under way to convince consumers.
Where next?
Lau and Ketchner talk about "leveraging" the wealth of information the ABC has collected over the years and the benefits reaped through the incredible amount of positive press as the organization continues its full-court marketing press.
For Talbot, gaining "super-food" status and successfully infiltrated pop culture through the likes of Dr. Oz, Oprah and others is not enough. Neither is the "first-mover" status the ABC gained early on with its emphasis on research.
For Ketchner, the next move has already begun.
A new campaign to put almonds in the context of the kind of life people want to lead began recently under the new "crunch on" slogan. Those commercials can be seen on YouTube.
"We want to show people that there's power in the crunch of almonds," Ketchner said. "We want to encourage them every day in every way to crunch almonds."
All this and more will remain important as California's bearing acreages of almonds continues to increase and growers become more effective at producing higher-yielding crops, forcing the almond board into the position of consistently having to market crops in excess of two billion pounds.
Read these blogs in Western Farm Press:
AK-47 rifle and Mikhail Kalashnikov were agriculture's giant loss
Cheerios decision proves GMO labeling already exists
Subscribe to receive top agriculture news
Be informed daily with these free e-newsletters
You May Also Like
---