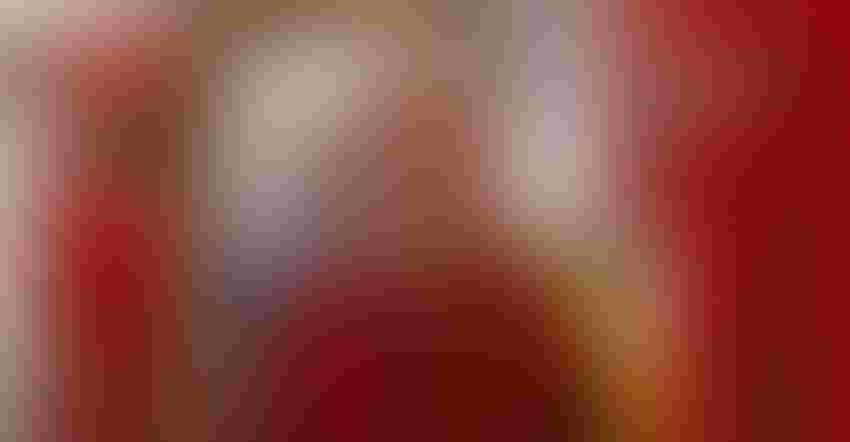 YIELD PROSPECTS: "The aridity index is the best indicator we have of how corn yields will actually turn out, when looking at the situation across the Corn Belt," says ISU's Elwynn Taylor. "The potential for achieving trend line yield in 2017 is favorable."
USDA's yield estimates for corn and soybeans this year differ from the numbers released by private forecasters. The first survey-based official corn and soybean yield estimates for the 2017 crop were released by USDA on Aug. 10, reflecting conditions as of early August. Those estimates will be updated when USDA issues its September Crop Report on Sept.12.
The August USDA report showed the effects of dry weather and other crop problems as of early August. But the yield reductions in those August numbers didn't match the expectations of grain traders and many farmers. They think USDA's yield estimates should be lower 
"Some farmers and private analysts say USDA was just trying to be safe when the agency made those estimates in early August," notes Iowa State University Extension climatologist Elwynn Taylor. "USDA's August yield estimates were exactly on the trend line. The fact is USDA had good reasons to say the 2017 yields are estimated to be exactly on trend line."
Will U.S. corn yield still be on trend?
Taylor says, "I don't disagree with those USDA estimates. Actually, maybe I'd even add 2 bushels per acre onto the U.S. corn yield average USDA is forecasting." USDA is estimating the U.S. average corn yield to be 169.5 bushels per acre in its August report, which is 1.2 bushels per acre lower than the government's July projection.
Some people are telling Taylor he should be taking 2 or 3 bushels away from the trend line corn yield estimate. "But I don't think so," says Taylor. "I'm looking at the moisture stress the crops have undergone this growing season and maps of the nation's main corn and soybean growing areas. And I'm looking at the aridity index."
That index is a combination of when temperature is high and precipitation is low, which causes a greater aridity or aridness than if it was a cooler temperature with the same amount of precipitation. Or if the weather is more on the warm side of usual, if we had a little more rainfall to compensate for that higher temperature, it can reduce the aridness a bit.
Aridity index is a reliable indicator
"The aridity index has been a reliable, fairly accurate indication that we have of how yields will actually turn out, especially if we evaluate the aridness by crop reporting district across the Corn Belt, all the way across," says Taylor.
He adds, "Over the past 20 or 30 years or more, the aridity index has been the key indicator that differentiated corn yield prospects and it has been the most accurate indicator. Not necessarily on a single county level, but on the 8 or 9 county level we talk about when we refer to crop reporting districts."
Based on its August estimate, USDA is forecasting the 2017 U.S. soybean crop at a record 4.38 billion bushels, up 121 million bushels from the government's July projection, due to higher than expected yields. This survey-based soybean yield forecast of 49.4 bushels per acre is 1.4 bushels above the July projected number, but 2.7 bushels below last year's record. As with corn, USDA will update its August soybean yield estimate with the Sept. 12 Crop Report.
Earlier-than-normal killing frost?
This year, cool weather in Iowa in late summer and into September has people asking about the odds of having an earlier-than-normal killing frost. People are noticing some of the trees in central Iowa have begun to turn yellow early, with some of the leaves starting to fall. It's beginning to look like fall is almost here, arriving a couple weeks earlier than usual.
"People also have noticed the recent chill in the air," says Taylor. "They are wondering, 'Will this pattern of cold air coming down from Canada bring an early frost to field crops in Iowa? We can't tell for sure at this time. But we do know that the probability of having cooler-than-usual weather over the next couple of weeks, perhaps through the end of September, is a real possibility."
Better yield, but increased drying cost
Is this cool weather at the end of the 2017 growing season good or bad for corn and soybean crops? "It's a little of both," Taylor says. "Since we've got more moisture in the soil in most places in the state now than we did during the summer, this cooler weather makes the crops mature slower. That increases the yield potential, which is good. However, if you get increased yield but the crop doesn't get to reach full maturity before the killing frost hits, you have the extra cost of artificially drying the grain — electricity and propane costs — once the crop is harvested."
This becomes a touchy situation where Iowa crops are sitting right now, on the verge of farmers beginning their 2017 harvest. "Yes, the cool weather we are having recently will increase the yield in bushels," says Taylor. "But it will also cause, when the crop is harvested, the grain to be wetter than usual, increasing drying cost for the farmer."
Subscribe to receive top agriculture news
Be informed daily with these free e-newsletters
You May Also Like
---