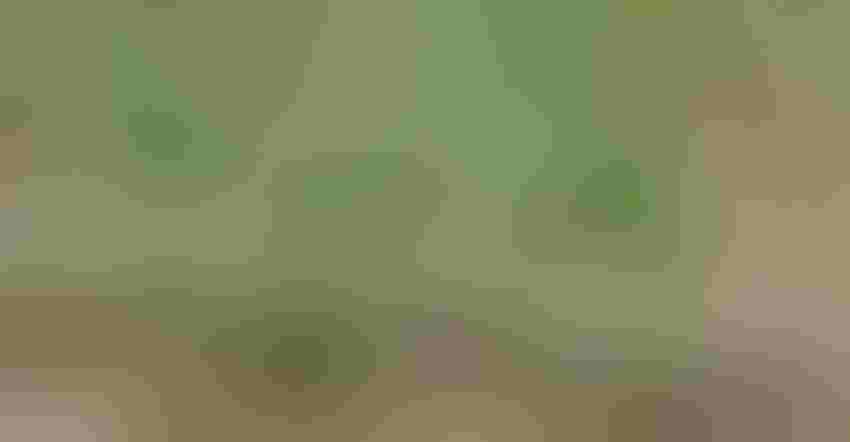 WARMTH WELCOME: Generally, across Iowa both corn and beans are looking much better with the warmer weather as crops enter mid-June.
Rod Swoboda
While some areas of Iowa saw significant rain the past week, 4.8 days were suitable for fieldwork statewide, according to the weekly USDA survey released June 15. Fieldwork activities included farmers finishing soybean planting.
"There was a lot of hay harvesting here in southeast Iowa," says Donnellson area farmer Jim Brady. "And some sidedressing of nitrogen on corn. There was some postemergence spraying of corn and beans, but we didn't get as much spraying done as we intended. Because of several windy days, we were unable to spray."
"Iowa has experienced widely variable weather conditions over the past week," notes Iowa Secretary of Agriculture Mike Naig. "Some areas picked up large amounts of rain thanks to the remnants of Tropical Storm Cristobal, while other parts of the state saw smaller amounts of rain. Crops will continue to progress quickly with warmer temperatures expected throughout this week."
USDA estimated that 75% of the nation's corn crop was in good-to-excellent condition as of June 14, down 4% from the previous weekly rating. That puts this year's current good-to-excellent rating for the U.S. corn crop roughly in the middle of the range of the past 10 years. The complete weekly Iowa Crop Progress and Conditions report is available on USDA's site at nass.usda.gov/ia.
Crop report
According to USDA's National Ag Statistics Service, last week's fieldwork included planting, harvesting hay, spraying and applying nitrogen. Topsoil moisture levels rated 1% very short, 6% short, 85% adequate and 8% surplus. Subsoil moisture levels rated 0% very short, 4% short, 87% adequate and 9% surplus. Nearly all the corn crop has emerged. Corn condition is rated 83% good-to-excellent.
Although some soybeans remain to be planted in southwest Iowa, farmers in the rest of the state have nearly completed planting. Emergence reached 93% as of June 14, almost three weeks ahead of last year at this time and nine days ahead of average. Soybean condition is rated 82% good-to-excellent for the young 2020 crop.
Iowa's oat crop has progressed to 42% headed, three days ahead of last year, but two days behind average. Oat condition rated is 83% good-to-excellent. About 25% of the first cutting of alfalfa hay in Iowa was completed during the week ending June 14. The first cutting of alfalfa is 79% complete. Only southwest Iowa producers have been unable to complete at least three-quarters of their first cutting of alfalfa hay.
Hay condition statewide is rated 75% good-to-excellent. Pasture condition remains at 70% good-to-excellent. Movement of grain from farm to elevators and other facilities was noted. No major livestock issues were reported for the week.
Weather summary
Warmer-than-normal conditions continued into the second week of June, with the warmest temperatures reported in western Iowa, says Justin Glisan, state climatologist with the Iowa Department of Agriculture. Near-normal conditions were reported in parts of eastern Iowa. Statewide average temperature last week was 70.6 degrees, 1.1 degree above normal.
Two strong storm systems brought heavy rain across western Iowa and especially over eastern Iowa, where a tropical system brought over 3 inches of above-average rainfall. Drier-than-normal conditions were found across north-central Iowa, where departures, on the order of 0.50 to 1 inch below average, were observed.
Weekly precipitation totals ranged from 0.07 inch in Humboldt (Humboldt County) to 5.64 inches at Oelwein (Fayette County). The statewide weekly average precipitation was 1.78 inches, while normal is 1.19 inches.
Spencer Municipal Airport (Clay County) reported the week's high temperature of 98 degrees F on the June 8, which is 19 degrees above normal. Elkader (Clayton County) reported the week's low temperature of 47 degrees on the June 12, 7 degrees below normal.
U.S. corn condition slips
Looking at the nation's crops, the weekly USDA report released June 15 shows the corn crop has declined, mainly due to dryness in some areas. USDA now estimates the nation's corn crop has a good-to-excellent rating of 71%, down from 75% a week ago. The survey shows 95% of the nation's corn has emerged, versus a 92% five-year average for this date.
The nation's 2020 soybean planting is now 93% complete, compared to an 88% five-year average. U.S. soybean crop is 81% emerged, versus a 75% five-year average. USDA estimates the soybean crop's good-to-excellent rating is now 72%, the same rating as a week ago.
Subscribe to receive top agriculture news
Be informed daily with these free e-newsletters
You May Also Like
---