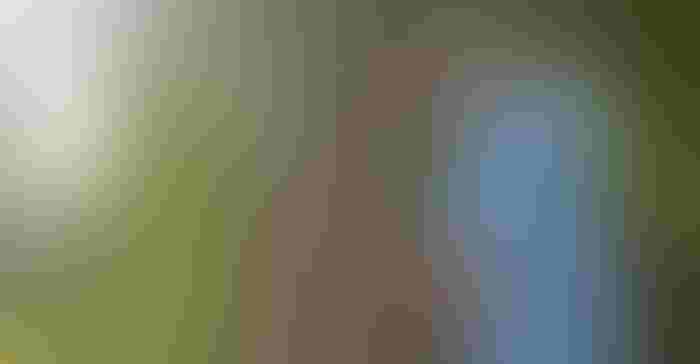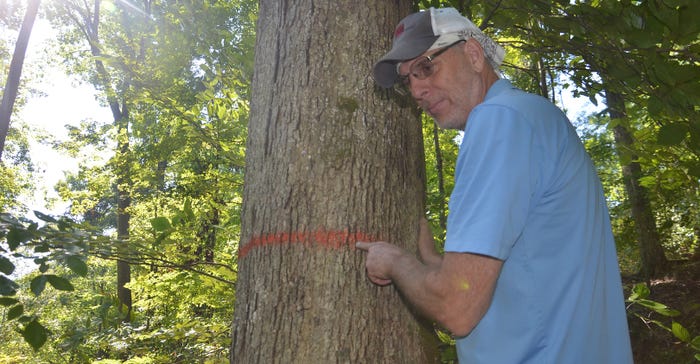 Chris Parker invites you along as a timber harvest is underway on about 20 acres owned by one of his siblings. Parker, Morgantown, Ind., manages the woods for his sibling, who lives out of state. It's the first harvest in about 20 years for this timber stand.
The harvest is possible because Parker and his family practice timber stand improvement, working with forestry consultants and loggers who care about the woods. Soils are different in this timber, which features both steep slopes and a lowland area, leading to various species being present and growing at different rates within the woods. That all factors into the harvest.
Here is a step-by-step visit through the woods while harvest is underway.
• Mark trees for harvest. Parker hires a consulting forester to evaluate and mark trees he wants to cut and harvest. The consultant gives advice, but it's ultimately up to Parker as to whether a tree is harvested or not.
Some trees are marked because they're excellent specimens of their species and should fetch a good price on the veneer market. Others are marked because they're marketable for some value, but in the way of better trees. The goal is to remove marketable trees while thinking about how trees that are left will develop for future sales down the road, Parker says.
• Conduct a sale or hire a competent logger. You have two main choices as the timber owner, Parker says. You can conduct a timber sale, often working through a consulting forester who handles the sale for a fee. Or who can work with an independent logger who harvests trees on the shares, getting a percentage of the income for logging and marketing timber. In that case, the logger often has multiple contacts in the industry, so he or she can sell wood of varying quality to the appropriate buyers.
For years Parker worked with Ron Martin, a local logger who harvested on the shares. "My family and I really liked the way he cared for the woods — he always left it in good condition," Parker says.
Unfortunately, Martin was killed in a freak logging accident on Oct. 8. See the accompanying article.
• Construct proper trails. Whoever harvests your timber should form water bars at proper intervals if it's a sloping property. They act as small diversions to divert water and prevent it from eroding gullies down the trail, Parker says.
• Understand timing and conditions of harvest. Conditions of timber sales can vary. A buyer may have an extended period to remove trees from the woods if it's written into the sales contract. Understand when you will get paid, and when the work will be done. Also, be sure you understand who has the call on pulling up logs to the sorting site if soils are wet. Will there be any penalty if the logging operation cuts ruts through the woods?
• Consider various species. If you have very different types of soils, it may impact the species of trees that grow and/or how fast they grow. Trees that grow well on hillsides may struggle on bottomland near creeks, and vice versa. Take this into account when deciding which trees to harvest and which to leave, Parker says.
• Sort and sell. If you have a timber sale and one buyer purchases the timber, you may not see the sorting process as closely as if a logger is harvesting for you. A logger may bring logs to one location, and then sort and trim them into logs for various uses. They could wind up going to a variety of buyers — some for veneer, some for lumber, some for pallets. Where they go determines how much money you receive for them.
Subscribe to receive top agriculture news
Be informed daily with these free e-newsletters
You May Also Like
---