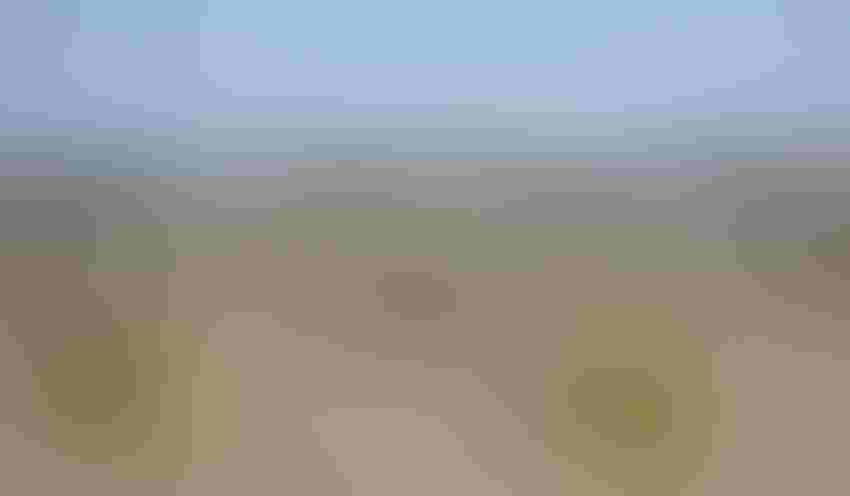 Fast becoming a horrible weed, Bradford pears can be seen here escaping as young wild Callery pears from their parents along a cemetery.
Alan Newport
Have you ever stopped to think about all the times really smart people have said really stupid things? Or perhaps all the times they straight up lied to you?
Because it is spring my attention is currently focused on the so-called Bradford pear, an ornamental tree all the commercial nursery outlets told us for decades was sterile.
It wasn't. Not even. They still claim an individual tree is sterile, or that an individual strain is sterile, but those of us paying attention now understand the impossible offspring of this little tree that couldn't is fast becoming one of the worst invasive species in the eastern half of the US.
The background story I found most concise was this from the Missouri Department of Conservation. It says, "The so-called Bradford pear is actually the Callery pear, native to China. It was first brought to the United States in 1917 for hybridization experiments to improve disease resistance of the common fruiting pear. The Bradford cultivar was widely planted as a promising new ornamental during the 1950s. Since then, many other cultivars were developed. While individual cultivars are considered self-sterile, different cultivars planted in close proximity cross-pollinate and produce fruits and viable seed."
Oh, and here's another benefit: The Callery pear has big thorns akin to black locust trees.
Kudzu is another well-intentioned disaster.
If you've ever traveled in the Southeast, you've seen it choking trees and telephone poles and electric lines and even buildings everywhere you go.
It was introduced to the Southeast in 1883 at the New Orleans Exposition and was hailed as the solution to soil erosion, plus potential benefits as a high-protein cattle fodder. It was cultivated government agencies, which ultimately distributed 85 million seedlings and paid on a per-acre basis for planting the wonder vine. By 1946, it was estimated that 3 million acres of kudzu had been planted. In the end kudzu grew virtually unchecked anywhere cattle could not reach it. By 1997, kudzu was placed on the Federal Noxious Weed list.
The Africanized honey bee was first introduced to Brazil in the 1950s with the promise it would increase honey production. In 1957, 26 swarms escaped quarantine, spreading steadily throughout South America and into North America in 1985. Hives were found in south Texas of the United States in 1990. If you've never read about them, they are extremely aggressive and have killed a number of people because the attack en masse.
The cheatgrasses, which snuck in with wheat seeds brought by European farmers, were unintentional but nonetheless a disaster. The cheatgrasses are responsible for the firestorms so damaging to the native plants of the Great Basin, such as those in Nevada. 
The tamarisk, or tamarack, was introduced to the United States as an ornamental shrub, a windbreak, and a shade tree in the early 19th century. In the 1930s, during the Dust Bowl, tree-planting was used as a tool to fight soil erosion on the Great Plains, and the tamarack was planted by the millions in the Great Plains Shelterbelt program.
Most people who have them on their land dislike the tamarack, and the consensus is it degrades native wildlife habitat by outcompeting and replacing native plant species, salinizing soils, monopolizing limited sources of moisture, and increasing the frequency, intensity and effect of fires and floods. Although individual plants may not consume larger quantities of water than native species, large, dense stands of tamarack do consume more water than equivalent stands of native cottonwood trees, for example. They also create dense, impenetrable forests along river bottoms and creeks for ranchers.
Johnsongrass once was hailed as a wonder crop for forage production. Although it is a good forage producer, it has the little problem with prussic acid poisoning. Many a cow has snatched a few bites of Johnsongrass and dropped dead over the years. Today it infests ditches, crop fields, hay meadows and river bottoms all over the nation, and many cattlemen live in fear of cattle reaching through the fence to eat it. Really good graziers can manage it but the truth is it's just another silver bullet gone awry.
Ultimately, I am saying we humans are short-sighted and far too accepting of other peoples' ideas and "expertise." We can do a much better job of managing if we first learn how to optimize what we already have.
Subscribe to receive top agriculture news
Be informed daily with these free e-newsletters
You May Also Like
---