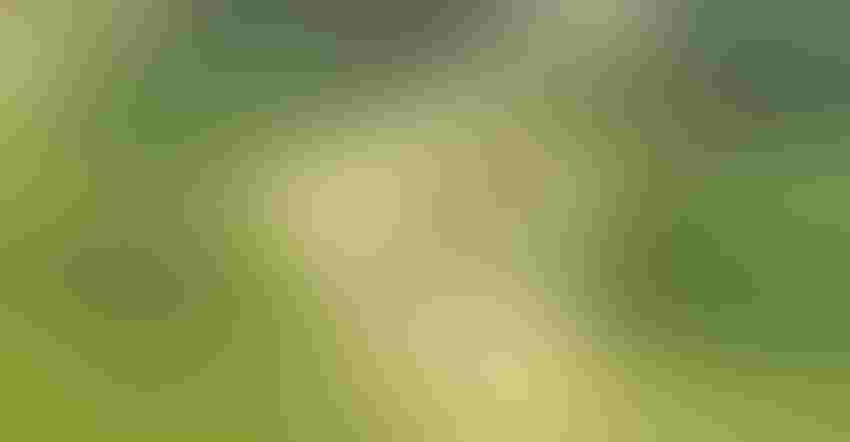 SUSTAINABLE USE: The northeast portion of this central Iowa farm was converted to hay to reduce erosion and provide a better return per acre.
Peoples Co.
On a 70-acre farm in Dallas County in central Iowa, the landowner sought help to identify the poorest-producing soil. The owner consulted Mollie Aronowitz, director of sustainability and a land manager for Peoples Co., a real estate and farm management firm. She helped the landowner figure it out and decide how to put that part of the farm to better use. As a result, the northeast portion of the farm was converted to hay. This reduced erosion and protects the long-term appreciation of the farm and maximizes the return. 
More than half of Iowa's farmland is owned by someone who does not currently farm. Often that means non-operating farmland owners have little or no understanding of the 4R Plus practices that improve soil health and water quality.  
The 4R Plus program involves using precise 4R nutrient management along with conservation practices to enhance soil health and improve water quality. These practices help both landowners and tenants achieve their goal of a more productive crop now and in the future. Open communication between landowners and tenants can increase the rate 4R Plus practices are used on farms. 
Use leases to facilitate discussions 
Aronowitz says leases can be used as discussion starters to facilitate open communication between landowners and tenants. "It's important to have the end game in mind when adding conservation and nutrient management practices to the lease," she says. "It's a way to execute the line items that help landowners reach their goal, and it's also beneficial for the tenant." 
She encourages landowners to develop multiyear commitments with tenants. "With a one-year lease, tenants understandably don't have the incentive to invest in conservation because their goal is to make money in that one year," Aronowitz says. "Conservation takes a multiyear commitment to see the return on investment, and the farm lease is the vehicle to build that multiyear road map." 
She recommends landowners and tenants document their shared goals with conservation and nutrient practices specifically listed in the lease.  
Ryan Kay, a farm manager with Hertz Farm Management Inc., also says it's important for landowners and tenants to outline strategies to keep the farm productive for years to come. He says tenants need to keep in mind that landowners care how their land is managed. 
Conservation matters to landowners 
According to a Hertz survey of its clients, non-operating landowners rate conservation and stewardship as a top priority, ranking closely with ownership of land being a source of income and a desire to keep the farm in the family. Kay says recognizing that conservation is important to landowners should give tenants encouragement to approach landowners with recommendations that improve the farm. 
"When practices that impact nutrients, soil health and soil erosion are implemented properly, buyers take notice," Kay says. "It's important that permanent structures like waterways and terraces are kept up, that the health of the soil is managed and 4R nutrient management practices are used. When that's accomplished, farmland is more productive and also more desirable to buyers." 
"Tenants that understand the importance of investing in 4R Plus practices as a way to attract new capital also use it as a way to market themselves," Aronowitz says. "Sustainability is increasingly becoming important to landowners. They want to be connected with a farmer that uses these practices to care for the land." 
Deciding on tools 
When deciding on 4R Plus practices, Aronowitz says a good starting point is to determine the acres where inputs are not equating to bushels. This can be done by identifying one or more areas that pull down the overall field yield average, which typically lines up to where a majority of a field's erosion is occurring. "Solving the financial issues usually results in a positive environmental impact," she says. 
Kay encourages tenants to use technology, like imagery from drones and yield maps, to point out opportunities to improve the soil. He also believes it's important for tenants to be transparent. "If there's an issue with a farm, you want to make sure you have data that supports your recommendation and how much it will cost," he says. "Show it's a win-win and provide one or more strategies to make sure the improvements you suggest are done right." 
Being specific about practices that will be added to the farm provides clear expectations for both parties. "When the landowner and tenant draft the lease, they can determine what portion of the practice each pays for and if necessary, work out the logistics," Aronowitz adds. "Get as specific as possible on each practice." 
When implementing practices like no-till or cover crops, Kay says those can be incorporated into the lease. "It's most important that everyone has the same goal and knows why a practice is being added," he says. "I've seen it where the landowner pays for the seed and the tenant pays for application. We've done it where the rent is reduced to offset some of the cost. It depends on the goal of the tenant and the landowner." 
Protecting landowners' investment 
Both land managers stress the importance of using conservation and nutrient management practices to protect the soil. "The topsoil is the future value of the farm in terms of cash rent and sale value down the road," Aronowitz says. "It's important for landowners to take an active role and invest in 4R Plus practices to keep soil in place." 
Kay reminds tenants that landowners take pride passing the land through the generations. "Just like you want to take care of your personal health, well-cared for farmland requires a long-term investment to stay productive," he notes. 
Aronowitz says it's important to keep in mind an increasing number of non-operating landowners are one or two generations removed from the farm and live in urban areas. "They often bring up water quality and want to work with their tenant to protect natural resources," she says. "It's rewarding to help landowners and tenants work toward a common goal of protecting the land and our environment for future generations." 
For more information, visit 4RPlus.org. 
Source: 4R Plus, which is solely responsible for the information provided and is wholly owned by the source. Informa Business Media and all its subsidiaries are not responsible for any of the content contained in this information asset. 
Subscribe to receive top agriculture news
Be informed daily with these free e-newsletters
You May Also Like
---