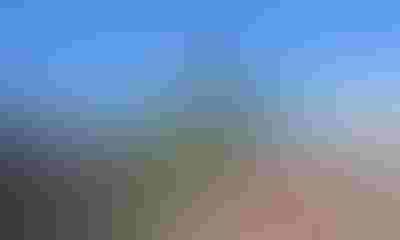 The highly successful Farmer of the Day program is back at the Indiana State Fair this year. There will be a different farm family featured and on hand to greet visitors each day of the fair. The Indiana State Fair runs Aug. 5-21.
Dow AgroSciences is again the key sponsor for the program. "We've added a twist this year," says Kenda Resler-Friend of Dow AgroSciences. "Since it's the bicentennial year for Indiana, we sought out active farmers whose family has farmed on the same land for at least 100 years."
All of these folks have been honored as Centennial Farms by the Indiana State Department of Agriculture. In some cases, family ownership of the land goes back even further.

VISIT THE FAIR: An extra incentive to visit the Indiana State Fair this year is to learn about the Farmer of the Day. The farm family featured daily will appear at the Glass Barn each day at 2:30 p.m. EDT.
The host family each day will eat breakfast with the Indiana State Fair Board, and will appear in the Glass Barn for a question-and-answer session at 2:30 p.m. EDT. Located on the north side of the fairgrounds, the Glass Barn belongs to and is operated by the Indiana Soybean Alliance.
Here are short descriptions of the hosts for the first three days of the 2016 Indiana State Fair. Keep watching the Indiana Prairie Farmer website to meet all the Featured Farmers at this year's state fair.
1. Friday, Aug. 5: Doug and Jeanie Eliason, Centerville, Wayne County (pictured with son Dustin)
Designation: This Bicentennial Farm dates back to 1814. "It's on the Eliason side of the family," Doug says. One of his ancestors homesteaded on the land.
Operation today: The Eliasons grow corn, soybeans, oats and wheat. "My dad started Eliason Seeds in 1951," Doug notes. "We raised and sold certified seed for many years." Today the farm is part of Hoosier Pride Genetics.
Tillage and cover crops: "We try to do 100% no-till as much as possible," Doug says. "We've also tried cover crops, using mostly wheat and cereal rye."
2. Saturday, Aug. 6: Mike and Sandy Rissler, Reelsville, Putnam County
Designation: This Sesquicentennial Farm includes the original Rissler homestead, dating back to 1837. "We live where my grandparents lived, and that goes back to 1901-02," Mike says.
Operation today: The farm has corn and soybeans, plus about 25 beef cows. "It's a cow-calf operation, and we feed out the calves," Mike says.
Tillage: "We've no-tilled for 30 years, and I've been on the Putnam County Soil and Water Conservation District Board for even longer," he says.
3. Sunday, Aug. 7: Troy and Janie Hattery (pictured), and Kendel and Kandy Hattery, Peru, Miami County
Designation: This Centennial Farm was established in 1904. "Our great-great-grandfather actually settled here in the mid-1800s," Troy says. He and Kendel are brothers and farm together.
Operation today: The Hatterys grow corn, soybeans, some wheat and some hay. They also have about 20 beef cows and sell freezer beef. "Kendel does most of the work with the hay and cattle," Troy says. A former Supervisor of the Year honored by the Indiana Association of Soil and Water Conservation Districts, Troy is still active in conservation work.
Tillage and cover crops: "We're mostly no-till," Troy says. "We've used cover crops for at least 10 years. We've used annual ryegrass and cereal rye, and this year we had some beautiful crimson clover. The weather made it a bit frustrating this spring, but it seems to have worked out well."
Subscribe to receive top agriculture news
Be informed daily with these free e-newsletters
You May Also Like
---