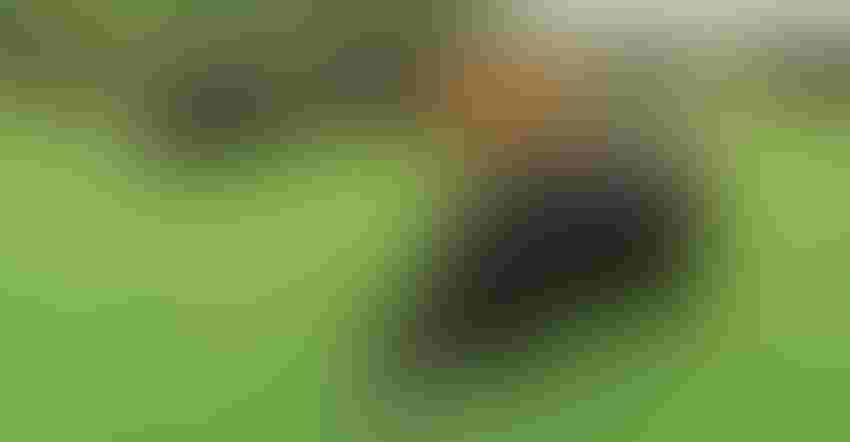 One of the keys for ESAP winners is grazing management because it has so many payoffs -- all play into stewardship.
Baxter Communications
Seven families were named regional winners this summer in the Environmental Stewardship Award Program (ESAP). One will be named the national winner in February 2020.
This year's regional winners include: Overhome Farms in Crozier, Viginia; Blackbeard's Ranch in Myakka City, Florida; Didrikson Farms in Badger, Minnesota; Killam Duval County Ranch in South Texas; Blew Partnership in Castleton, Kansas; Cundall Ranch in Glendo, Wyoming; and Ute Creek Cattle Company in Bueyeros, New Mexico.
Here is a brief summary of those operations and some strengths the judges saw in them.
In Region 1, Overhome Farms is operated by the Nuckols family and has Charolais and Simmental cattle on 292 acres. The Nuckols family installed 15,000 linear feet of exclusion fencing, and additional cross-fencing established 19 permanent grazing paddocks which the family subdivides into as many 60 temporary paddocks. The exclusions included 35 feet of vegetation buffers to improve water runoff that empties into Beaverdam Creek and then the James River. To improve productivity and utilization of their pastures, the family worked with National Resources Conservation Services (NRCS) to implement a rotational grazing plan.
In Region 2, after six generations in the Strickland family, Blackbeard's Ranch worked with NRCS to dedicate one-third of the ranch into a permanent conservation easement to protect water quality downstream. This has restored the wetlands and native hydrological regime. Using herbicide treatments and prescribed burns, the Stricklands thinned out dense trees and continue removing invasive plants. They installed water troughs driven by five windmills and three solar wells, which allows them to implement a rotational grazing plan independent of ponds that commonly go dry. Strickland shares the story of agriculture and conservation with busloads of people, which includes legislators and agencies. Populations of deer, turkey and gopher tortoises have increased under Stricklands' management. In addition, wildlife authorities have identified the ranch as critical habitat for the recovery of the Florida panther; the Stricklands are working with state wildlife officials to document panthers on-site.
In Region 3, Didrikson Farms consolidated their cows to create fewer, larger herds on the 4,500 acres to make healthy soil and grass their top priority. Implementing a strip-grazing plan has increased the overall soil health, which led to an increase in organic matter and decrease in weeds and water runoff. By implementing intensive rotational grazing, the brothers have more than doubled their grazing days on fewer total acres. They average 75 paddocks per herd, and stock density on a paddock at any one time has gone from 8,000 pounds per acre to 80,000 to 100,000 pounds per acre. The Didrikson brothers also worked with NRCS to install permanent water resources and portable water tanks. They have made the transition from grain farming to raising only cattle and grass, which is rare in their part of the country.
Region 4's Killam Duval County Ranch encompasses 125,000 acres, much of which was overgrazed and covered in brush. The ranch team successfully used aerial herbicide spraying to reduce the dense cover of mesquite trees and prickly pear cactus. The team created a plan to have reliable water sources and recycled water tanks from an oil field and put them in place to gravity feed livestock water. They installed more than 300 miles of pipeline and 200 water troughs. Thanks to accessible water across the ranch, rotational grazing is improving the forage. Pastures range in size from 1,200 acres to 9,000 acres. Light stocker cattle graze in herds of up to 2,500 head with time in pastures dependent on pasture size and forage availability. Pastures typically rest for a year after grazing and are not grazed in the same season the next year.
In Region 5, the Cundall Ranch uses rotational grazing, cross fencing and improved water lines to keep their grass in good condition. Under the prescribed rotational grazing plan, pastures are grazed 10 to 30 days in the spring and early summer, then rest 60 to 75 days before being grazed again in late summer and fall. Grazing rotation is facilitated by 10 miles of cross fencing and four water lines stretching nine miles, with five solar pumps, three storage tanks and 28 watering sites. To supplement their grass, the Cundalls use center-pivot irrigation to produce hay for winter feeding. The family also installed living snow fences, and they use genetic selection to reduce the size of cows to better fit their resources. Further, they have experimented with bio-char to get more carbon in the soil. Monitoring data shows positive trends in rangeland condition and riparian improvement.
Ute Creek Cattle Company of Region 6 covers 14,000 acres that suffered from overgrazing, infestation by  saltcedar trees and neglect. The Crews family partnered with NRCS and Ute Creek Soil & Water Conservation District to fence off and aerially treat saltcedar. An NRCS EQIP share program created a water distribution system with two 10,000-gallon water storage tanks installed on the highest point of the ranch. To facilitate adaptive rotational grazing, UCCC installed 26 miles of interior fencing, 18 miles of pipeline, three water storage tanks and new drinkers to create 25 pastures. The Crews added polyurethane "shade balls" to nine stock tanks, which reduces evaporation by 91% and saves 16,000 gallons of underground water on each tank annually. Further, all tanks are fitted with wildlife escape ladders. In 2004, they established a 23-acre wild-bird sanctuary dedicated to short-grass prairie bird habitat. Bird species have increased from 16 to more than 100.
Region 7 winner, Blew Partnership, bought a 19,000-acre ranch in 2012, which had 23-40% canopy of Eastern Redcedar. In 2016, the ranch faced a multi-state wildfire that burned through the land restoring native grasses, improving soils and accelerating the timetable for reducing invasive plants. They worked with NRCS to add miles of cross fencing to support their intensive rotational grazing plan and install an extensive water distribution system. Their holistic management has increased plant diversity, water infiltration and soil health, and their rotational and intensive grazing increases stock density and more quickly improves soil health on native range and converted cropland. Their 1,700 brood cows graze year-round, consuming very little harvested forage. They moved away from grain production and converted more than 1,500 crop acres back to perennial grasses and cover crops.
Subscribe to receive top agriculture news
Be informed daily with these free e-newsletters
You May Also Like
---