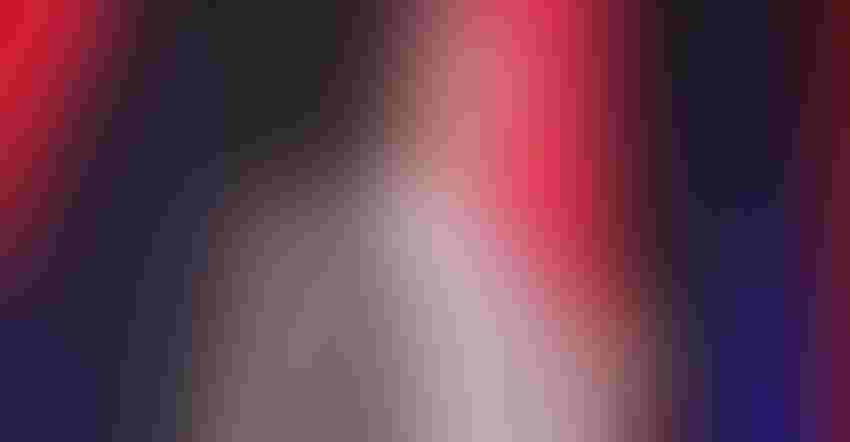 DELIVERING BAD NEWS: Allen Featherstone, Kansas State University professor of agricultural economics, told Kansas Farm Bureau members that farm financial numbers are the worst since the 1980s.
The financial situation on Kansas farms has taken a sharp downturn that has many families scrambling to figure out how to cope.
At the annual Kansas Farm Bureau meeting in Manhattan in December, Allen Featherstone, Kansas State University professor of agricultural economics, pulled no punches about how serious the income decline has become.
Over the last 18 months, Featherstone said, net farm incomes reported by the Kansas Farm Management Association have dropped from roughly $120,000 per farm in 2014 to $4,500 in 2015.
In 2011, the repayment capacity — the amount of cash available to pay principal and interest on loans or make discretionary purchases — stood at a healthy 149.39%. In 2015, that had dropped to 16.63%. In other words, Featherstone said, last year farm families were 84% short of money to pay bills.
"That can't continue," he said. "That is the lowest number Kansas Farm Management has seen since 1981, and net farm income is the lowest since 1985."
Merely mentioning the 1980s is enough to make most farmers cringe, but Featherstone said there are differences that may help farmers weather the current crisis better than they were able to in the 1980s.
"In the 1980s, we had four or five bad years in a row," he said. "We don't know how long this trough will be."
Overall, debt levels are not as high as they were in the 1980s crisis, he said, though they have been rising over the last three years as farmers have had to borrow money to have working capital.
"We are historically very sound," he said. "We have gotten used to a low debt-to-asset ratio."
Of the debt added in 2013, about 66% was immediate, about 11% was intermediate and about 22% was long term.
In 2014 and 2015, about 81% of all borrowing was new debt to hold off on selling grain because of low prices. In 2015, farmers began refinancing debt to longer term, and now about 70% of debt is long term.
"What that adds up to is a financial situation that has changed dramatically for the worse," Featherstone said.
The big questions, he said, are what caused it and how long it will last. So far, the outlook isn't bright. Market forecasts for soybeans and corn are flat, and while there has been a slight uptick in wheat prices, it hasn't been significant.
There is also a historically high basis, which cuts into the price farmers actually receive for grain, versus the posted cash price. "That said, markets can change and change quickly," Featherstone said. "If we get a severe drought somewhere else in the world, things will change fast."
Now is the time to make a three-year or even four-year plan to weather the storm, he suggested.
Land values are about 30% higher now than they were in the 1980s, and interest rates are historically low.
"This might be a good time to liquidate some land to generate operating revenue to make it through," he said. "It is also a good time to try to lock in a longer-term loan on debt. Remember in the 1980s, interest rates went to 16% and 17%, and that was the end for a lot of people. Even if you have to pay a percent or two more to get a fixed rate, it could be well worth it." It might also be a good time to look at reducing family living expenses or searching for ways to reduce the cost of production, especially restructuring cash rents.
"Talk to your landlord about lower cash rent and offer to pay a bonus if things improve and income exceeds expectations. Look at buying cooperative to buy seed. Look at machinery investment and tax management," he said.
Most of all, he said, remind yourself that all downturns end, and this one will too.
"We will still have 9 billion people to feed," he said.
Subscribe to receive top agriculture news
Be informed daily with these free e-newsletters
You May Also Like
---