Dell Cotton's peanut career leads to an unique perspective
Dell Cotton's peanut career leads to an unique perspective
"We never really know what our careers will turn out to be but mine has worked out well. The peanut industry is a great industry to work in and I truly enjoy working for growers," says Dell Cotton.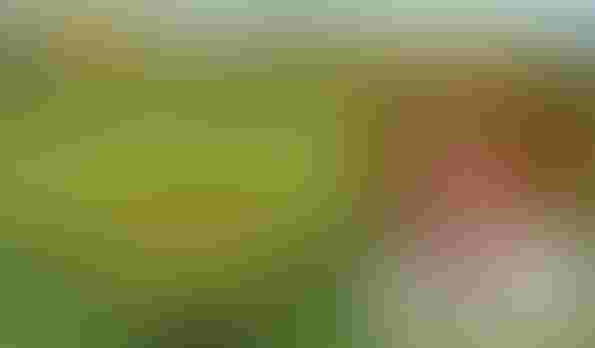 Ever since he graduated from Virginia Tech with a degree in business and finance in 1977, Thomas R. "Dell" Cotton, Jr. has worked in peanuts.
After graduation, Cotton returned to his hometown of Franklin, Va., and did odd jobs over the summer and fall. His first peanut job was grading peanuts for the Federal/State Inspection Service. The late Bill Birdsong, who ran the Franklin operations, offered Cotton a farmer stock accounting position at the Franklin shelling plant, which he held for three years before working in accounting in the Suffolk shelling plant for another three years.
Cotton enjoyed working for Birdsong, but in 1984 an opportunity came up to be the assistant manager for the Peanut Growers Cooperative Marketing Association in Franklin. In 1988, Cotton became manager. "I've been here ever since," Cotton says.
Cotton has seen a lot of change in the peanut industry in his more than 30 years with the association, with the greatest changes brought on by the 2002 farm bill.
"There used to be three co-ops written into the farm bill that were to administer the quota program on behalf of growers," Cotton explains. "The co-ops handled all of the loan peanuts under the old farm bill which was a pretty big job. This lasted until the 2002 farm bill. Now, the loans are routed through FSA offices and/or DMA's."
When the co-ops handled the quota program and loan peanuts, the Franklin office had 10 people on staff that handled the paperwork and sent out millions of dollars in payments to growers. Cotton says, "We also inspected warehouses, handled export documentation and took care of everything related to the quota program. Our budget was underwritten by USDA because we were looked at as an extension of USDA. We weren't government employees but we signed a contract with USDA to administer the program."
"That's when the quota program went out the window," Cotton says. "That totally changed not only the farmers' world but it changed ours too because all of a sudden we weren't underwritten by the government any more. We had to go out and find something else to do. Needless to say that was a very stressful time, and also I had to downsize our staff, which was one of the toughest things I've ever done. But you have to do what you have to do."
It took some time, but the board of directors met numerous times to find what the association could now do. The 2002 farm bill included provisions for a designated marketing association, or DMA, which was the ideal fit. "We fit right into that category. We figured out a plan of action. Now we are multiple organizations in one," Cotton says.
DMAs help facilitate the loan making process and the loan redemption process. In addition to the Franklin DMA, there are two DMAs in Georgia and one in Texas. "Most of the peanuts are placed under loan. The DMA acts as an extension of FSA where the peanuts are placed under loan and redeemed along with the processing of any related paperwork," Cotton explains.
More change came in 2003 upon the retirement of Russell Schools, executive secretary of the Virginia Peanut Growers Association.
"The thinking was let's pull Virginia Peanut Growers into this office and share expenses. We have four employees now, one part time.  Two of us are split between the co-op and Virginia Peanut Growers and we have one employee that is full time for the co-op," Cotton says.
Wears more than one 'hat'
With the change, Cotton now has two titles: manager of the Peanut Growers Cooperative Marketing Association and executive secretary of the Virginia Peanut Growers Association.
Now, the co-op acts as both a DMA and a CMA, a cooperative marketing association. Cotton reports to two boards, one for the co-op and another for the association. Cotton says he enjoys the challenges and opportunities of the Virginia Peanut Growers Association, a job he has been handling for 12 years now.
"The interaction of the two organizations exposes me to all the different aspects of the industry, the marketing side, the promotion side, the research side and the education side," Cotton says. "We never really know what our careers will turn out to be but mine has worked out well. The peanut industry is a great industry to work in and I truly enjoy working for growers."
Cotton says most of the promotion is focused on Virginia-type peanuts.
"It's easy for me because people are receptive and seek out Virginia peanuts. Virginia peanuts are very well known. Some people say they are hard to find, and they need to know where to find them. When we go out and promote Virginia peanuts, there is always a receptive audience."
In the meantime, one impact of the new farm bill is the big reduction of peanut acreage with the end of the quota program. Under the old quota program, Virginia planted 75,000 acres. Since the 2002 farm bill, acreage in the commonwealth has dropped to the 18,000 to 20,000 range.
"The quota program forced you to grow peanuts. You had to grow peanuts year after year after year. In Virginia the feeling now is I don't have to grow peanuts. Growers had to find their way under this new scenario. Peanuts are no longer grown on the marginal land; peanuts are now grown on the best land with much better rotations."
"Instead of a two-year or three-year rotation, we've gone to in many cases a three-, four- or five-year rotation. That makes a tremendous difference in what you are able to produce and in your efficiencies. Last year Virginia had a national record of 4,582 pounds per acre," Cotton says.
"These new varieties really yield big if you give them the right conditions and right rotation, and if you get some help from Mother Nature," he adds. "These new varieties are here to stay. They are getting better and better all the time. We as an industry have to change our mindset and stop talking about just acres. We have to talk about acres and the new yields we are getting from these new varieties."
Concerned about acreage and oversupply
With the help of these new varieties, U.S. peanut farmers now average 4,000 pounds per acre, up from a historic yield of 3,000 pounds per acre. Cotton says 2005 and 2012 offer a good comparison to illustrate the increased production.
"Both of those years, the U.S. grew peanuts on a little more than 1.6 million acres, with slightly less acres in 2012 compared to 2005, before the new varieties were available. What happened is we produced almost 1 million more tons in 2012 than we did in 2005, largely because of better varieties resulting in increased yields," Cotton says.
From 2007 to 2008, national yields jumped from the historic level of 3,000 pounds per acre to 3,400 pounds per acre nationwide. Yields jumped again to 4,000 pounds per acre in 2012, where they have stayed. With cooperative weather, Cotton believes yields will stay at the 4,000-pound mark, if not grow even higher. An acre today is not the same in terms of production as an acre used to be.
"My concern is this. You cannot talk to growers now and only talk about acres. You've got to talk about acres and yield. If you don't talk about yield, you're only telling them half the story," Cotton points out. "I've seen recent articles assuring growers they aren't over planting because we are going to plant fewer acres than in 2005. That is really misleading growers."
Because of low prices for other commodities, Cotton is also concerned about over planting of peanuts this year. "If we end up with more acres than projected, and I think we will, there will be supply issues," he says. "I'm really concerned that if we keep making these big crops, a 2.5 million ton or larger crop each year, we're just going to run out of places to put them."
The key is to find new markets for peanuts. China is a good prospect, but Cotton points out that they only turned to U.S. peanuts a few years ago when they couldn't get peanuts from India. China hasn't really turned to the U.S since. "I'd like to see China become a market for us. The potential is certainly there. The American Peanut Council is working hard to develop China and other markets for our peanuts," Cotton says.
"You can't grow peanuts until you get the market though. I'd rather see the market developed first before we grow all the peanuts for that market," he says. "I hope we put some brakes on this year and don't totally over plant this crop. I'm concerned that we are going to. Peanuts look better than the other commodities, but we're going to pay for it later if we do nothing but plant the heck out of peanuts. It's going to come back to haunt us."
But through it all, Cotton is heartened because he knows Virginia peanuts have a good market. "We are unique in the case of Virginias in that we have many different uses for our peanuts.  We have in shells, we have the extra large cocktail peanuts, and we have the famous gourmet peanuts.  However, with a smaller market like we have, we are much more susceptible to supply and demand issues," he said.
"People like Virginia peanuts because of the size and crunchiness. That's what they want to see. That's why the in-shell market is so important. There's nothing like going to a baseball game and eating a bag of peanuts. When I talk to people about peanuts, and they really don't know one peanut from another, I tell them that the peanuts you eat at the baseball game are usually Virginia peanuts, they understand."
Today, Cotton makes his home in Suffolk, and makes the 30-minute drive south to Franklin to the office. Family is important to Cotton, and he's proud of daughter, Anna, and son, Wade.
"Anna graduated from Virginia Tech five years ago and is a successful interior designer in Virginia Beach. Wade just got a Master's degree in architecture from Columbia in New York, after earning his undergraduate degree from Georgia Tech," Cotton says.
Subscribe to receive top agriculture news
Be informed daily with these free e-newsletters
You May Also Like
---